Posted December 28, 2016
Beautiful, thoughtful and unique details are what make a wedding truly special. This year, our couples incorporated so many meaningful details into their wedding days. These are some of our favorite details that truly made each wedding more special than the sum of its parts.
At Teresa and Jordan's May wedding, she wanted to showcase her latin roots and incorporated several traditions from her father's Dominican homeland. The "Mesa de Postres" (or dessert table) was our favorite! Ileana Saldivia of Sugar Realm, was the perfect person to design and execute this stunning dessert table featuring both a gorgeous Kate Spade inspired cake and small bites of all of Teresa and Jordan's favorite sweets.
Teresa also wanted to honor her parents, grandparents and departed relatives in a special, beautiful way and worked with Yellow Canary to design this candlelit "grotto". Once the sun set, the photos danced with romantic candlelight and looked even more beautiful.
One of our favorite design elements at Logan's Greenacres wedding was the ethereal, sheer white draping done by Fitz the Occasion. Wide swaths of fabric hung across the the clear ceiling panels in the most dreamy way over the center of the tent.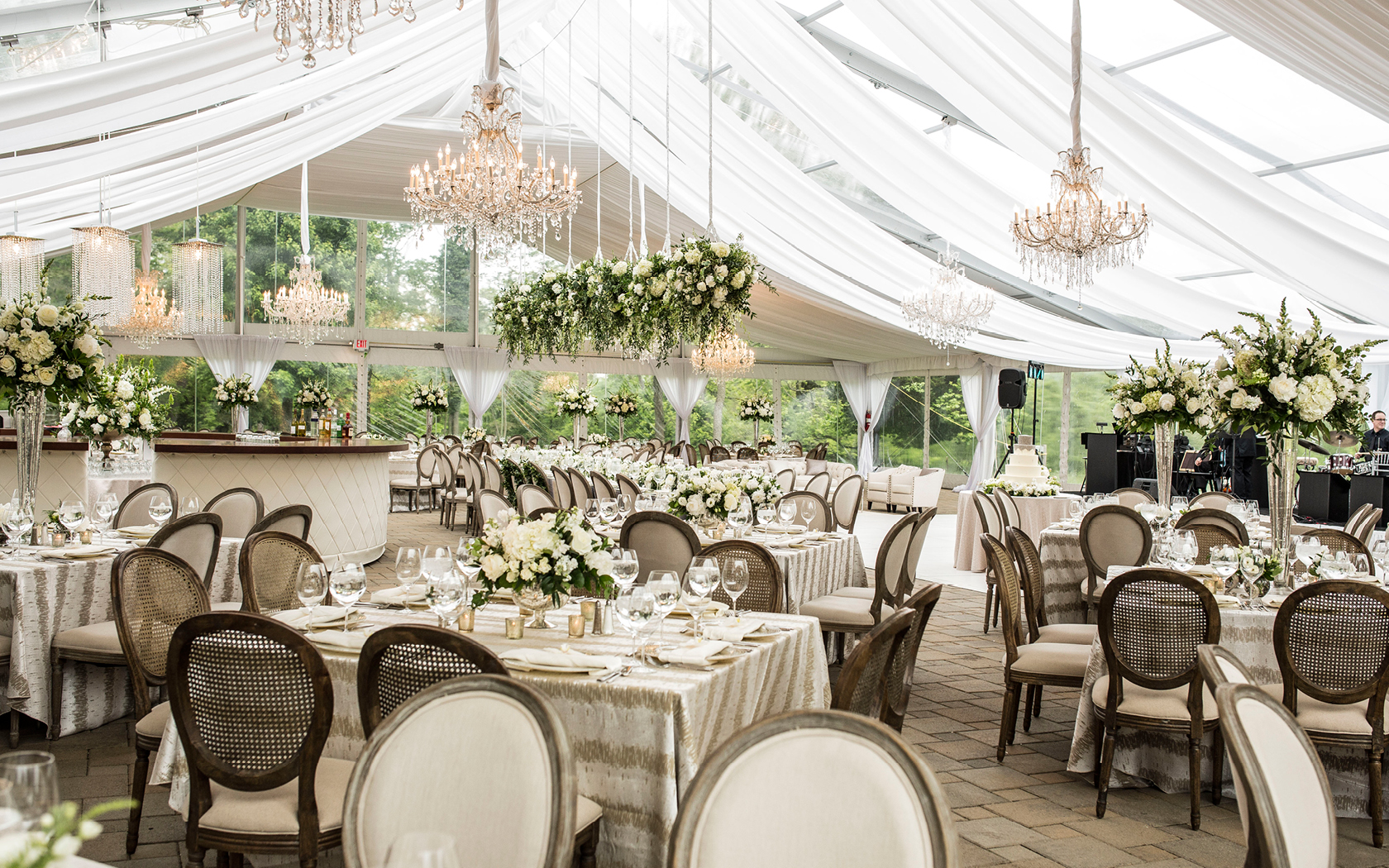 | Photos by: Annette Navarro |
We already gushed over how much we adored the floral chandelier hanging over Logan's head table. What we did not mention was the custom-made mirrored tabletop that reflected the floral overhead and took the head table design to the next level. The single white orchid at each place setting was the icing on the cake.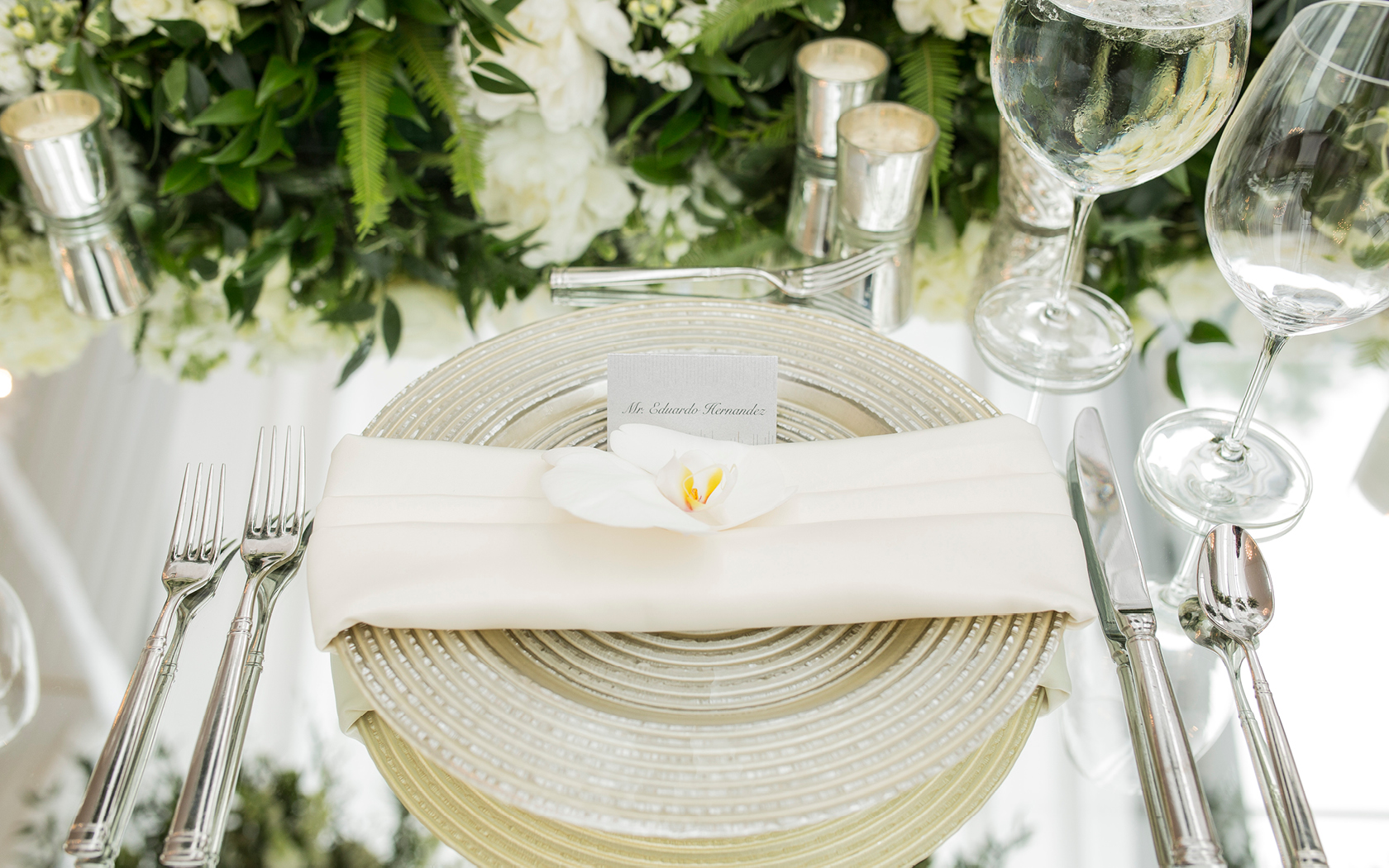 | Photos by: Annette Navarro |
We are suckers for a killer dance floor design and the combination of HiTech Events and loon + co knocked Caroline's dance floor out of the park. Caroline's signature floral graphics, the sleek white backdrop and the gold mirror border were the perfect combination to dance the night away on.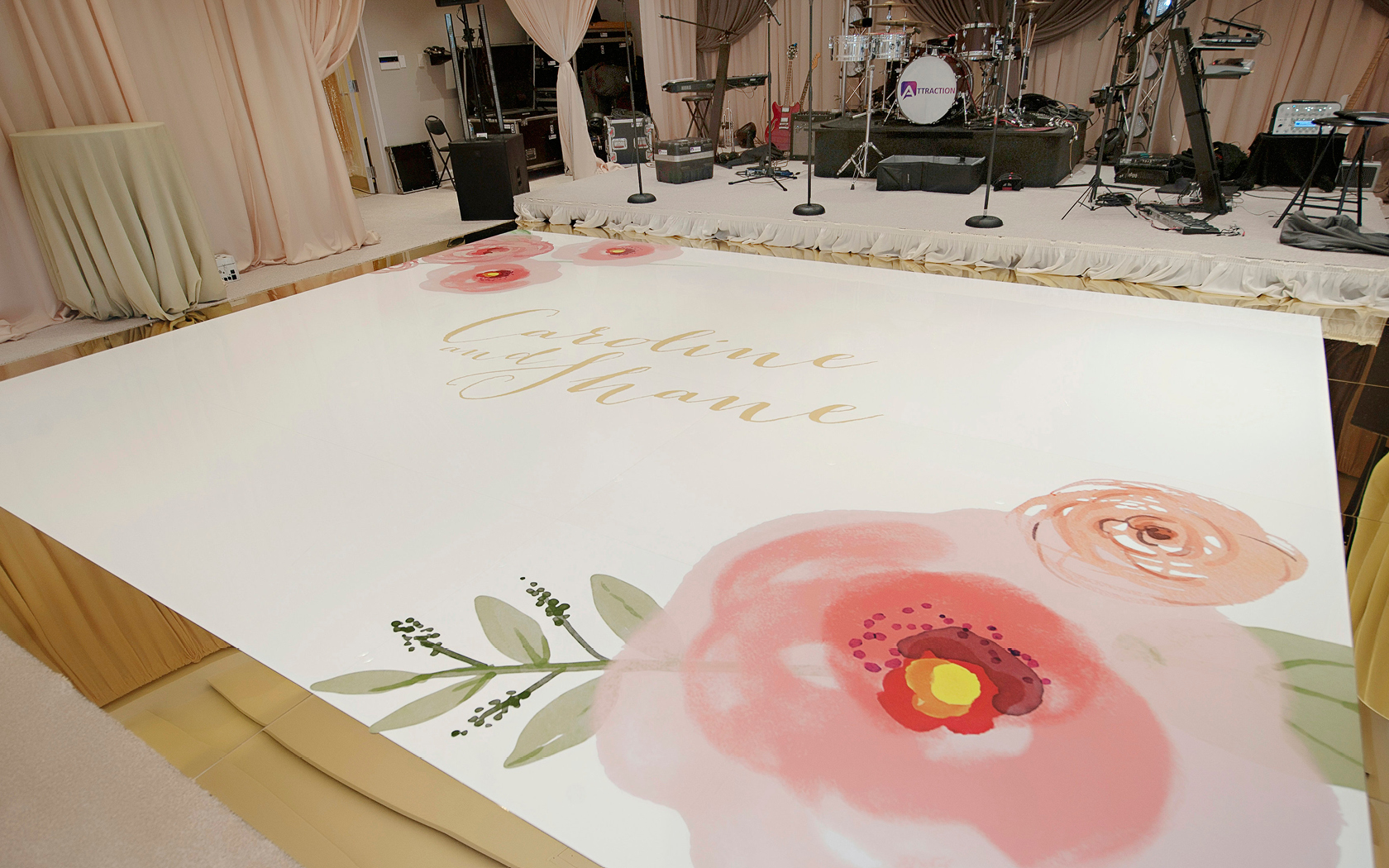 | Photos by: Kortnee Kate Photography |
The gorgeous work of loon + co at Caroline's wedding did not end at the dance floor. Every single one of the printed elements was unique and complemented the perfectly mismatched boho glam vibe of Caroline's wedding day. The stained wood signs hand-painted in white, three dimensional paper flowers on the ceremony programs, thoughtful details in the save the date artwork and even the stickers on their custom sprinkle wedding favors were all delightful.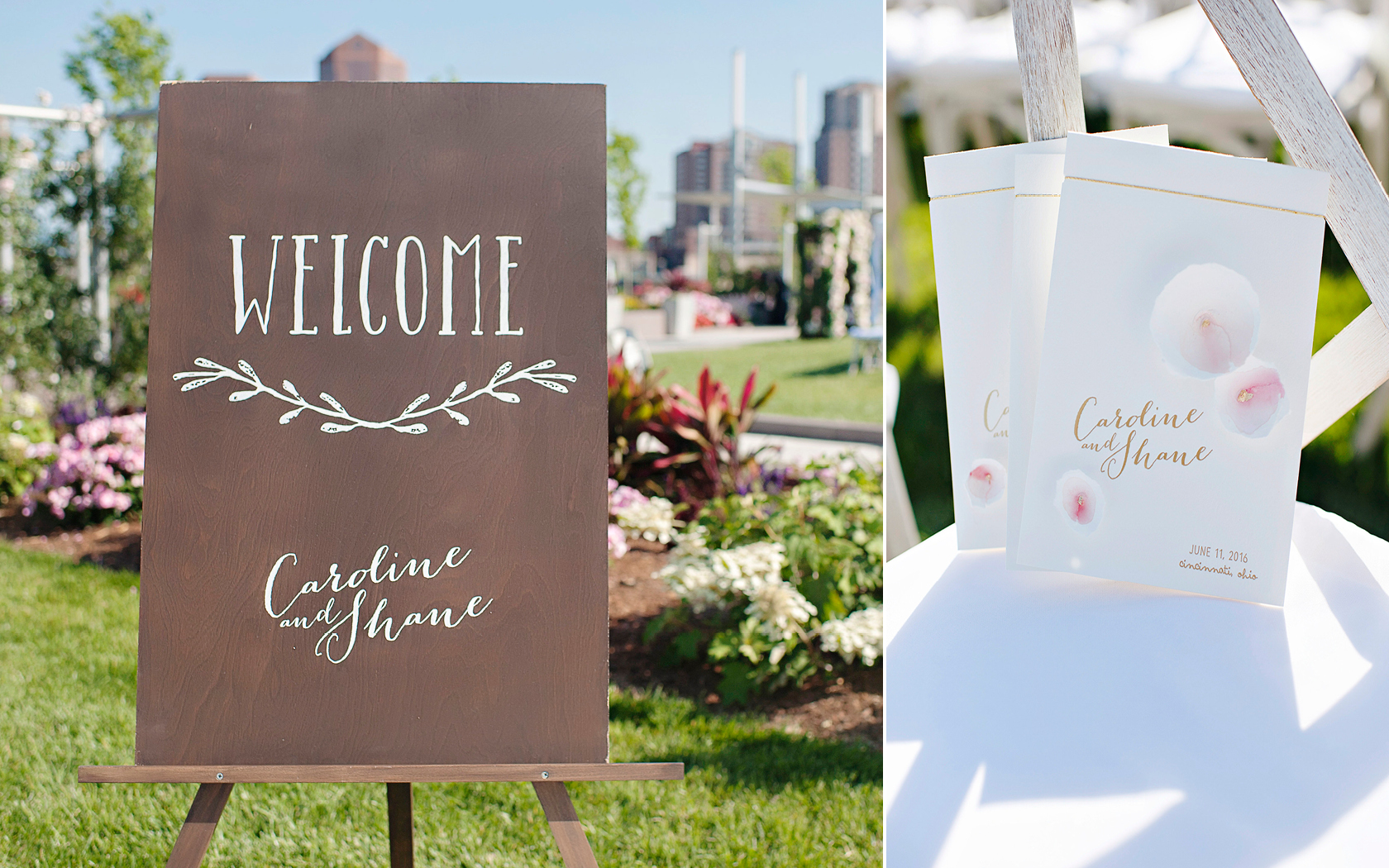 | Photos by: Kortnee Kate Photography |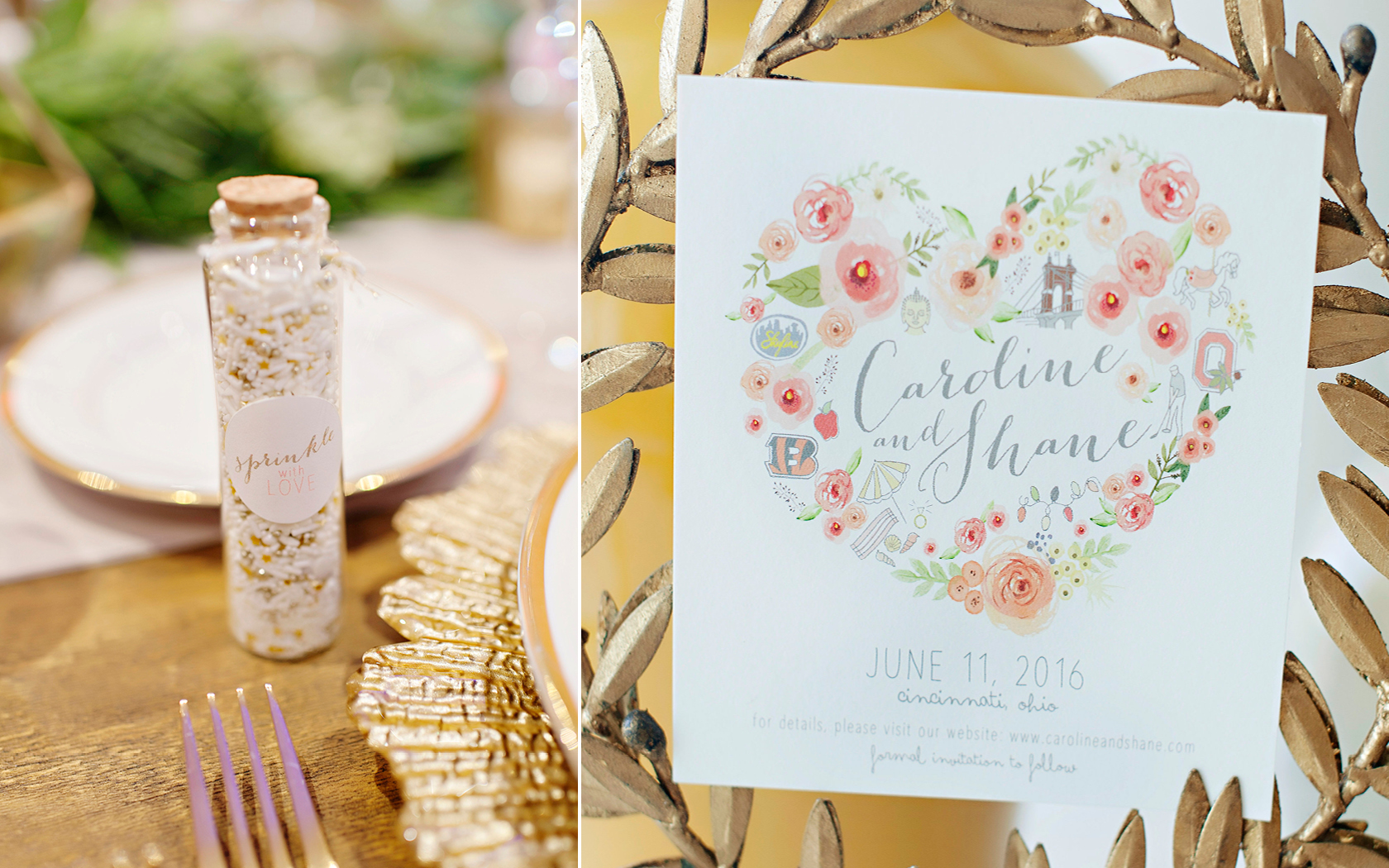 | Photos by: Kortnee Kate Photography |
Watercolor was the through line for all of the design element's at Meghan and Seth's wedding, from the invitations to the linens to our favorite detail — the custom-painted watercolor portrait turned "guestbook". A local artist hand painted their favorite engagement photo and guests signed the large, canvas keepsake.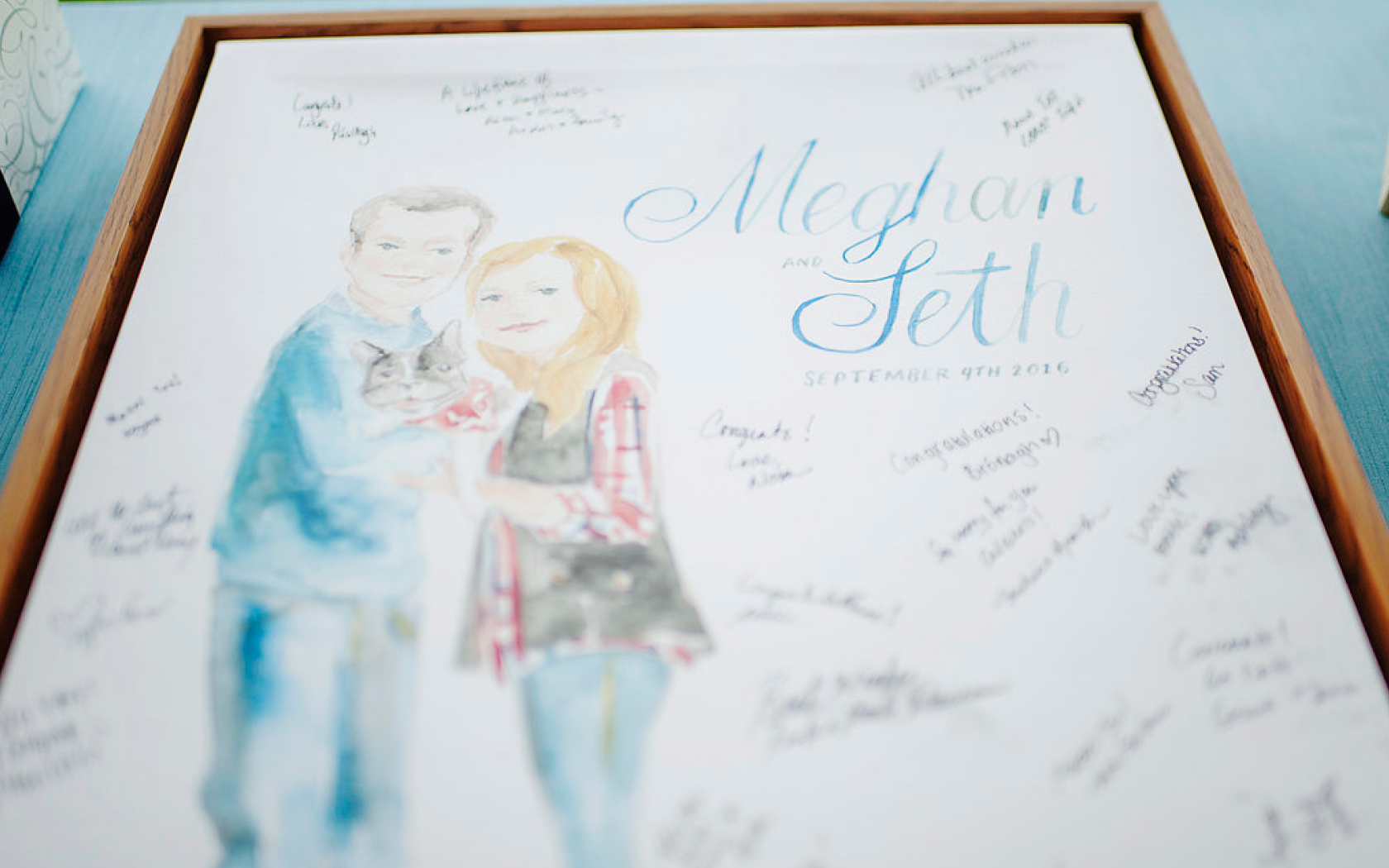 | Photos by: Kortnee Kate Photography |
Caroline and Amir share a deep love of traveling and sending postcards to their loved ones from all the far-away destinations they visit. Each of their guests received a hand-tied packet of custom postcards with a matching pencil, so they too could send their loved ones sweet notes from afar. We love it when couples showcase their shared loves on their wedding days!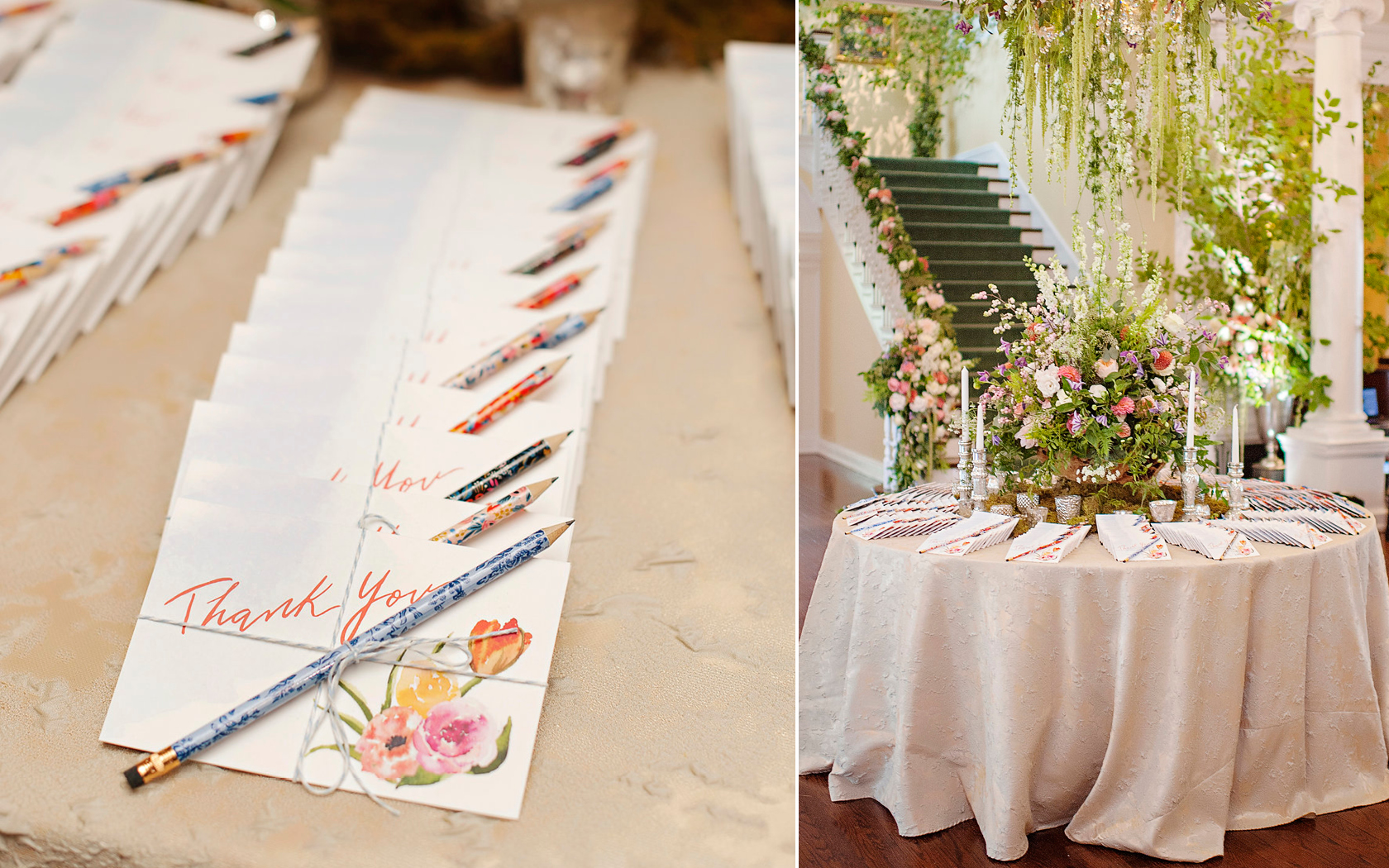 | Photos by: Kortnee Kate Photography |
After Caroline & Amir said their i-do's they hopped in this family heirloom, vintage convertible and sipped champagne while they rode around the block. We adored both the gorgeous car and the adorable sign, designed by Poeme and Clementine Studios, adorning the bumper.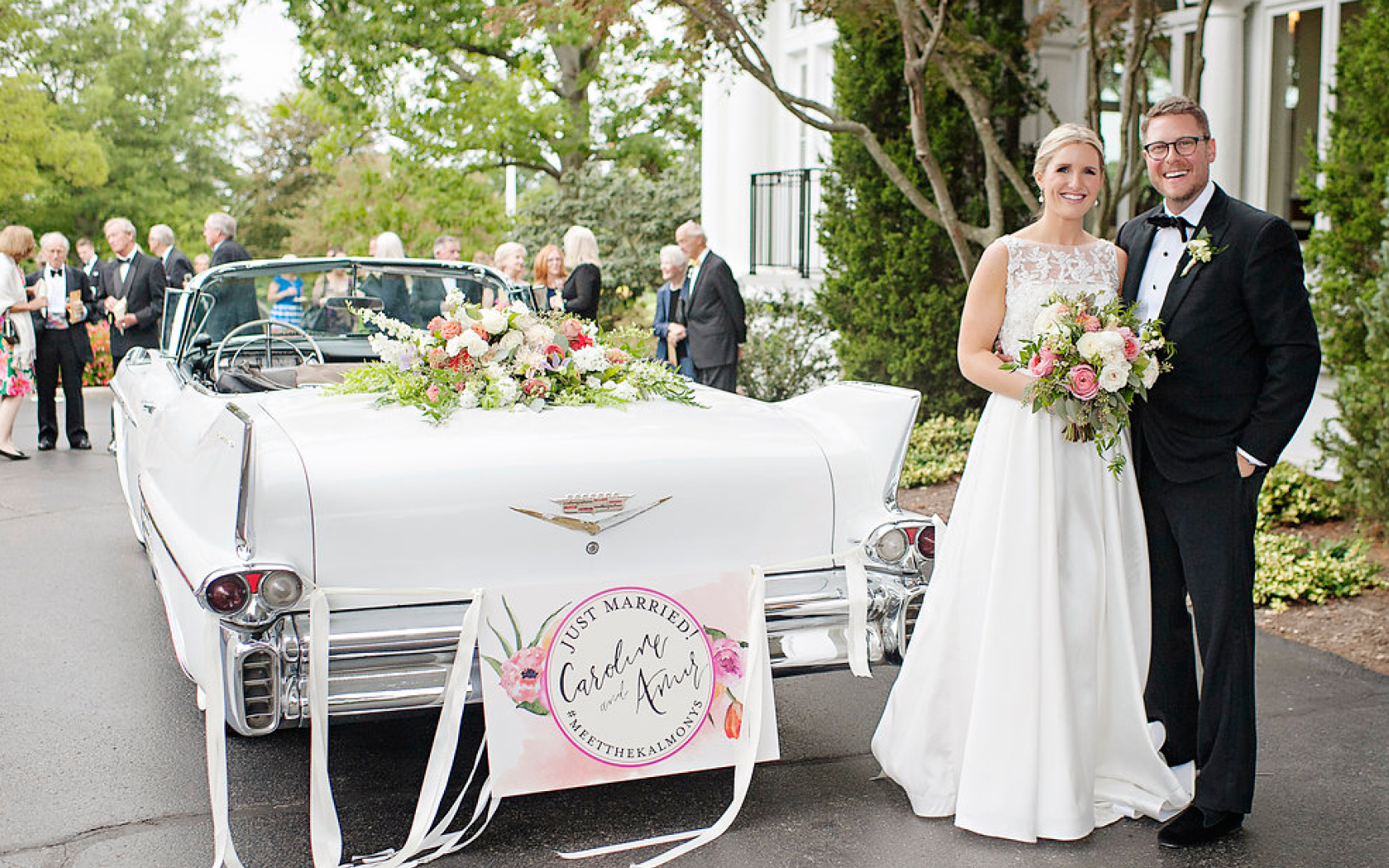 | Photos by: Kortnee Kate Photography |
Becca & Tim envisioned a wedding that was decidedly "un-wedding" and instead just an amazingly fun party for their friends and family. Instead of a wedding cake, they opted for an ice cream bar. Yellow Canary and Arctic Diamond partnered to design the most amazing ice cream bar we have ever seen. A floral sculpture was built in layers of water were frozen into ice and perfectly sized holes were sculpted to hold the bride's favorite flavors of local-favorite Graeter's ice cream.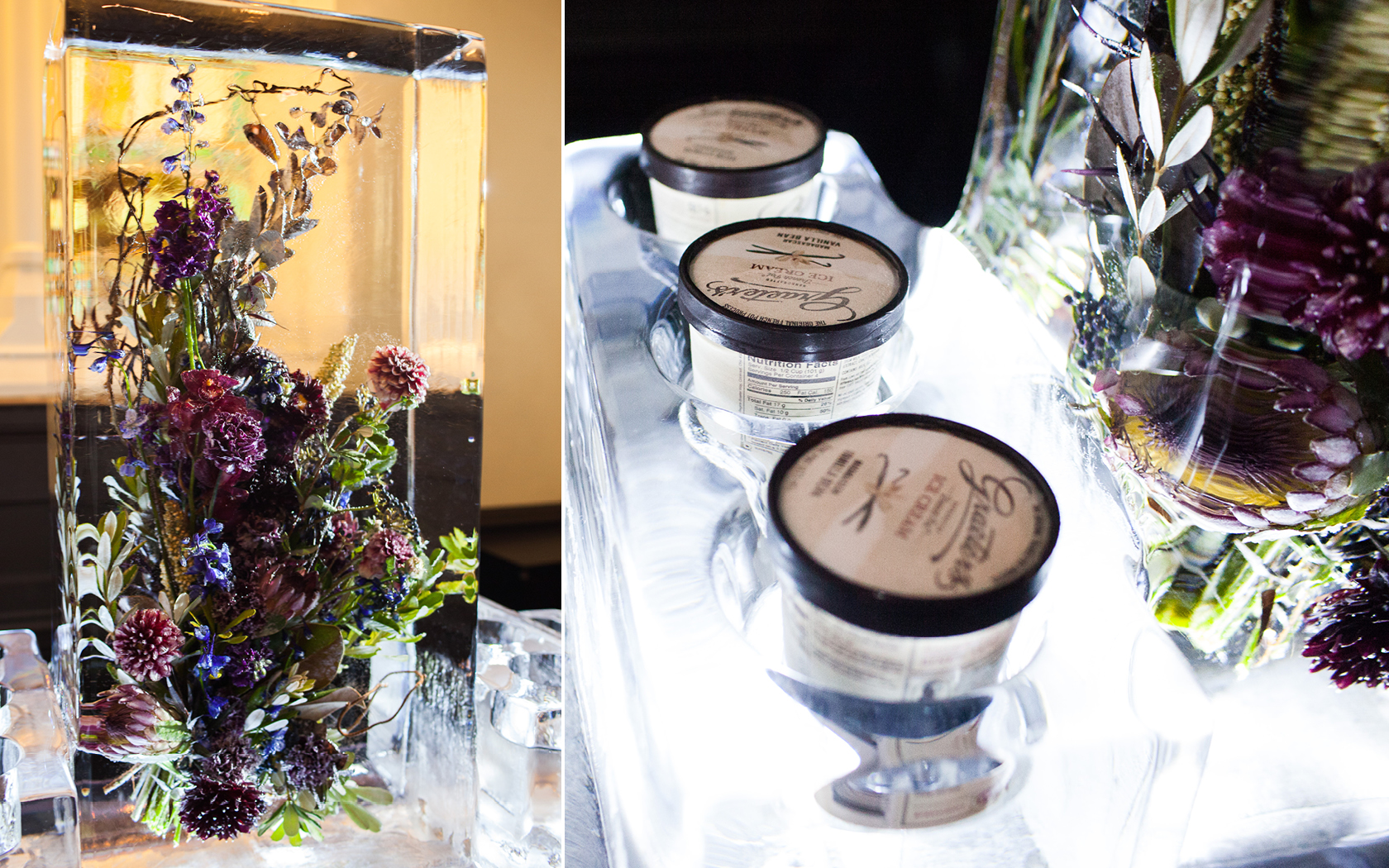 | Photos by: Nathan Peel |
The unique elements at Becca & Tim's wedding were not limited to food. An artist was on hand to capture the essence of their wedding reception in the form of acrylic on canvas. Jacqueline DelBrocco was perched on the balcony of The Transept and guests could watch and interact with her and she painted the reception scene. We don't think Becca and Tim could be more thrilled with the outcome of this beautiful and meaningful piece of art!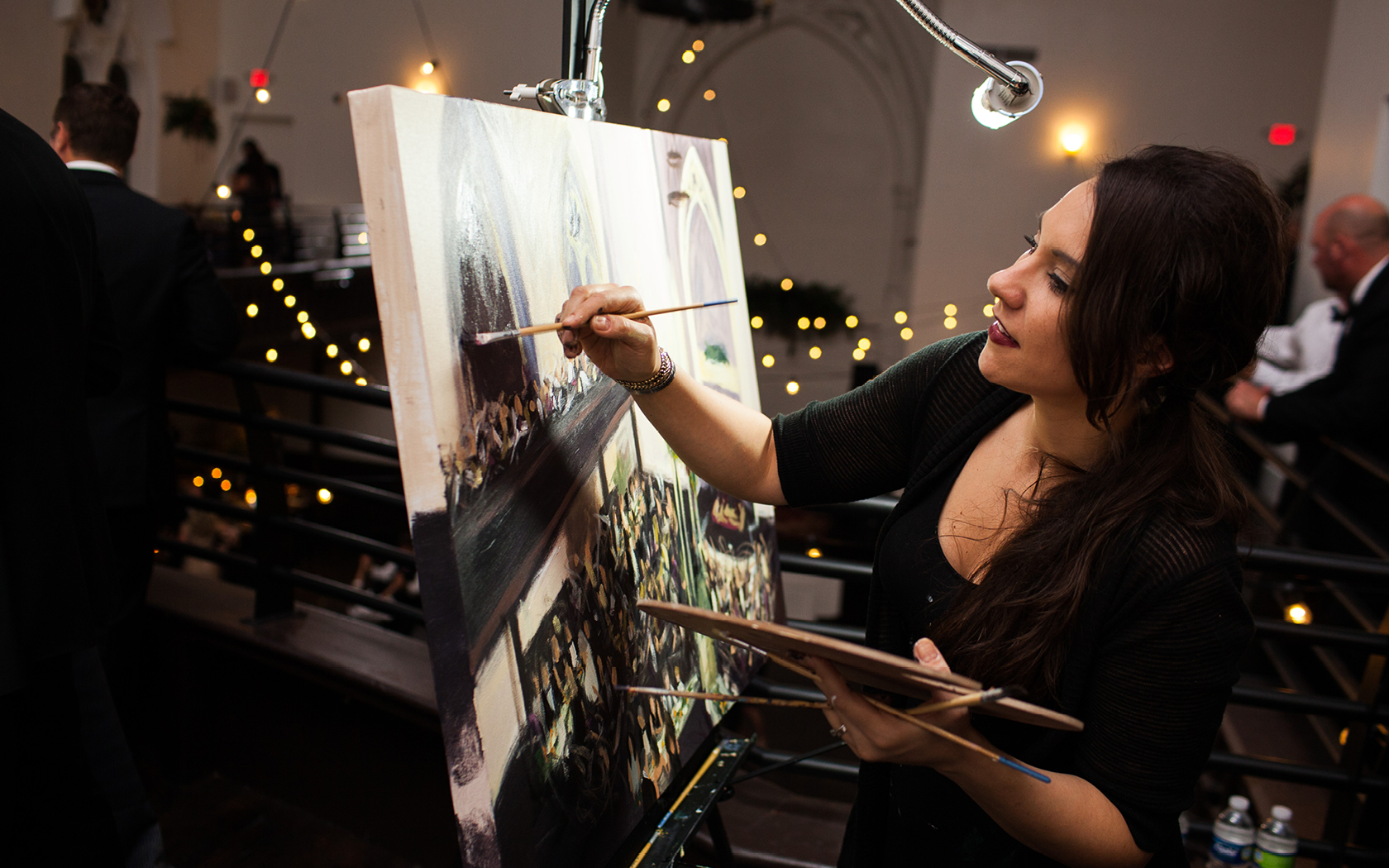 | Photos by: Nathan Peel |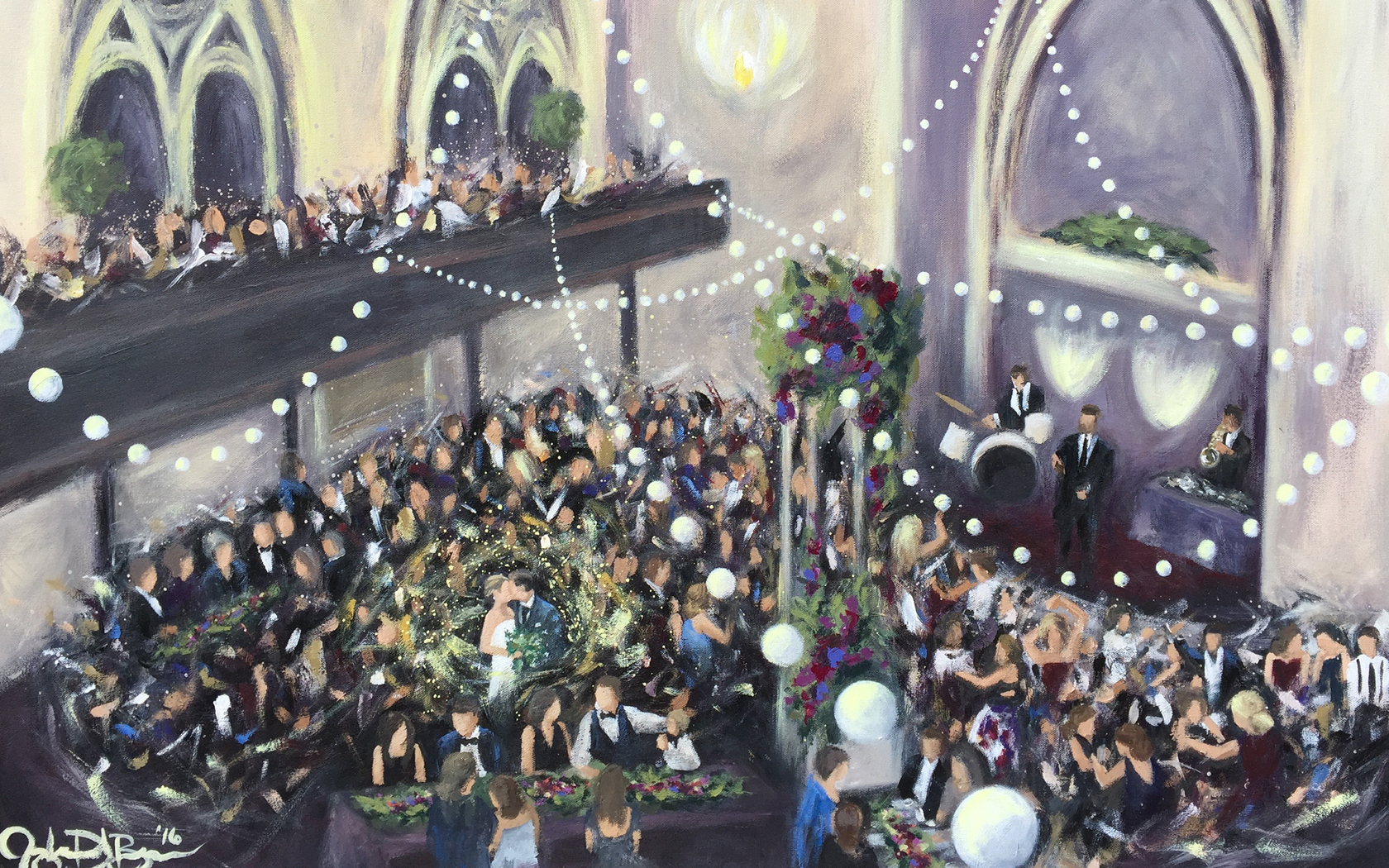 A tented reception in the middle of the Cincinnati Nature Center at Rowe Woods was the perfect setting for Megan and Derek's woodland inspired reception. Our favorite detail from their rustic wedding was the unique runner, designed by Genell's Flowers, on their head table. Greenery, manzanita branch candelabras, succulents and wooden elements combined to be the perfect design for their woodland wedding.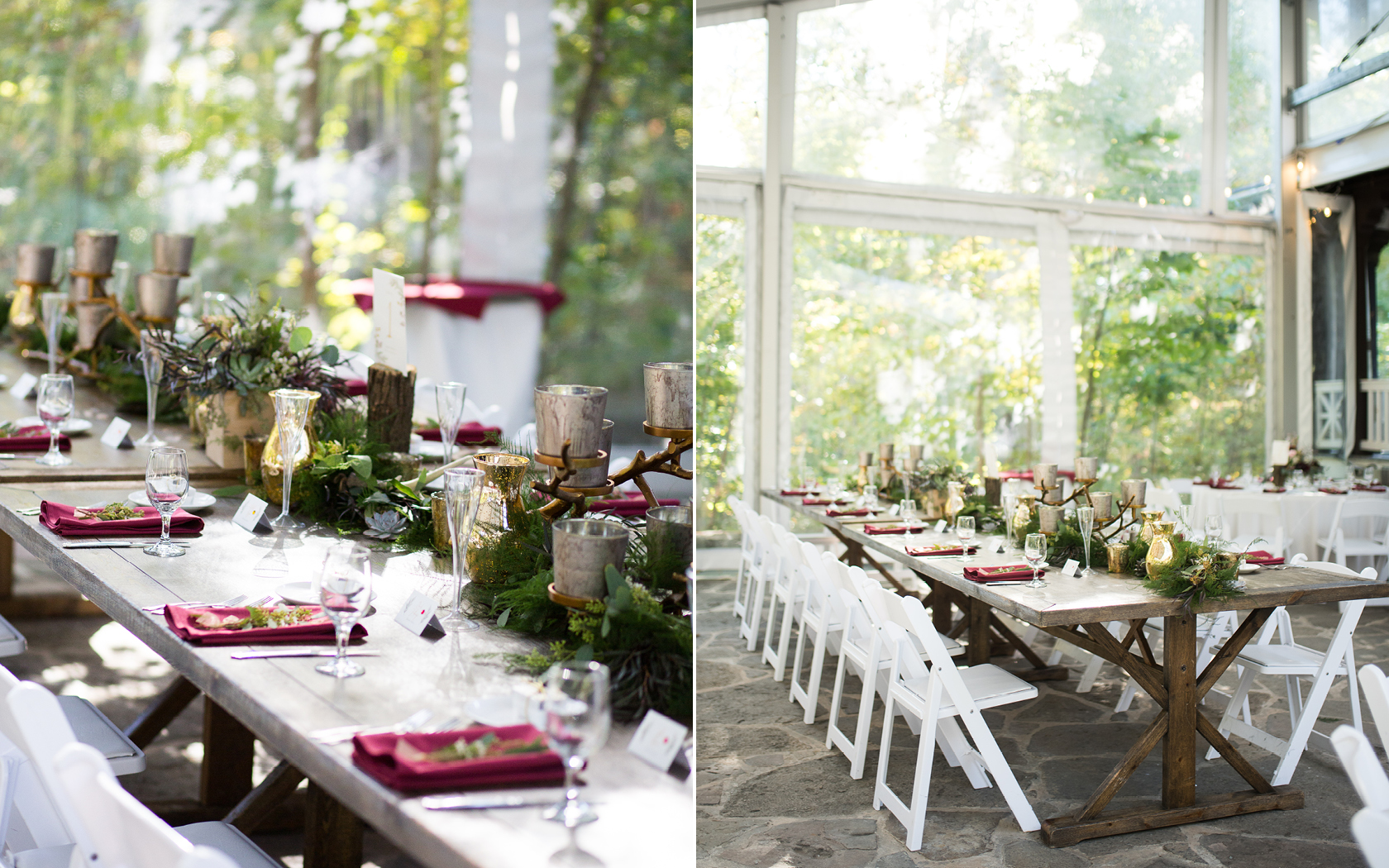 | Photos by: Fyrefly Photography |
Katherine & Jonathan's stunning October wedding at the Renaissance was our last wedding of the year but certainly not the least. Gold, glitz and glamour were the keywords for this wedding and their invitation designed by Poeme definitely lived up to Katherine's glamorous vision. The gold mirror envelope liner, foil stamping and letterpressing were gorgeous on their own, but the die-cut cover and black band took the design over the top. The die-cut bridge on the band had special meaning for the couple, since they met during a high-school bridge building competition and have been together ever since!

| Photos by: Kortnee Kate Photography |
Cakes are not only a stunningly beautiful detail, but a delicious one too. Maribelle Cakery designed a cake more perfect than Katherine & Jonathan could have even dreamed. Painted gold leaf on both the cake and handmade sugar flowers made this one of the most glamorous cakes we have ever seen. The lush floral base designed by Ford Ellington and cake stand with dripping crystals were the perfect final touches to this stunning cake!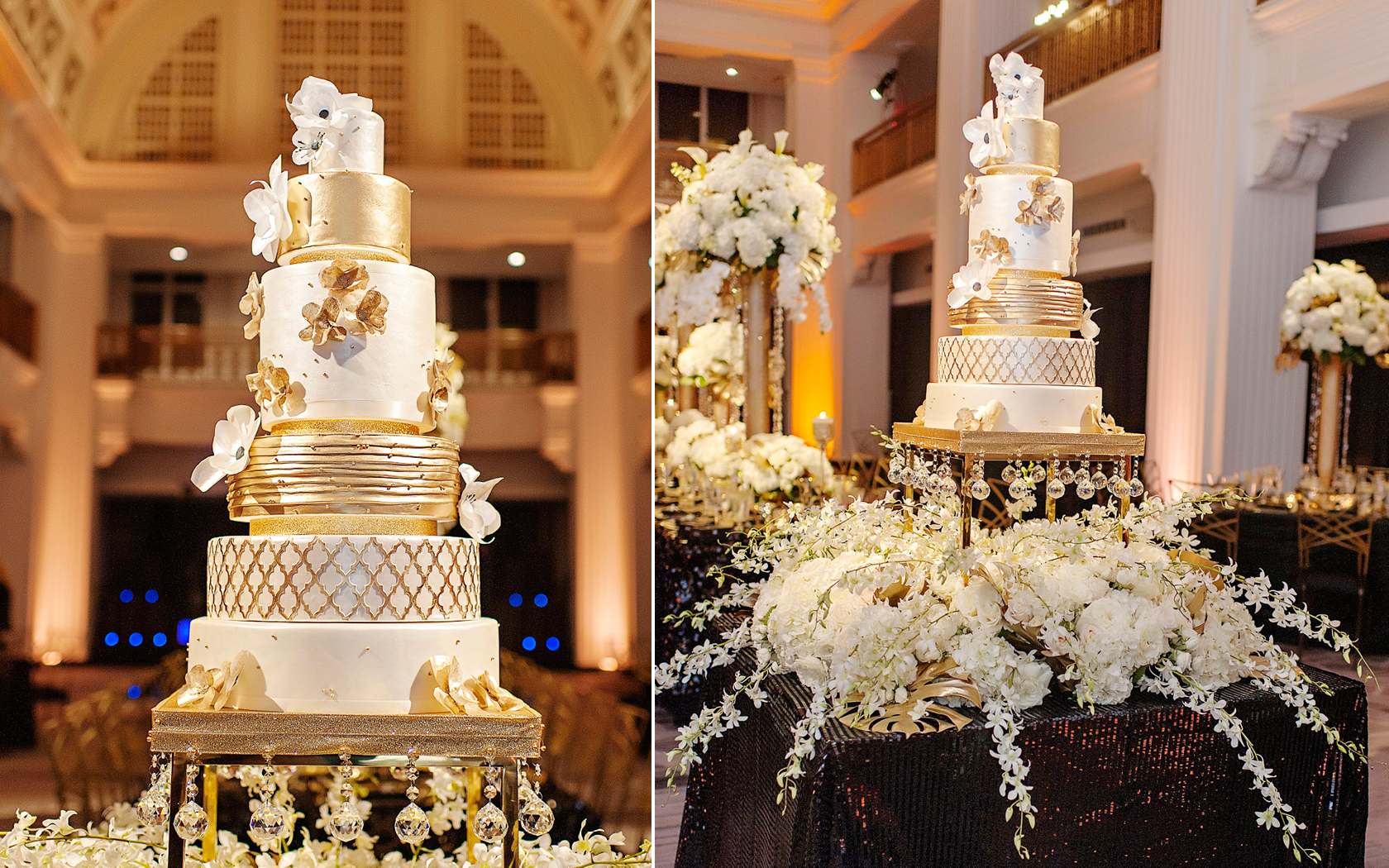 | Photos by: Kortnee Kate Photography |
We were blessed with another year of beautiful, meaningful details and couples with unique visions for their wedding days. We can't wait to see what is in store for next year!