Posted May 21, 2015
I might be known for surprising my team with fun outings. I tell everyone exactly what to pack, when we're leaving, but never where we're going. It's SO much fun, at least for me! Haha! For my big 4-0, the tables were totally turned—Steven had an entire day of incredible surprises planned, on top of a little scheme from my Viva Bella ladies.
Here's a little birthday recap:
Steven, oh Steven. He had to be out of town for my birthday, but didn't skip a beat in making me feel special. I'm SO blessed to have a hubby with so many creative ideas, as well as so many amazing friends who participated in my day. It was honestly a little hard to look forward to my birthday because Steven and I lost a very close friend/our spiritual mentor just days before.  But I was so glad to be surrounded by friends and celebration to help lift my spirits.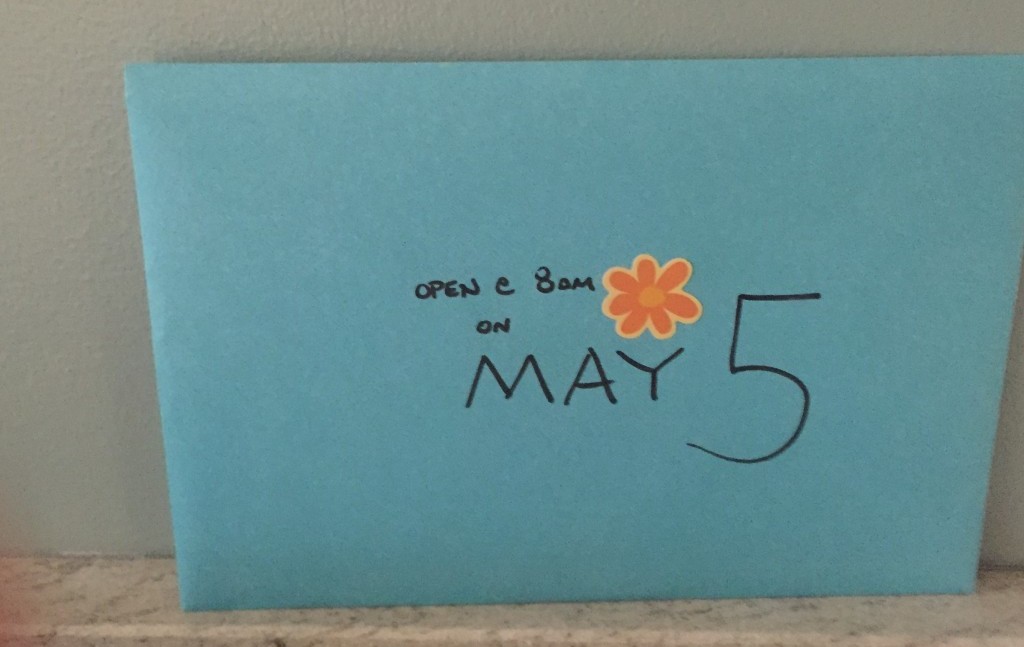 My morning started with a birthday note that led me to a stack of time-stamped envelopes. I was instructed to "play nice and do what they say," which included wearing a birthday sash. Thank goodness it went with my outfit.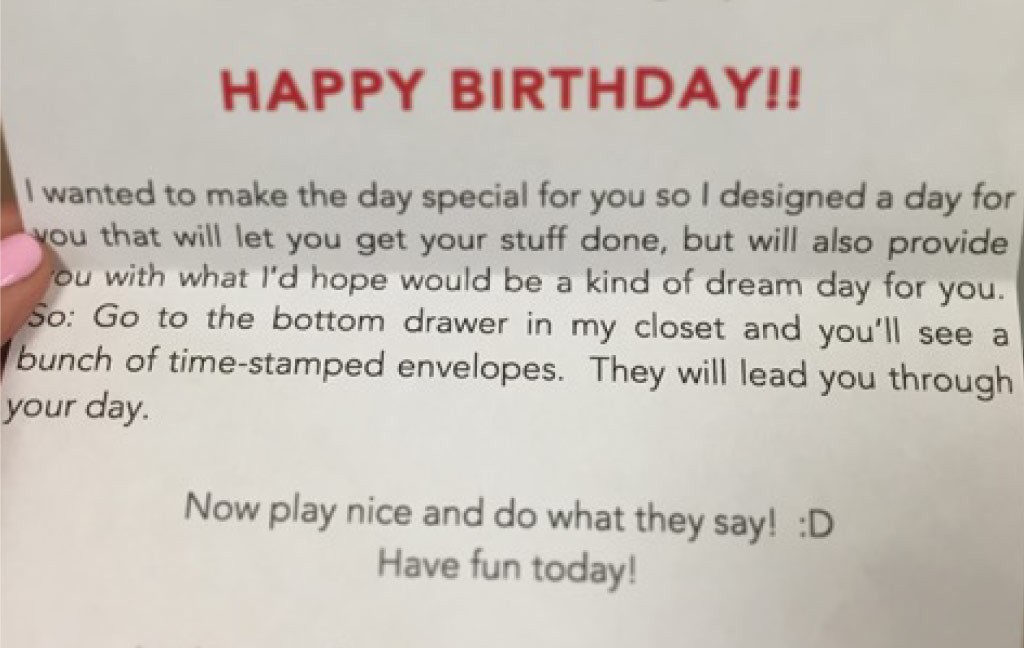 After a quick stop at High Five Salon for a birthday braid, I was greeted at the office with a Starbucks Chai Latte from a friend, my cheerful team wearing "40" and "hot pepper" necklaces, and an absolutely gorgeous floral arrangement that Steven had sent to me (by Kristen at Yellow Canary). Monica put finishing touches on my makeup (choosing lipstick is hard, people!), and then it was back to reality for a just a second. Shouldn't e-mails stop on your birthday!?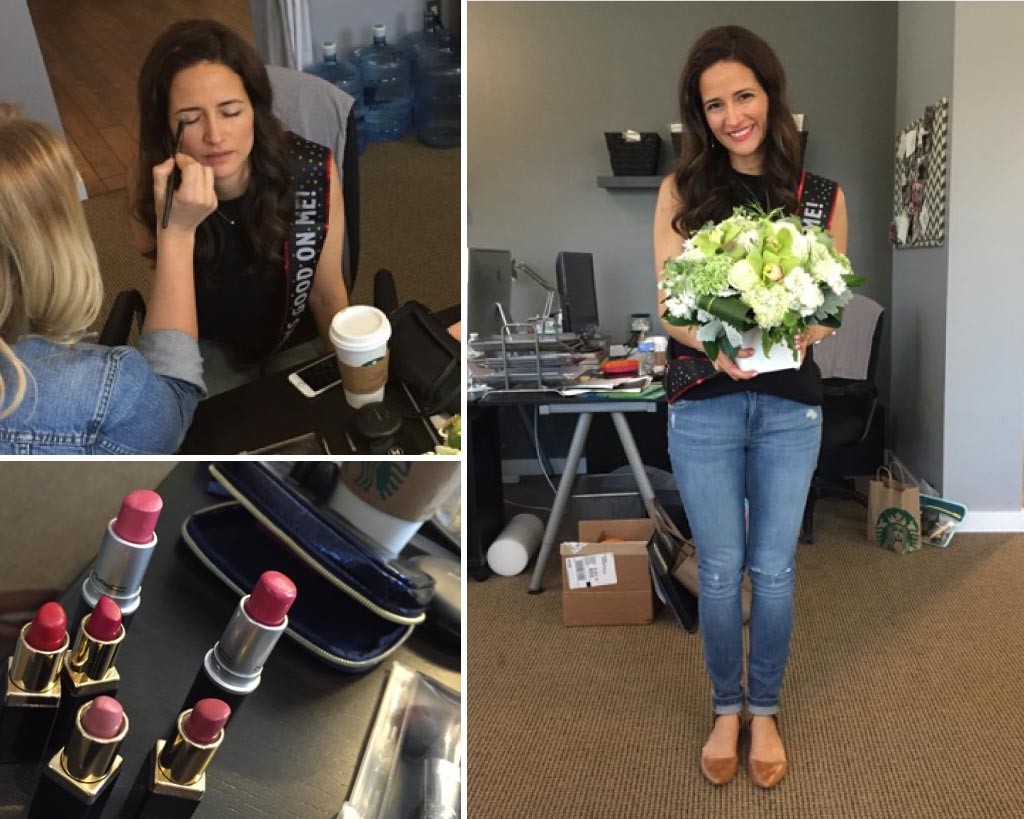 Fast forward to lunch where my team blindfolded, kidnapped and drove me in circles to an "unknown destination." To my surprise (kind of) we ended up right next door at Red Tree Gallery where the extended Viva Bella family and friends were waiting with a delicious spread of homemade dips, apps, Gigi's cupcakes, a cookie cake, specialty drinks, gifts, cards, kind words… all of my favorite things. It was so sweet to me that everyone took time to make food. Rachel's guacamole was out of this world!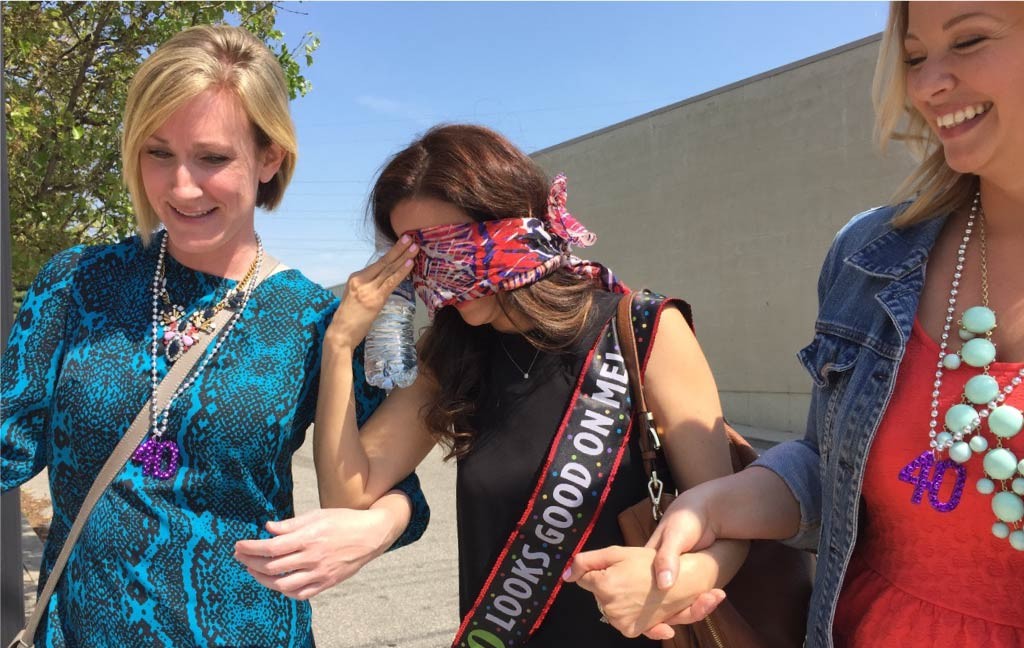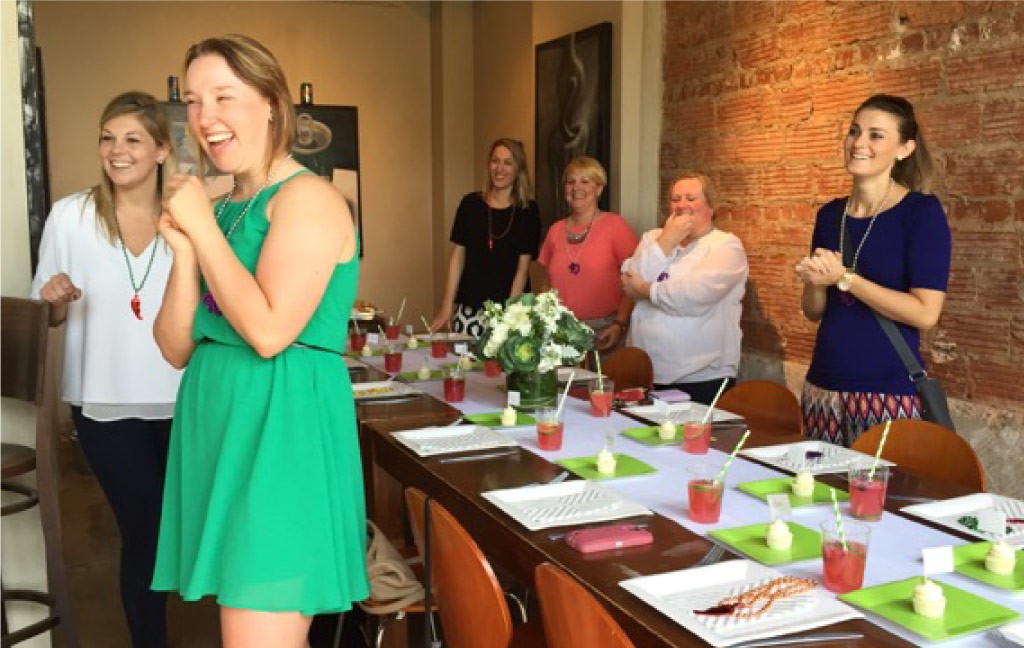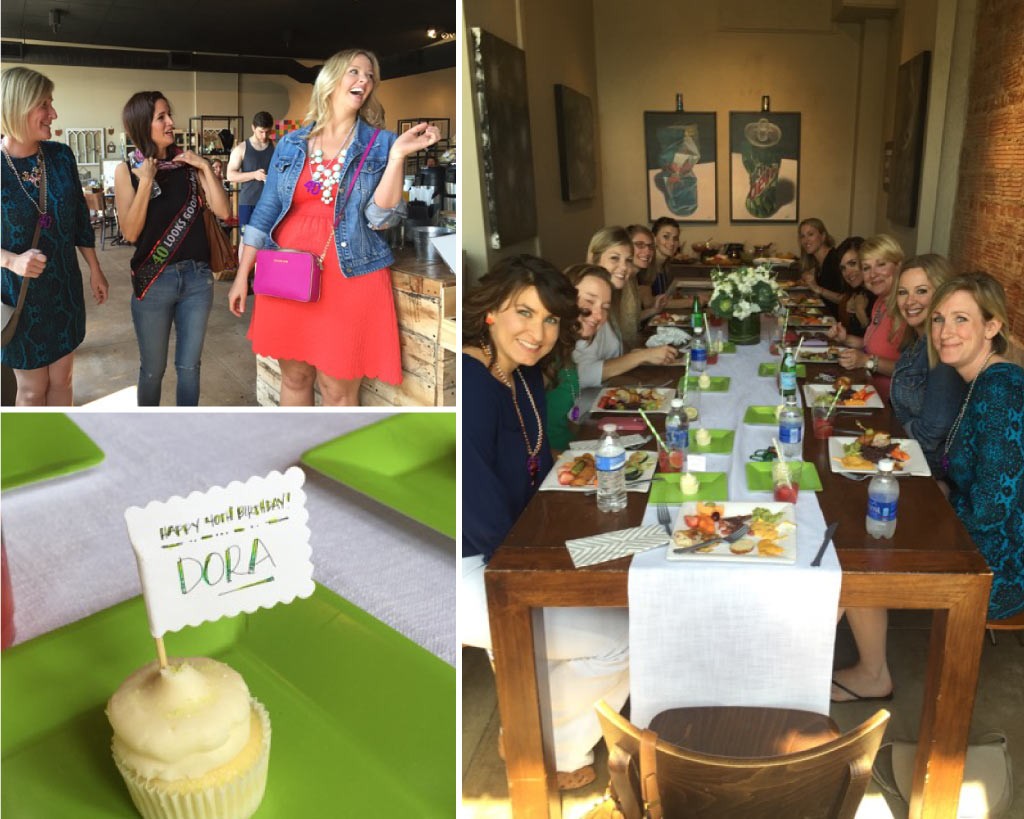 By the time I got back to the office, it was time for me to leave again. I had strict instructions from Steven to leave by 2:30!
My next envelope led me on a beautiful prayer and meditation time in the park. Steven guided me (though a series of notes!) to think and pray through my past and future. And yes, that's a mini Dora keychain. He wanted me to imagine tiny Dora in God's big and safe hands. Amazing!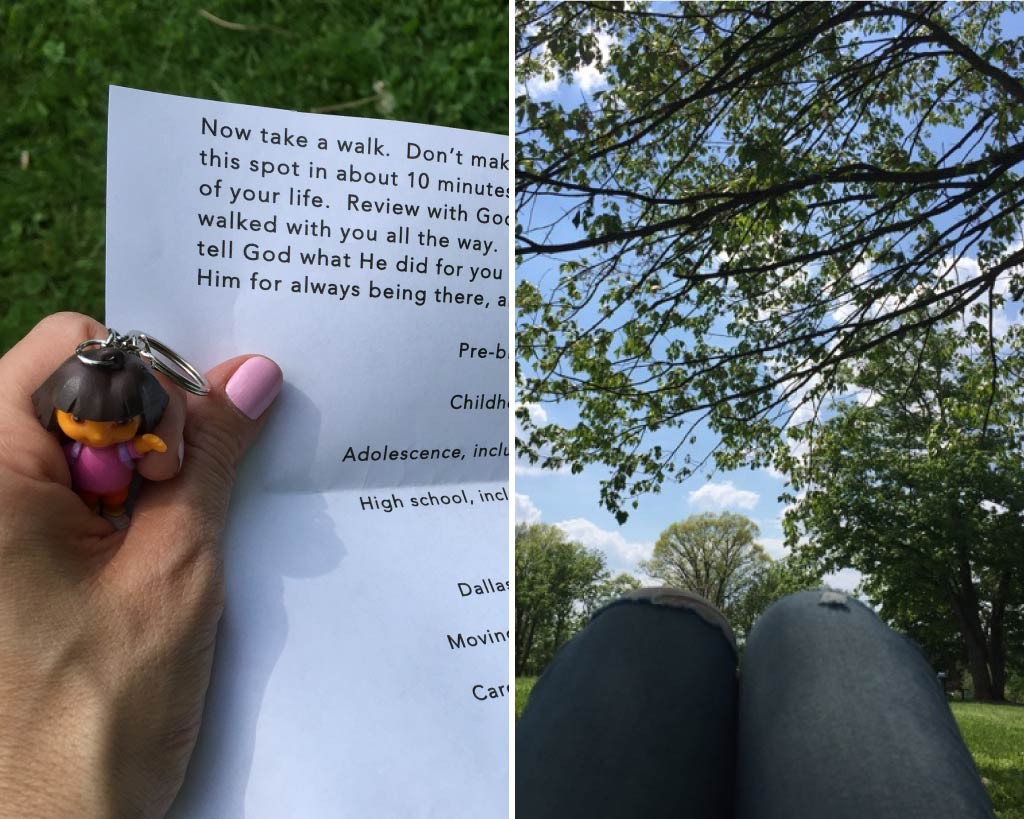 After my prayer, meditation and worship in the park, I opened an envelope with a Coffee Emporium gift card and was told to go get a drink, but "be home by 3:30."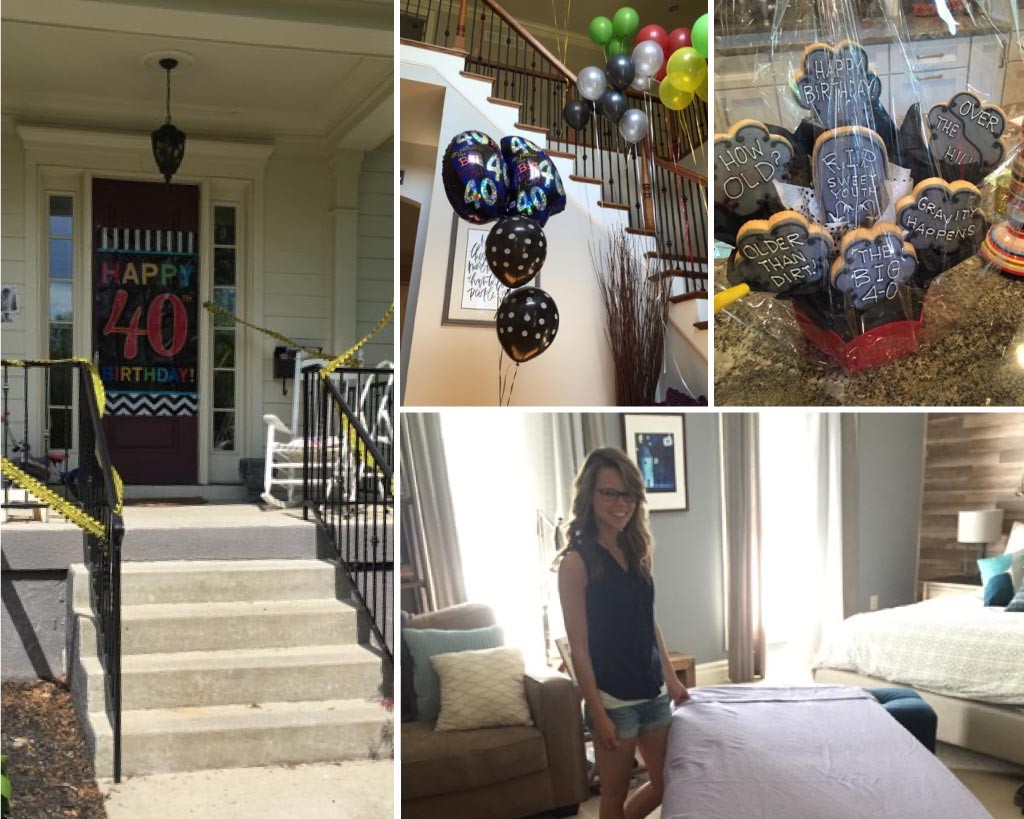 At 3:30 I came home to a little creative decor… not exactly Viva Bella style, but it was perfect! There were, balloons, caution tape and even a taunting cookie bouquet from my sisters reminding me that "Gravity Happens."
Okay, onto the next. I was directed upstairs where a massage therapist was waiting for me. The hubby even left the perfect relaxation "mixed tape" CD for me to enjoy during my massage! I LOVE massages and was in complete heaven. How can I make this happen all the time?
After the private massage, I was told to shower and get dressed. I'd have 45 minutes to hang with my girls before an evening babysitter and ride for the night arrived. I kept waiting for my hair and makeup crew to show up, but no such luck. Haha!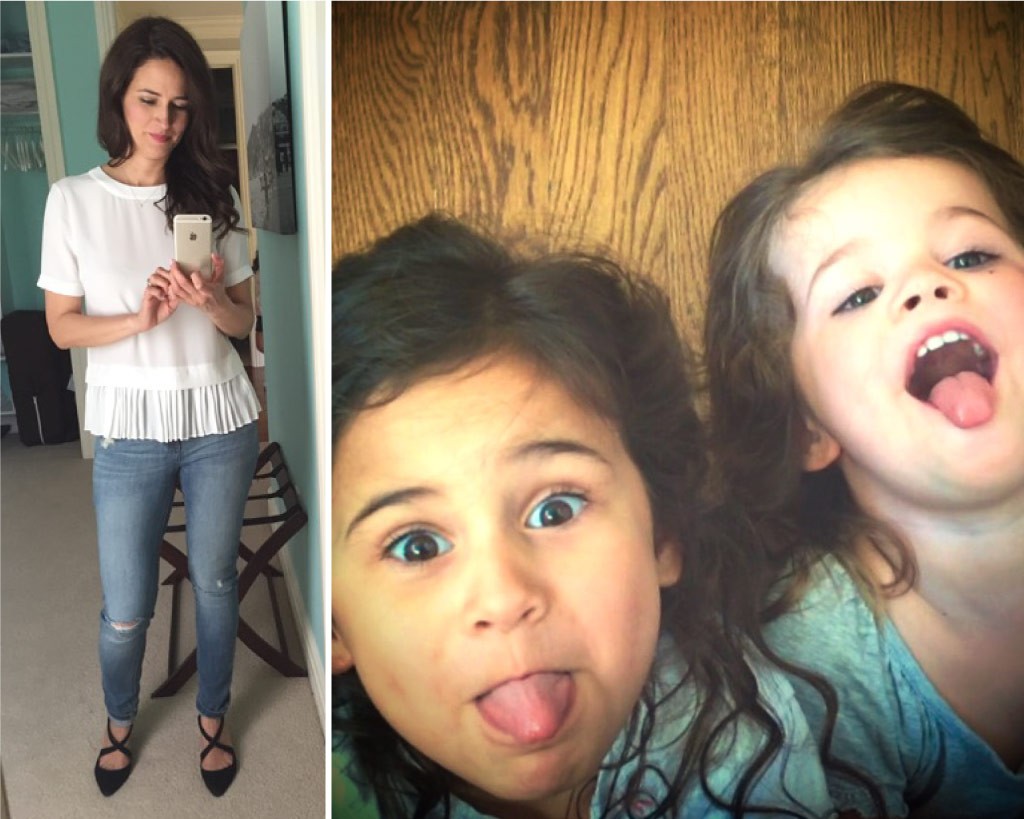 I did an outfit change—jeans and a top from my favorite place, SOHO Boutique, and black, strappy heels because they totally made the outfit. Yes, my back killed after wearing them and yes, it was worth it!
At 6:00, a babysitter arrived as well as my ride. Thankfully this destination was known (and no blindfold involved). Nada for dinner! Waiting at Nada in a private room was another surprise—a group of my closest Cincinnati friends. Super wow! …As if the first surprise party wasn't enough!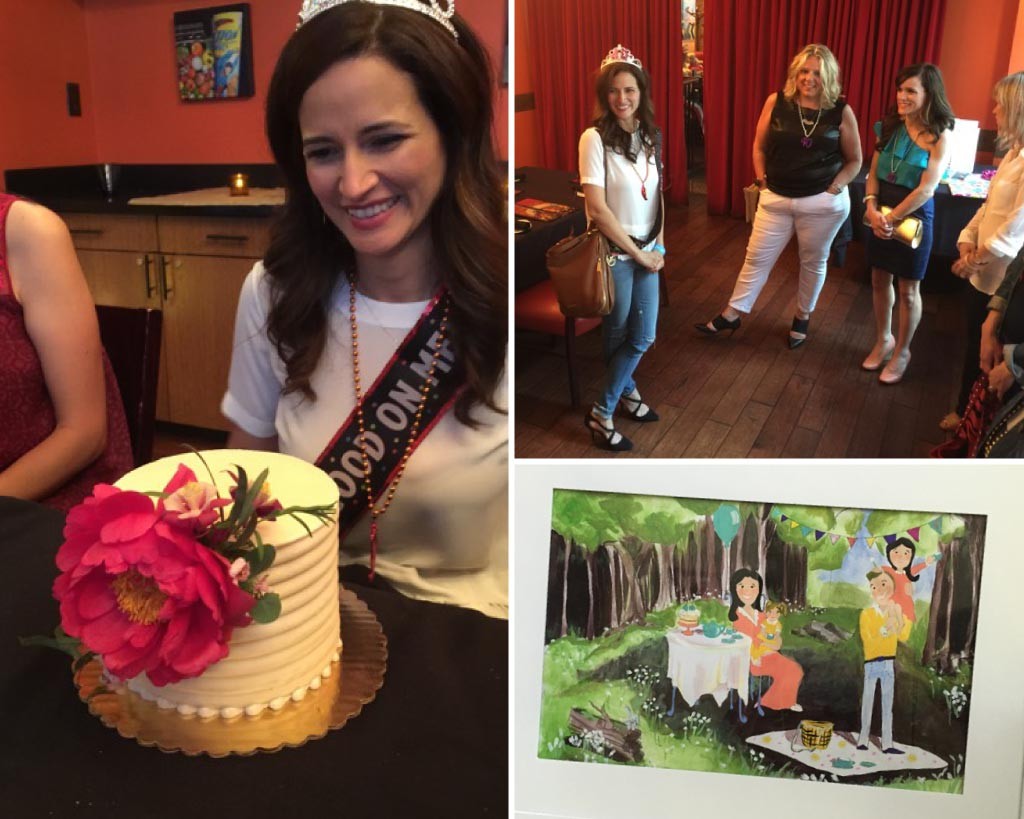 There was a cake from Haven (you can never have too much sugar on your birthday) and this totally awesome gift from Kortnee. Her second shooter, Emily, painted our family portrait in our current season. So sweet!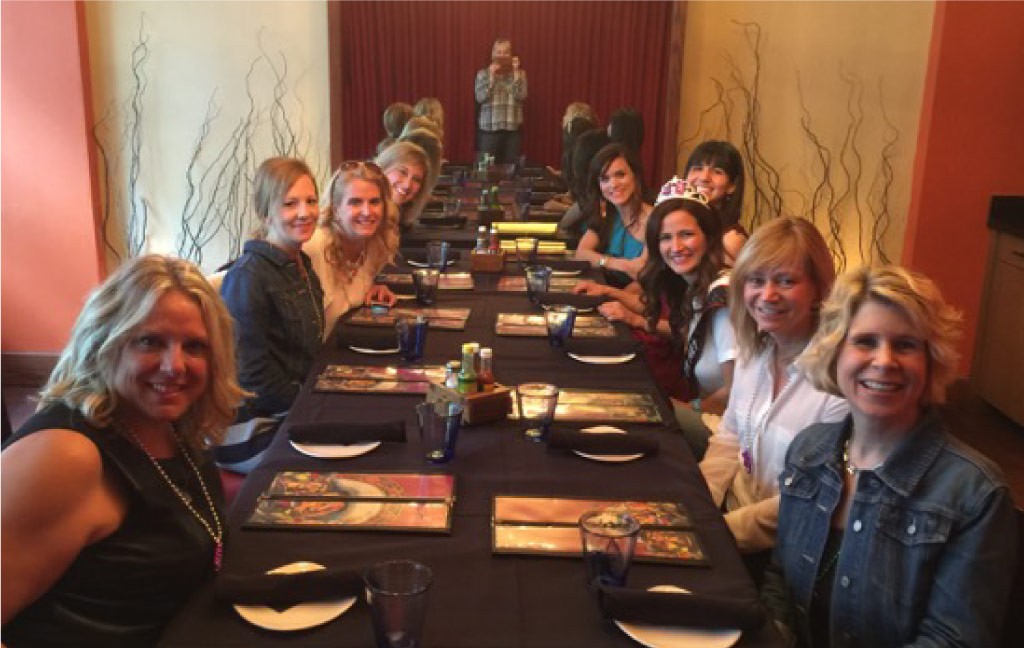 We were at dinner for three hours, and that didn't seem long enough. We shared memories, sentiments and laughed a lot. Even a very dear friend who lives in Alaska called in. And there were some tears! These women have walked through life's ups and downs with me (and I with them), and I'm thankful they love me for who I am—battle scars and all. I love them dearly and the role each has played to shape me. I was in heaven… again!
On top of all the love and affirmation, I received so many amazing gifts. Including this from my Joy. Heart melt!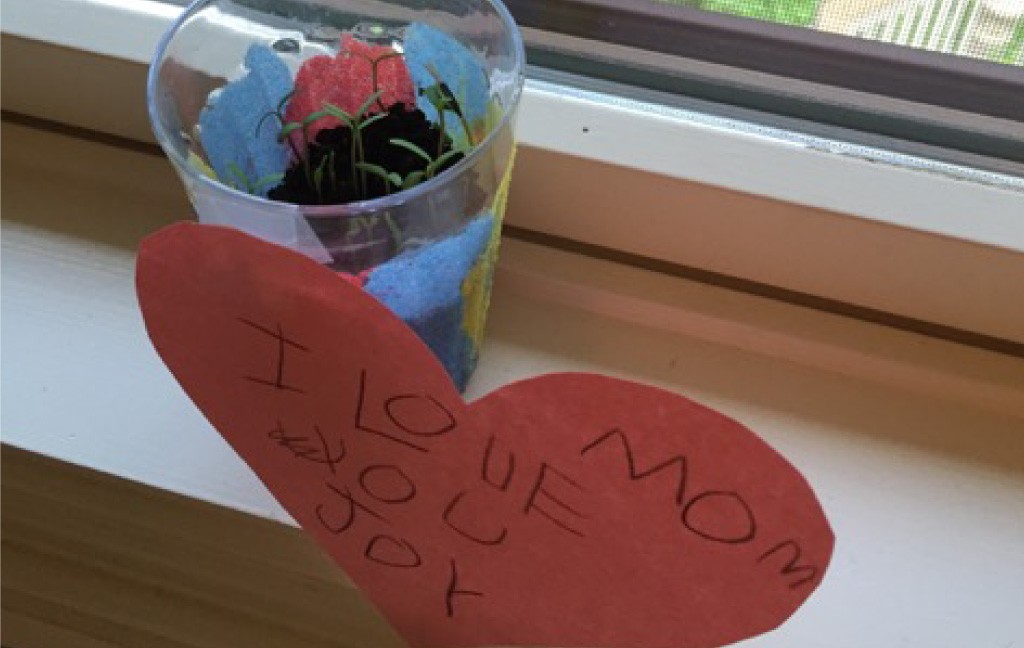 Around 10:30, I opened the last envelope. In it were U2 Barcelona tickets (um, amazing!) and instructions to open my final gift—a book of awesome-ness that Steven made, full of letters (40 exactly) and treasured memories from all of the incredible people in my life.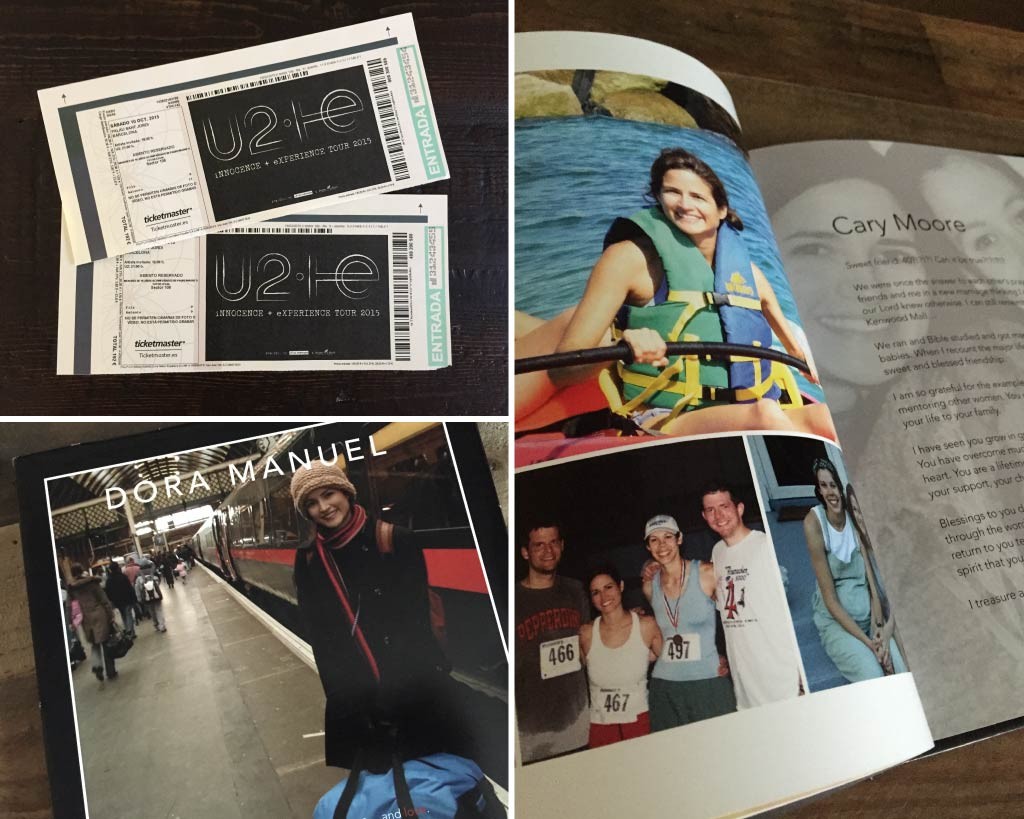 My cup overflows! Here's to a year of being 40 and never feeling more at peace and happy in my own skin.