Posted March 25, 2013
Hot off the press!  Amanda & Travis's gorgeous Greenacres wedding, as photographed by the amazingly adorable and uber-talented Kortnee Kate Photography, is featured in the Spring 2013 issue of Inside Weddings magazine!  Inside Weddings is THE premier national bridal magazine featuring exclusive vendors, planning and trend editorials, but the real highlight is with a small select group of real couples and absolutely fabulous upscale weddings!  This is the first time an Ohio wedding has been featured!!! I met the editor of the magazine at a wedding conference and she shared she'd never even received a submission from Ohio before! What?!? Ohio is full of amazing couples and wedding vendors who help them pull off dream weddings! So, together with Kortnee, we submitted this beauty of a wedding and BAM. Here is it!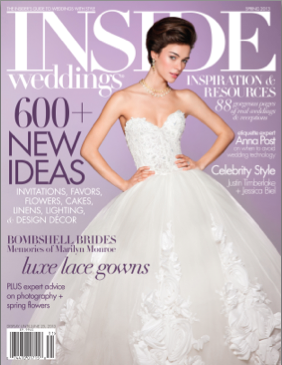 A beautiful wedding always has a romantic story: Shortly after Travis had accepted a job coaching basketball at Xavier University and moved to Cincinnati, a mutual friend introduced him to Amanda.  Immediately, Amanda says she was impressed by his drive and determination.  Travis says Amanda brings out the best in him and she was quick to support his wild basketball schedule.  When they set out to plan their big day, they wanted an peaceful, elegant ceremony coupled with a glamourous and FUN celebration!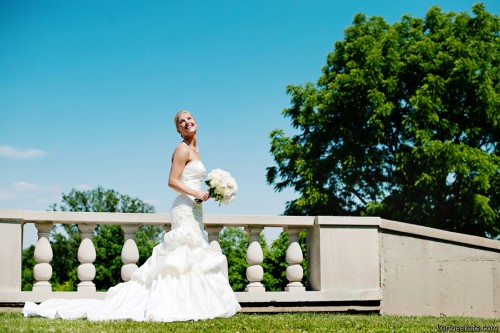 Amanda wanted her ceremony to be an all white, peaceful, and natural look consistent the incredibly serene and romantic outdoor setting at Greenacres Art Center.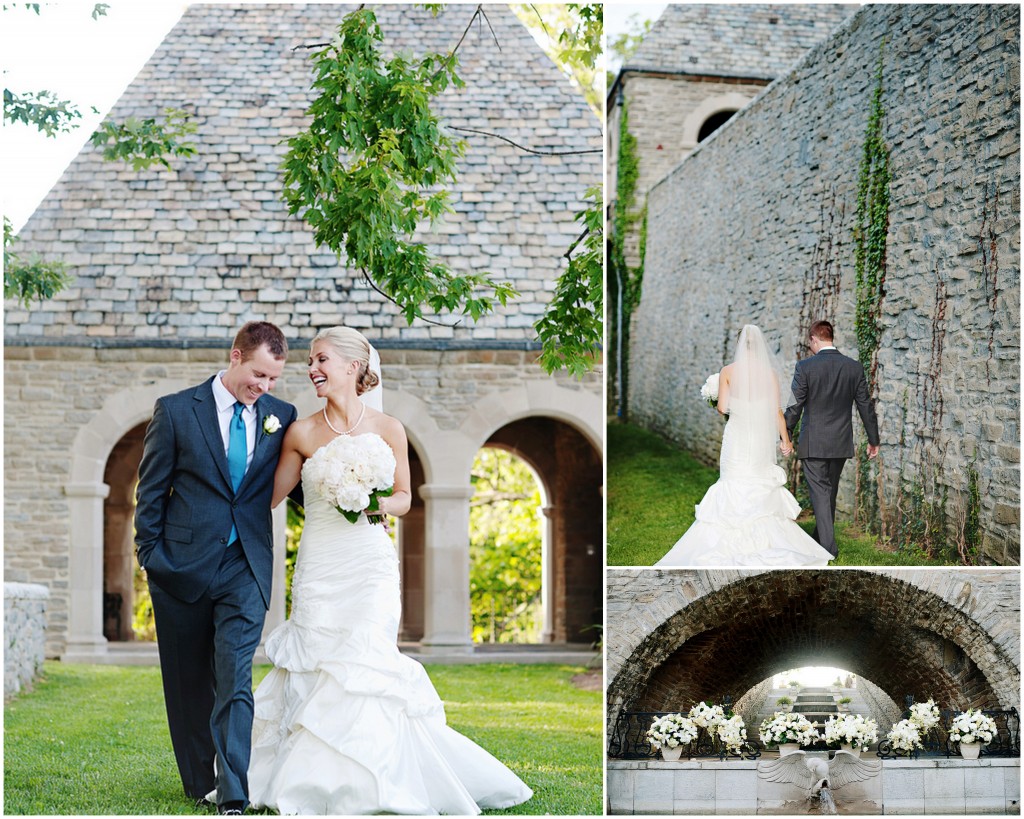 The beauty experts of High Five Salon and Brideface worked together to create Amanda's bridal look–simple, natural, with hints of glamour to compliment her Justin Alexander gown and fabulous Jimmy Choo shoes.  The amazing Kevin Ford for Ford-Ellington Wedding Design created the serene bridal bouquet from light blush pink peonies, white roses, and white hydrangea for depth. Isn't Amanda just beautiful!?!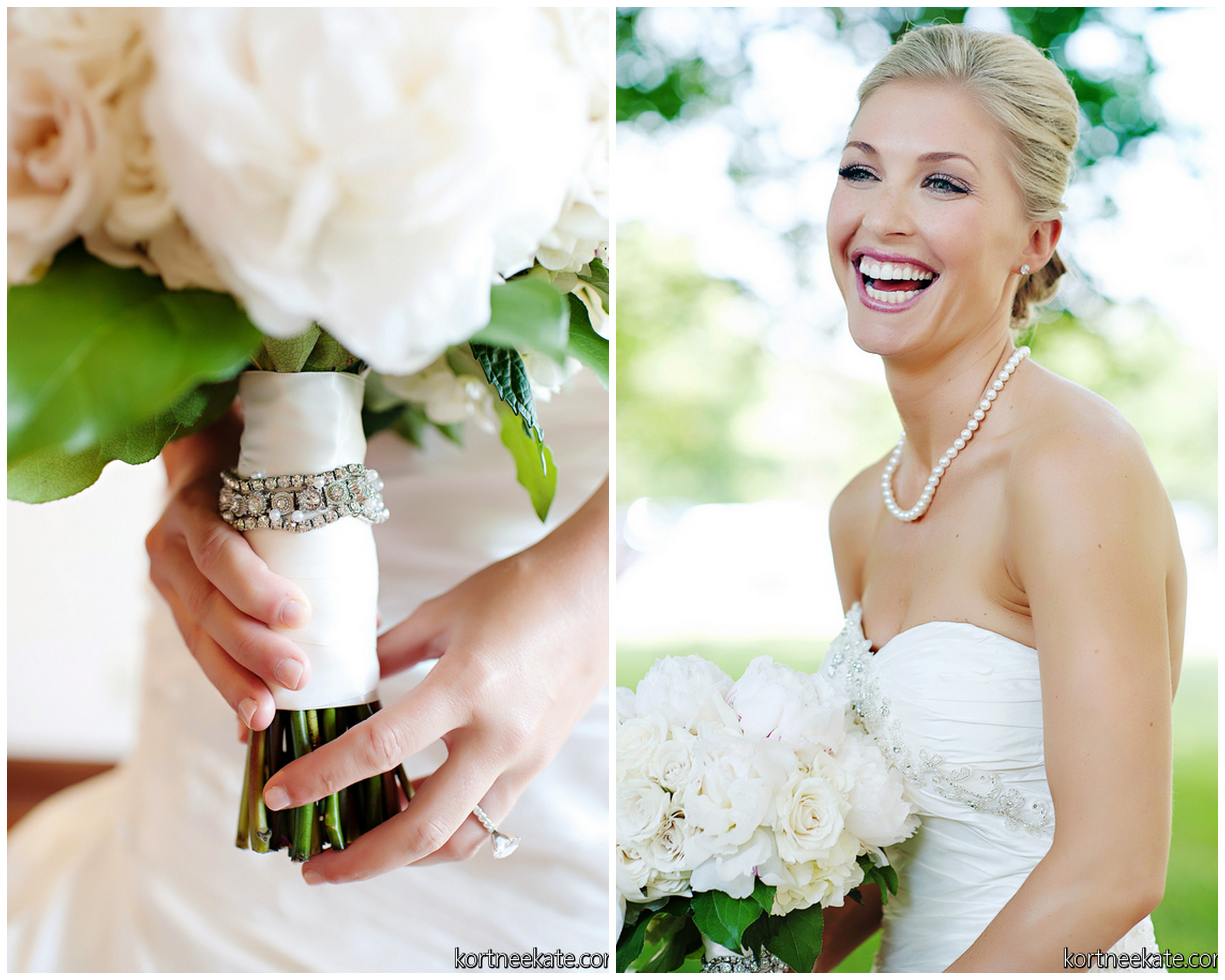 The bridesmaids bouquets were created from peonies in blush and medium pink, white majolika spray roses, with blushed hydrangea.  They looked stunning against the fun and sophisticated blue J. Crew bridesmaid dresses.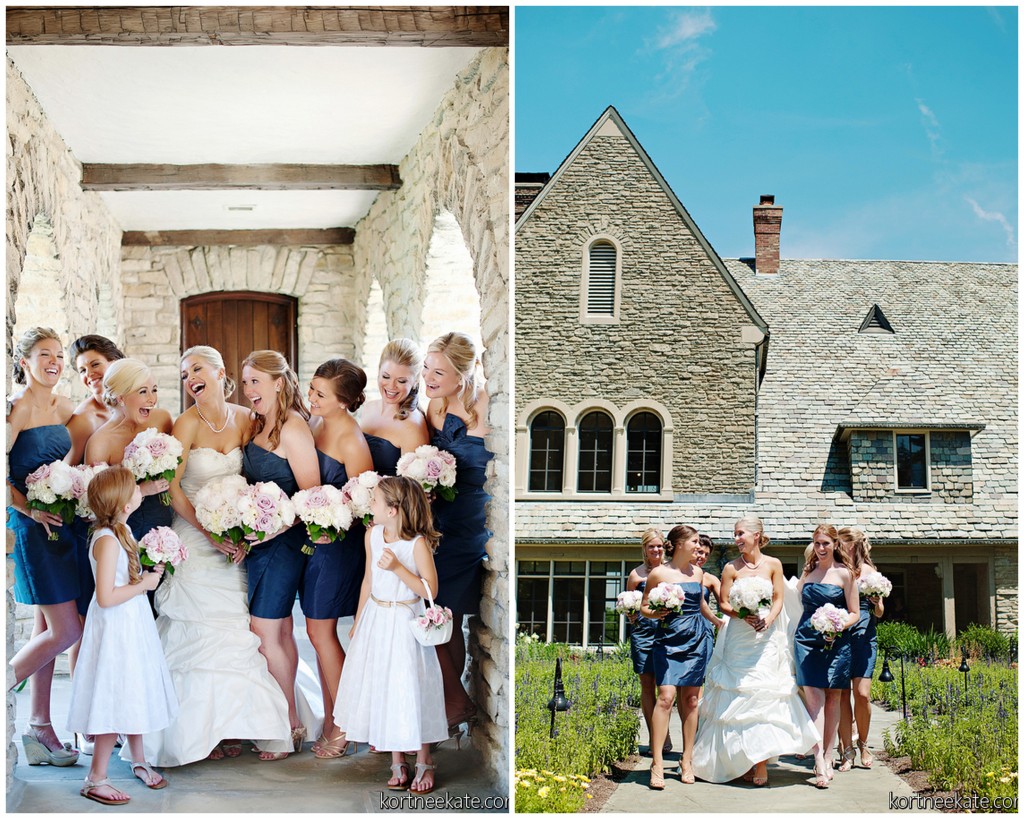 Towering trees over head created an incredibly peaceful backdrop for the ceremony! This photo below of Amanda and her father coming down the aisle is so beautiful! Kortnee truly captured the depth and beauty of the moment!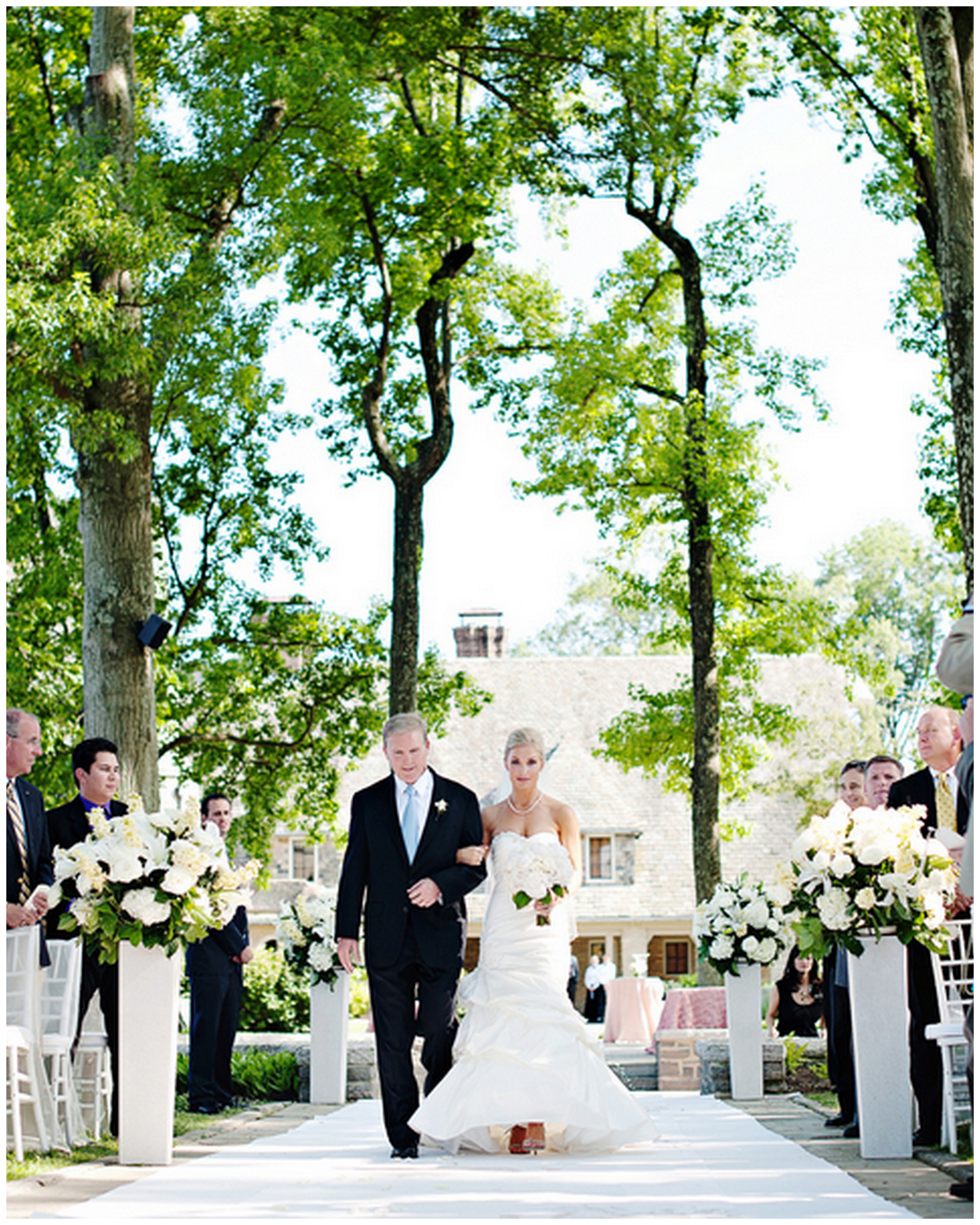 We used three different types of sheer chair covers from Resource One and BBJ Linen for the ceremony area to create a sea of texture and romance.   Kevin Ford for Ford Ellington Wedding Design cascaded white flowers in tall pillar vases along the aisle and white sheer fabric for the canopy. The custom 10 foot wide aisle runner from The Original Runner Company had the beautiful soft peony floral pattern.  This romantic peony pattern was one used everywhere, from the Poeme invitations, to cake design, to the flowers themselves!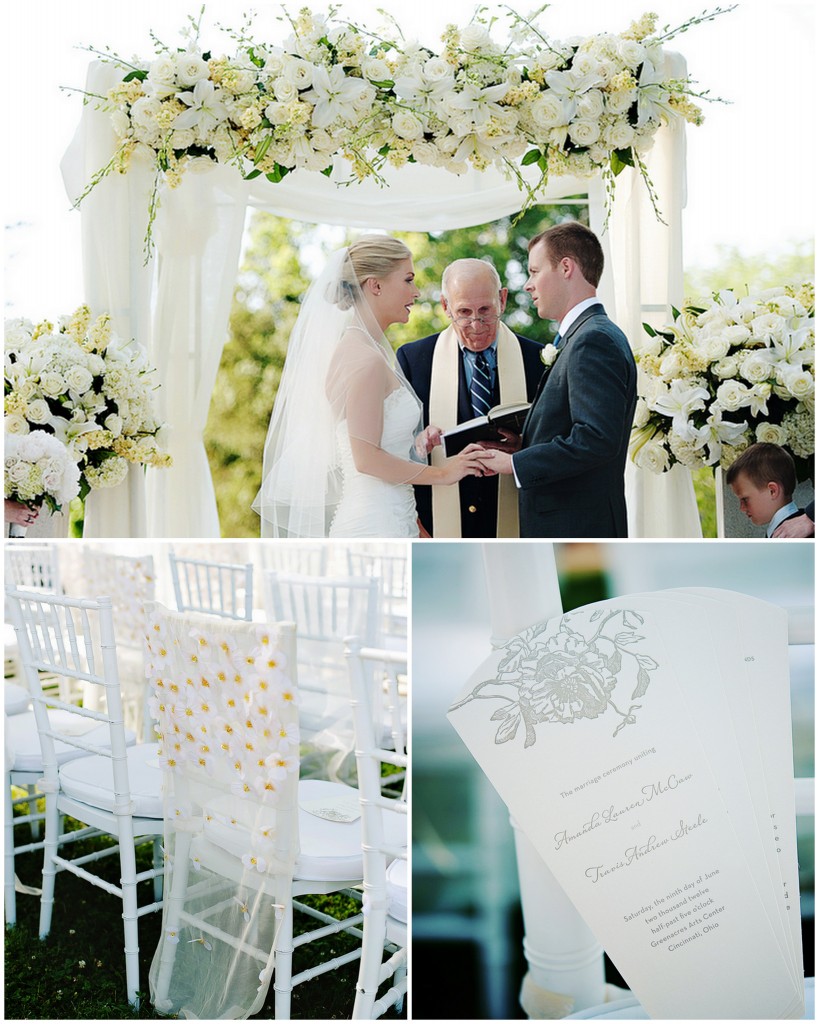 Amanda and Travis wanted an elegant, romantic, and glamorous reception dripping with crystals and glam touches everywhere!  The carpeted tent with its dramatic tent liner from Camargo Events set the stage for the outdoor reception, along with the subtle mostly-white color scheme with touches of ivory, gold, and blush created a elegant feeling.  We choose luxurious textured linens from La Tavola Fine Linen, alternating ivory and champagne for the main dining area with white and gold place settings.  Gorgeous chandeliers, crystals dripping from the tall centerpieces, as well as the with smaller details, like the crystal framed table numbers and All Occasion's crystal napkin rings only added to the sophisticated glam style. One of our favorite elements of the décor was the Chameleon chairs with Ivory Chloe top and skirt with fabulous gold belt.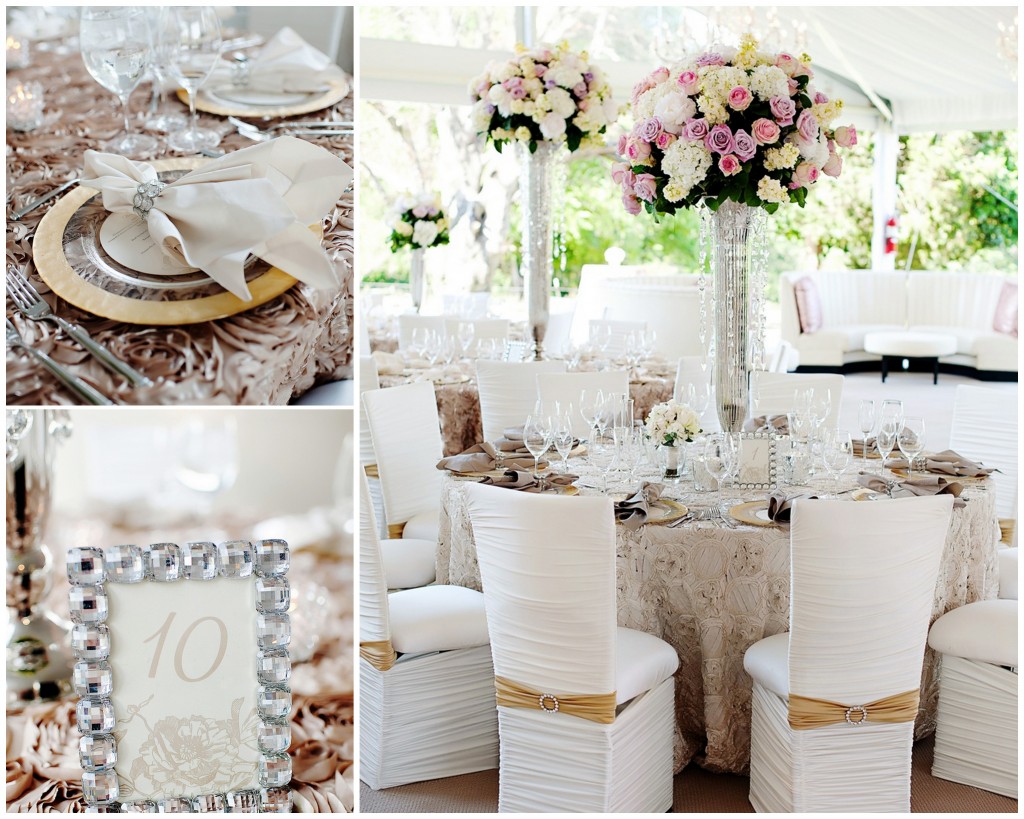 To carry on the romantic theme, Kevin Ford's reception floral designs were designed with a variety of height and and flowers.  The tallest designs had white hydrangea, champagne stock, peonies, and roses in the light lavender, lavender/blush, blush/champagne, and ivory.  The peonies and hydrangea were constants throughout the rest of the designs with varieties of roses changing for each lower height. You can always count on Kevin to achieve the ultimate romantic look!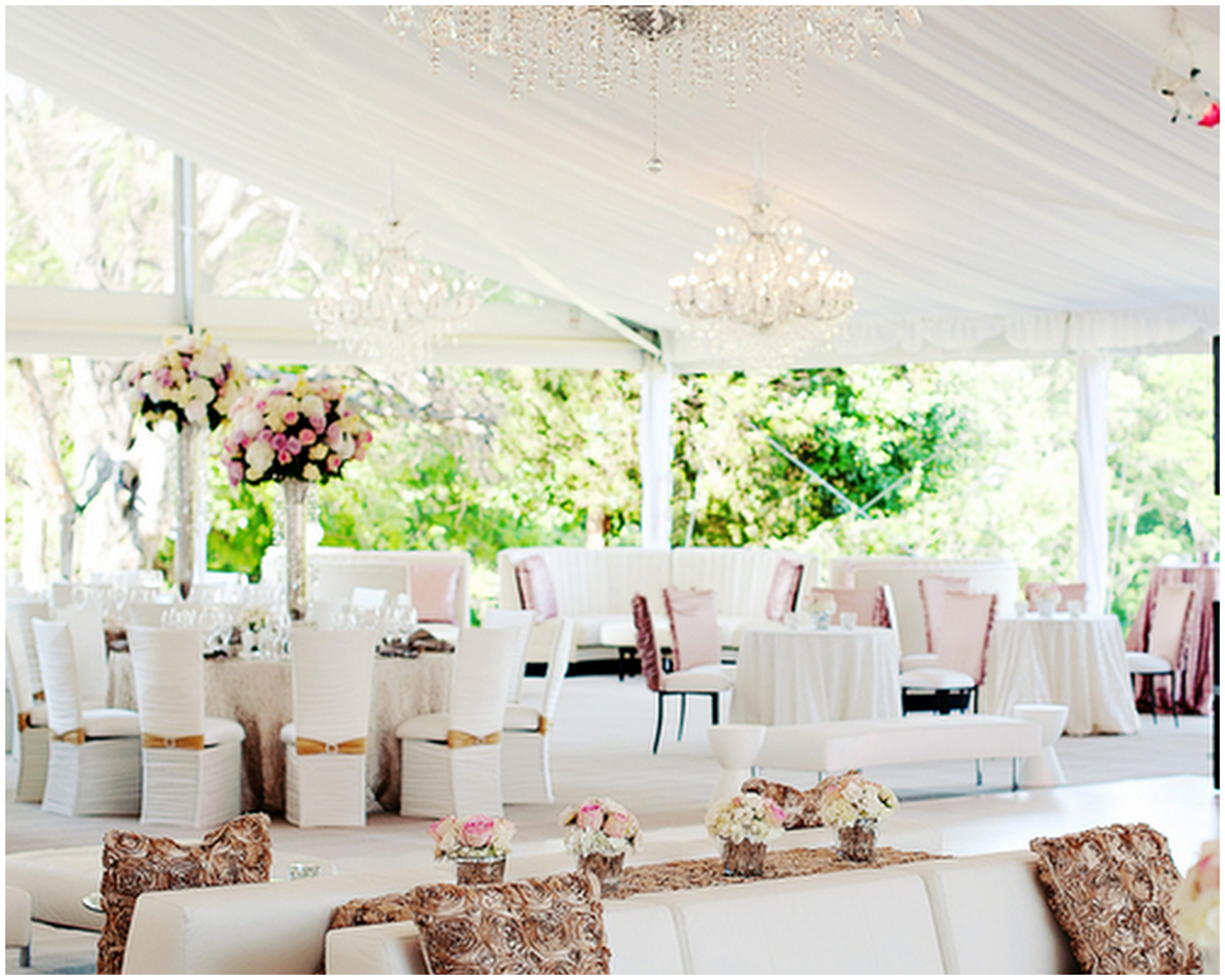 We worked with Camargo to dream up one of the most unique elements of the evening: a custom made 16 foot round white tufted leather bar.  Not only creating dramatic impact in the space, but it soon became a preferred gathering spot for friends and family with long CORT's white sofas accompanied by La Tavola Isabella Taupe pillows and linens.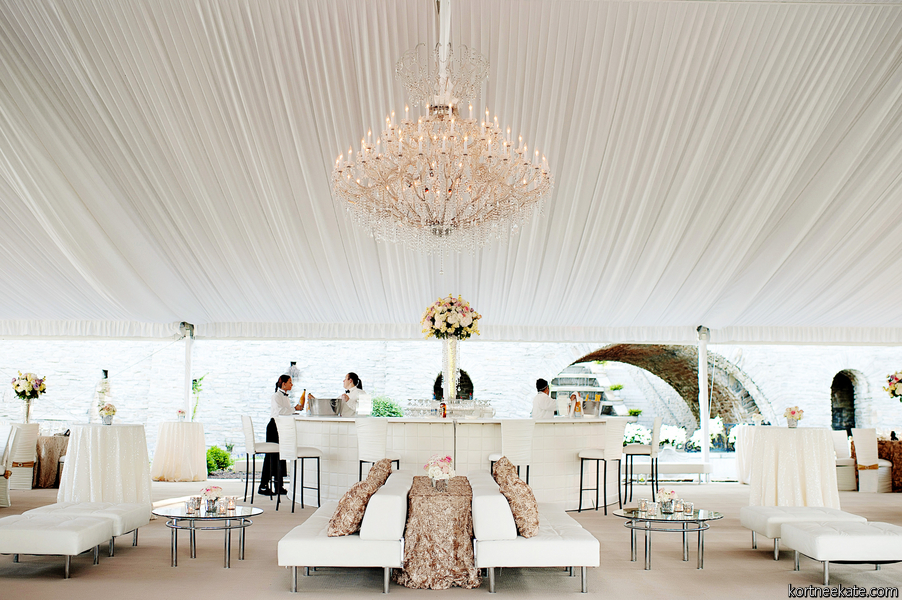 New York sequined pillows from La Tavola Linen in blush and Wildflower's Blush Isabella chair caps for the cocktail lounge area provided space definition, as well as an intimate space for guests to gather.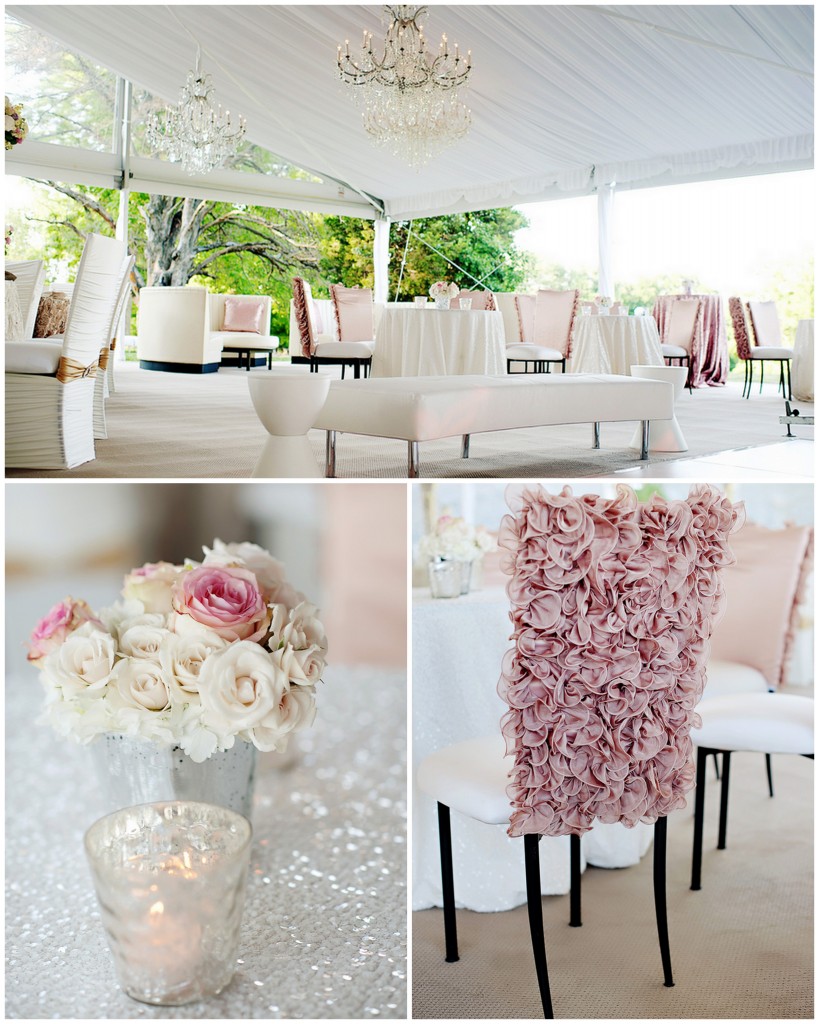 Maribelle Cakery created a spectacular cake with gold metallic smooth butter cream icing. Large blush colored peonies sugar flowers cascaded down the layers of the cake.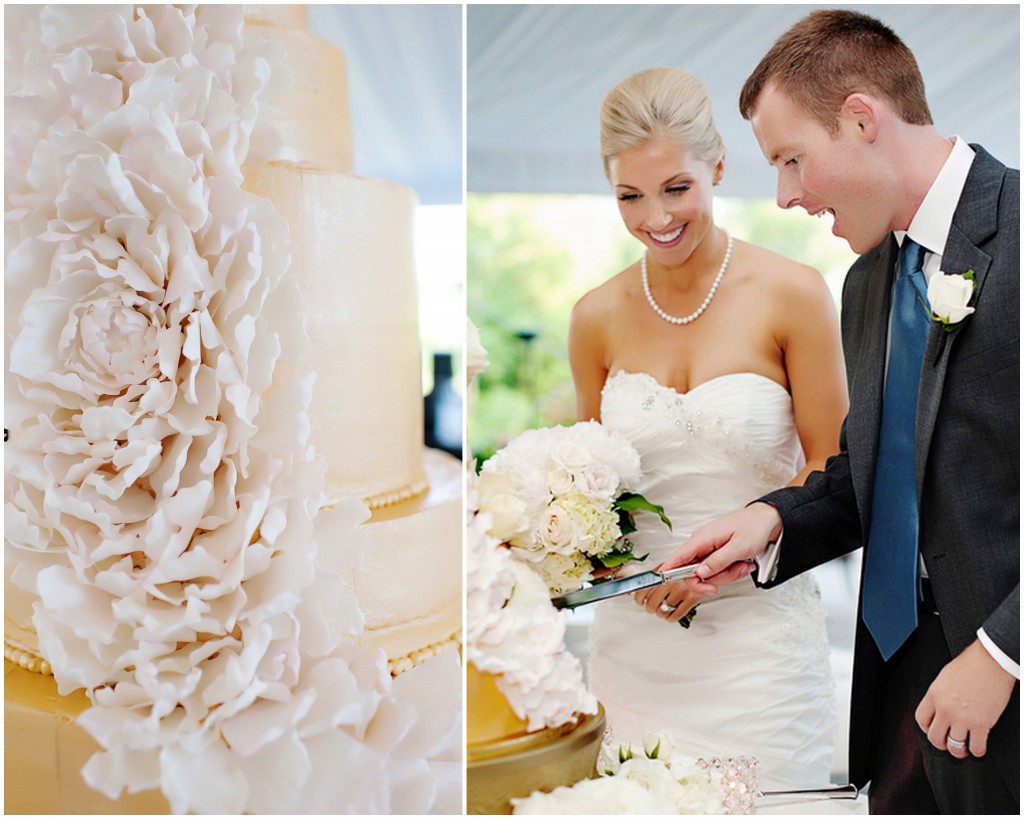 Guests were delighted by Studio Z's Same Day Edit video that was shared right before the dances and showed a highlight of the day!
When the sun went down, the warm pink peony dance floor lighting from Goodwin Lighting created a dreamy effect on the tent liner and chandeliers.  Favors were laid out on Isabella Blush linens –three mini cookies from a popular local Cincinnati cookie company, Donna's Gourmet Cookies, packaged with a custom label reading "How sweet of you to come!".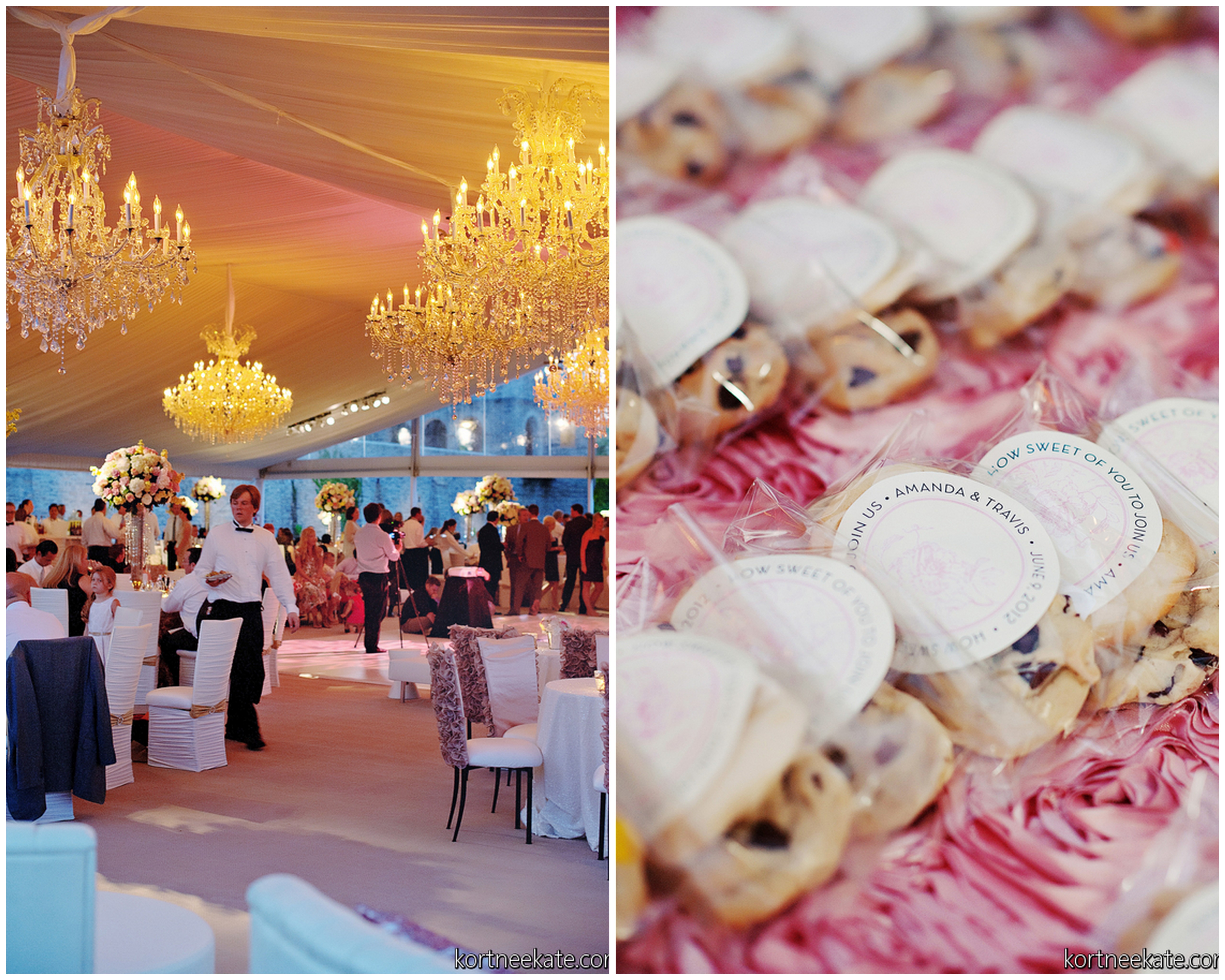 The Burning Las Vegas band from Nashville, Tennessee were absolutely incredible!  The groom tells us "people are still raving about how good they were.  The dance floor was packed all night long."  When the band took breaks for costume changes, DJ Toad kept the party rockin'!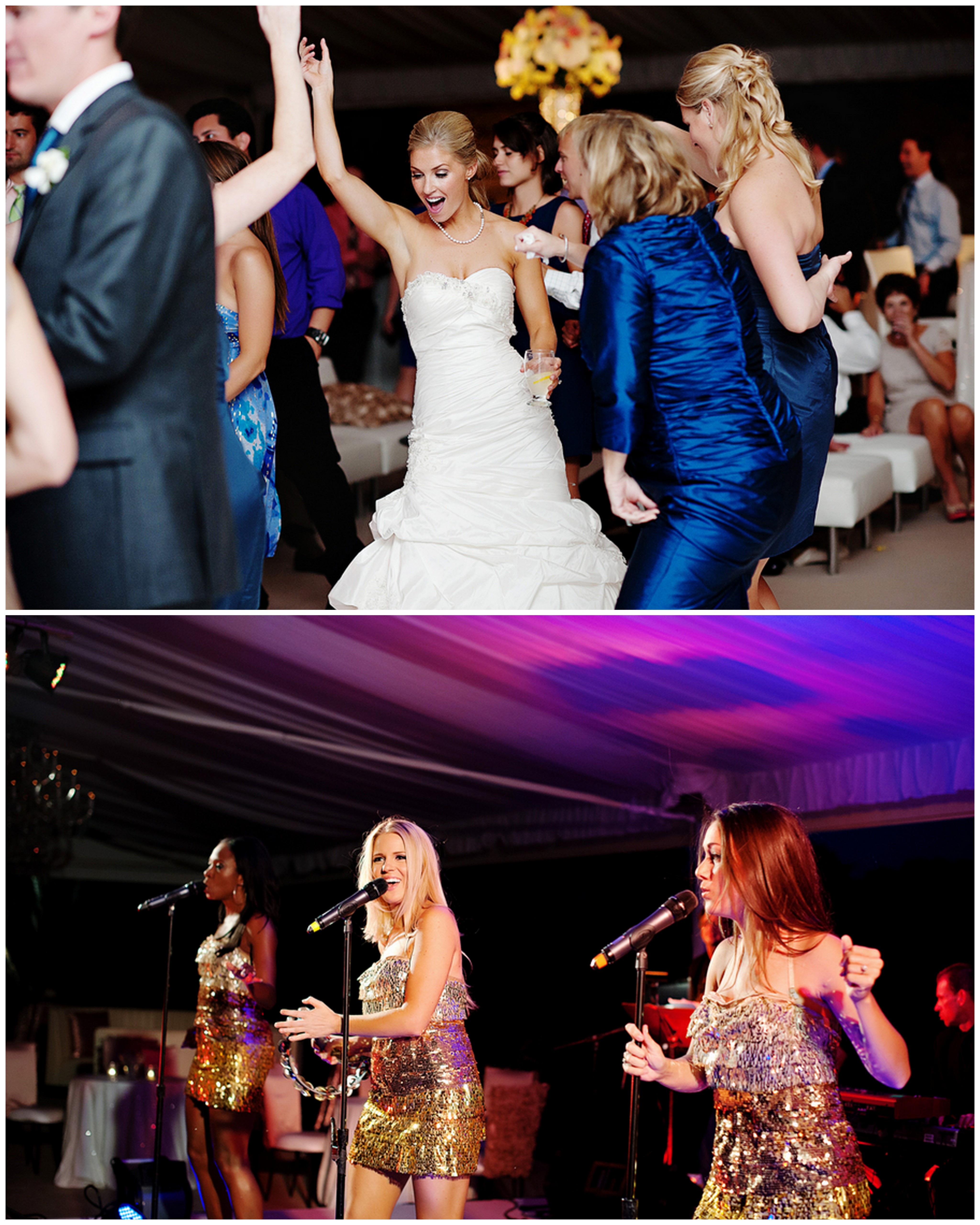 When Amanda & Travis wanted to surprise their guest with a fun late night snack, they chose Fireside Pizza Wagon!  Why?  Because they are always on the hunt for a great pizza place when they follow the Xavier basketball team to new cities!  It was a fun way to incorporate food the couple love & give the guests DELICIOUS pizzas hot out of the oven!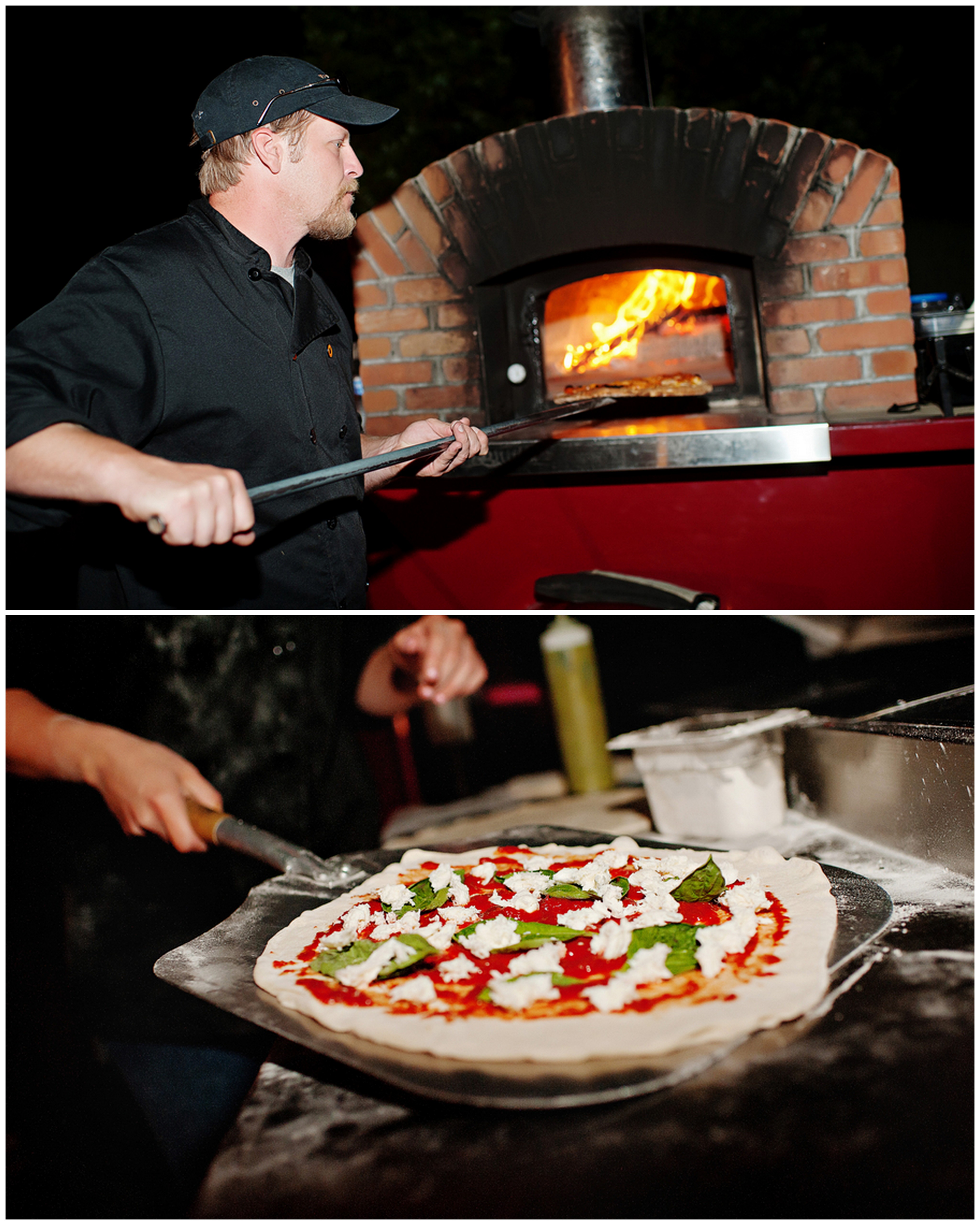 To end the night, the couple and their guests let wish lanterns go into the night sky.  (One of the wish lanterns actually got caught in a tree and one of the groomsmen, who is also the head coach of a collegiate basketball team, was the only one tall enough to retrieve it!)  The lanterns filling the sky was such a romantic and unforgettable moment.  No one wanted this night to end!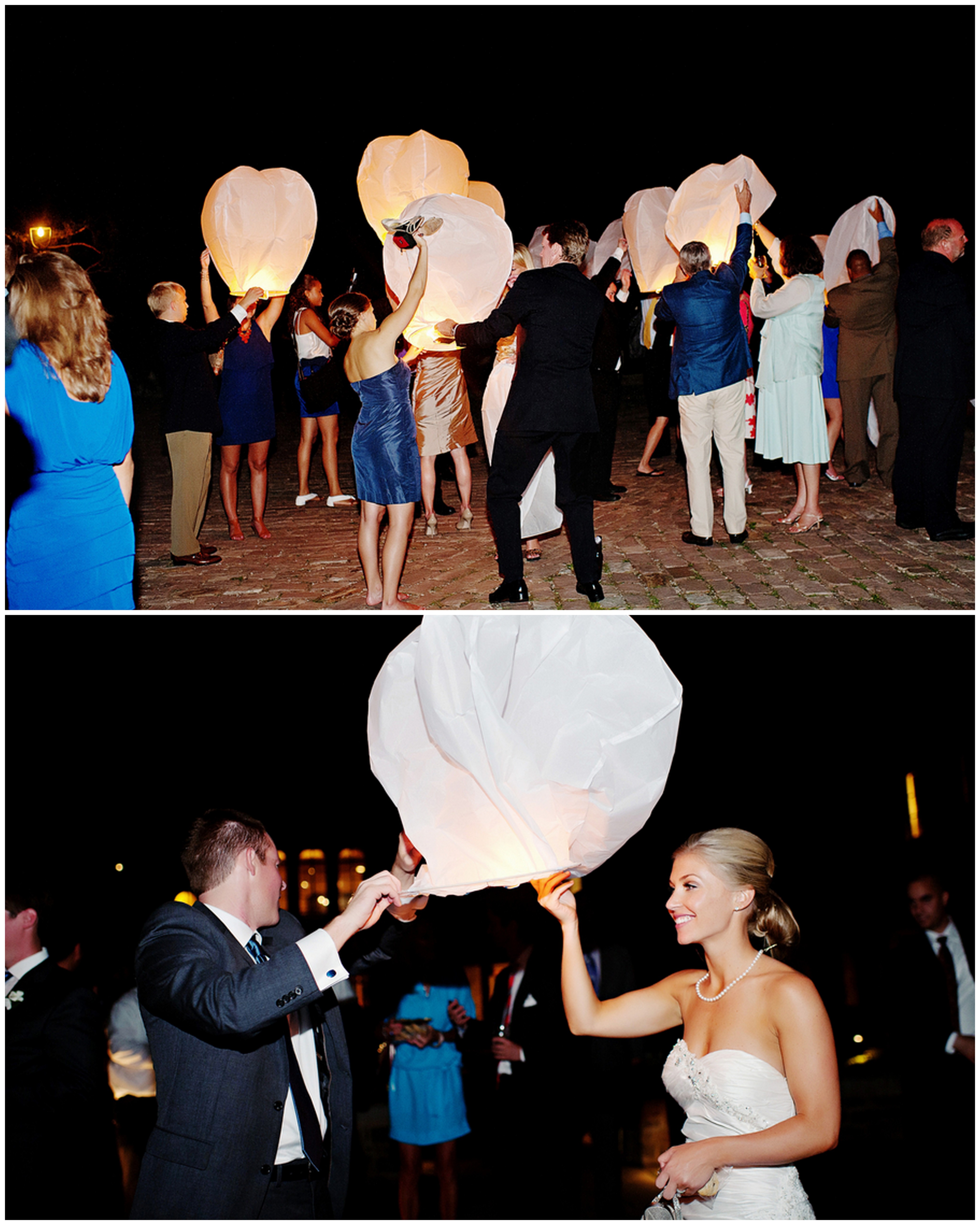 Congratulations, Amanda & Travis!  Thank you for sharing your dreams with us and letting us create a beautiful experience for you and your guests.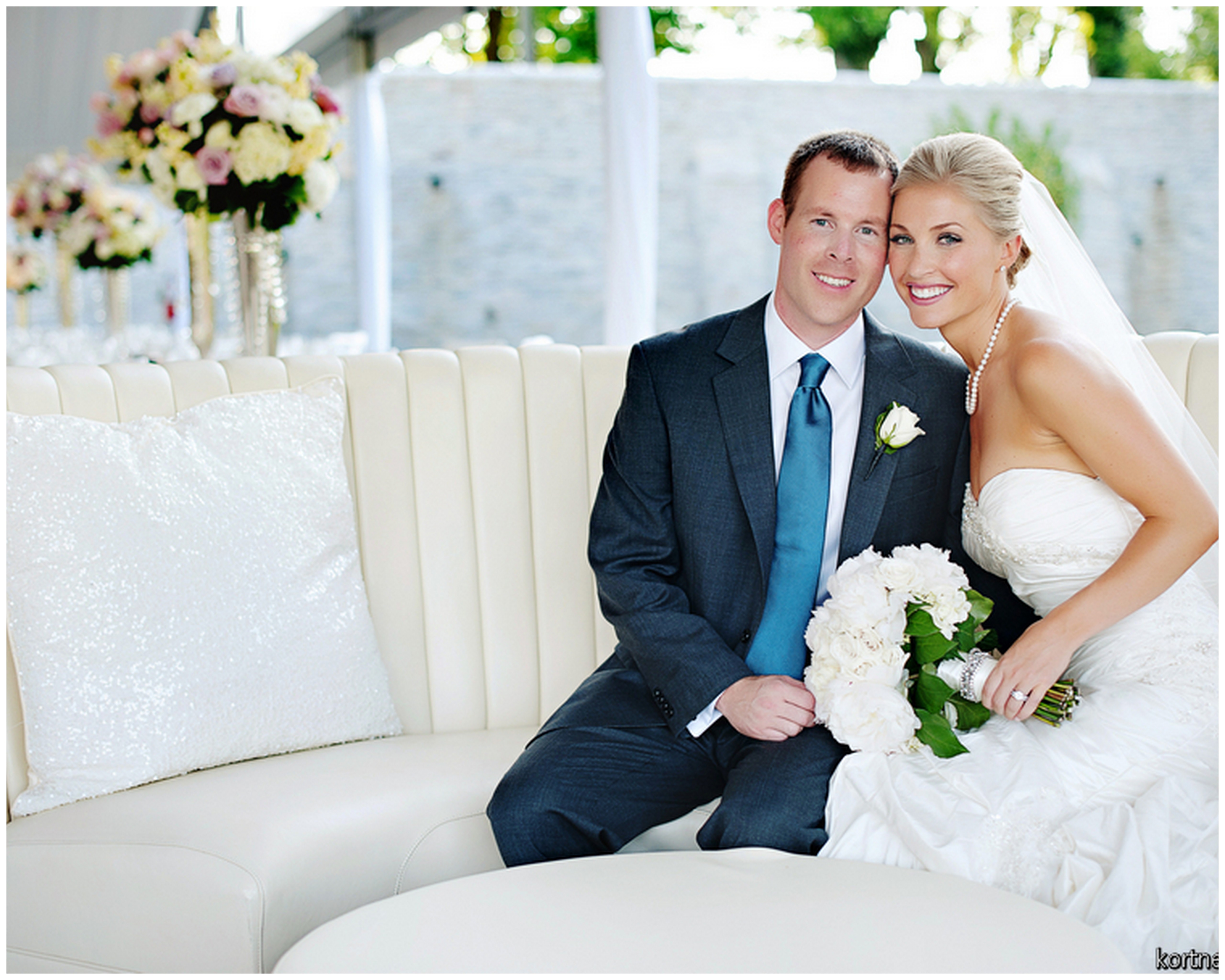 A special thanks to Kortnee Miller of Kortnee Kate Photography for these beautiful images!  They are truly national magazine worthy!
See inside the magazine!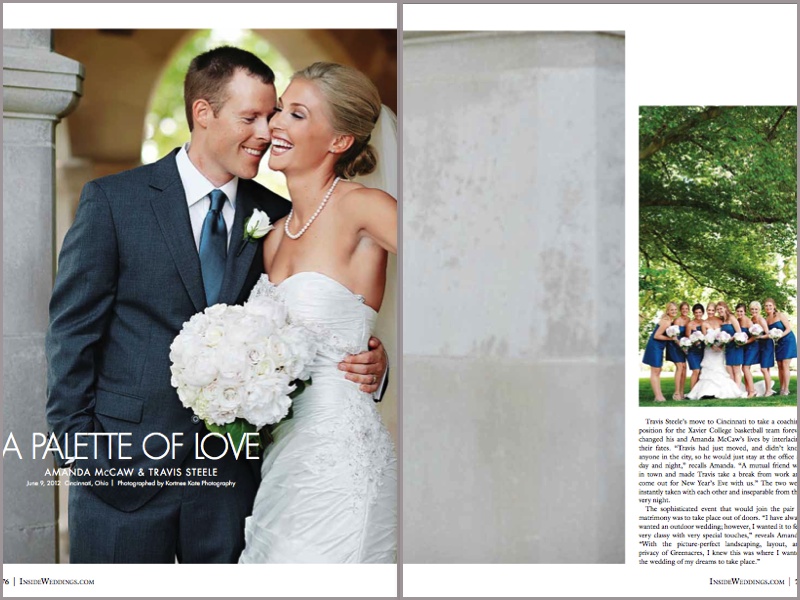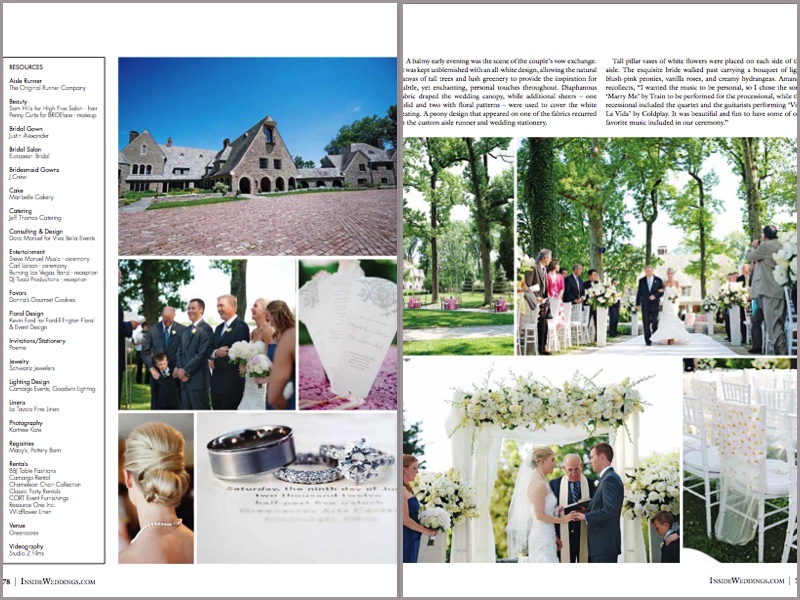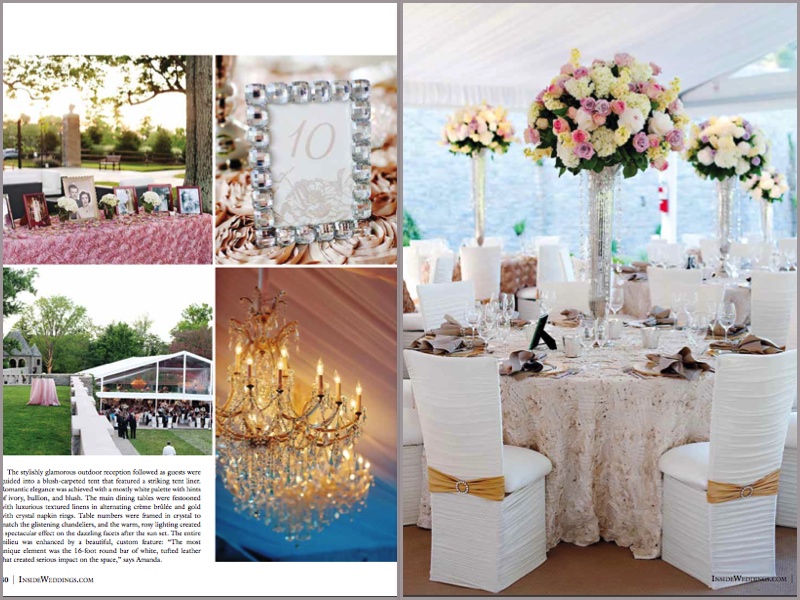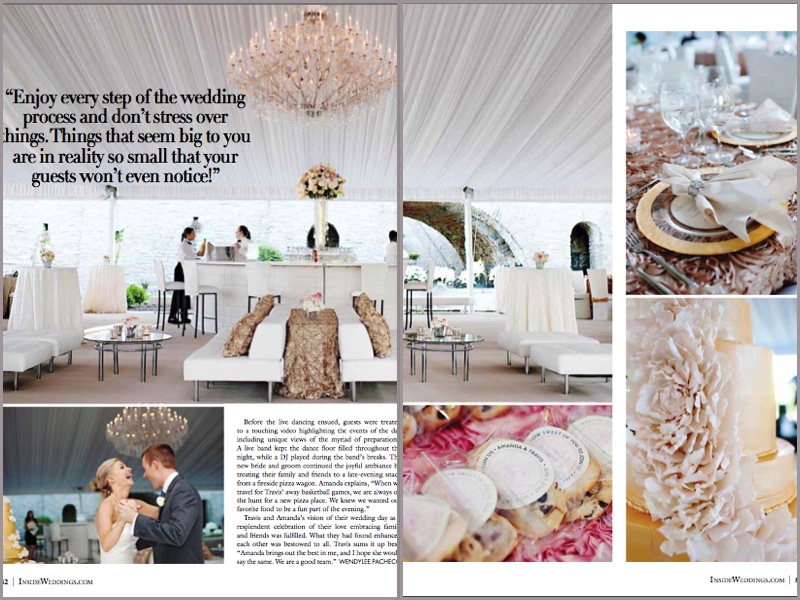 Here's the list of AMAZING list of partners we worked with to create such a fun and engaging experience for our awesome couple! Fabulous weddings are only pulled off by a great team and were certainly were not shy of the excellence Cincinnati (and beyond) has to offer!
Greenacres Art Center,Kevin Ford for Ford Ellington Wedding Design, Original Runner Company, High Five Salon, Brideface, European Bridal, JCrew, Maribelle Cakery, Jeff Thomas Catering, Fireside Pizza Wagon, Steve Manuel Music, Carl Larson, Burning Las Vegas, DJ Toad, Donna's Gourmet Cookies,  Poeme, Goodwin Lighting, Camargo Rentals, La Tavola Fine Linen, CORT Event, Wildflower Linen, BBJ Linen, Classic Party Rentals, Jimmy Choo, Studio Z Films, Chameleon Chair