Posted May 16, 2013
A HUGE trend for weddings in 2013 is to have a 1920's theme!  We just adore all things 1920's!  From Downton Abbey styled garden parties to the fab the Art-Deco design that we see in famous Cincinnati architecture.  AND, now F. Scott Fitzgerald's beloved novel has (yet again) been turned into a blockbuster feature film and more brides are turning to art- deco design and the jazz era of the 20's for wedding themes and inspiration.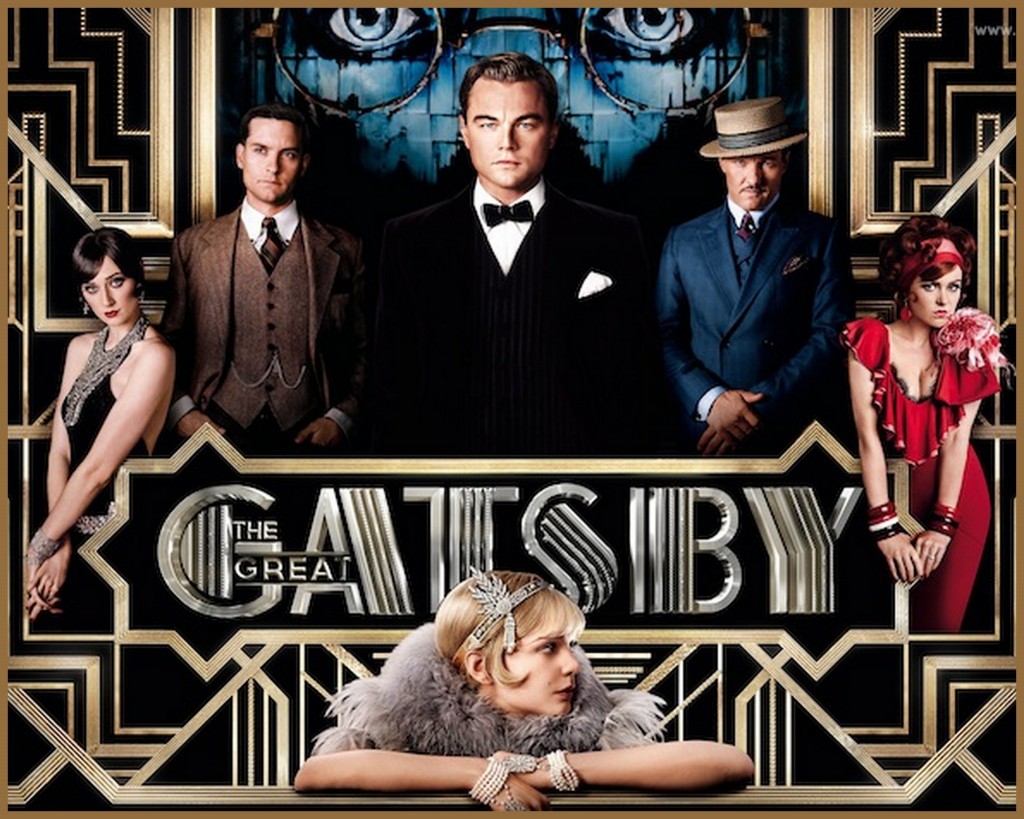 Even if you aren't a literature buff, who doesn't want to experience a good love story with Leo?!?  Just look as this image from the movie and try not to be in love with the glittering opulence of the roaring twenties…not to mention the smoldering look in Gatsby's eyes…oh, my. ALL of Daisy's blingy jewels and hair pieces were designed by Tiffany's!  See the official Tiffany & Co. pinboard with all of the over-the-top Gatsby inspired creations.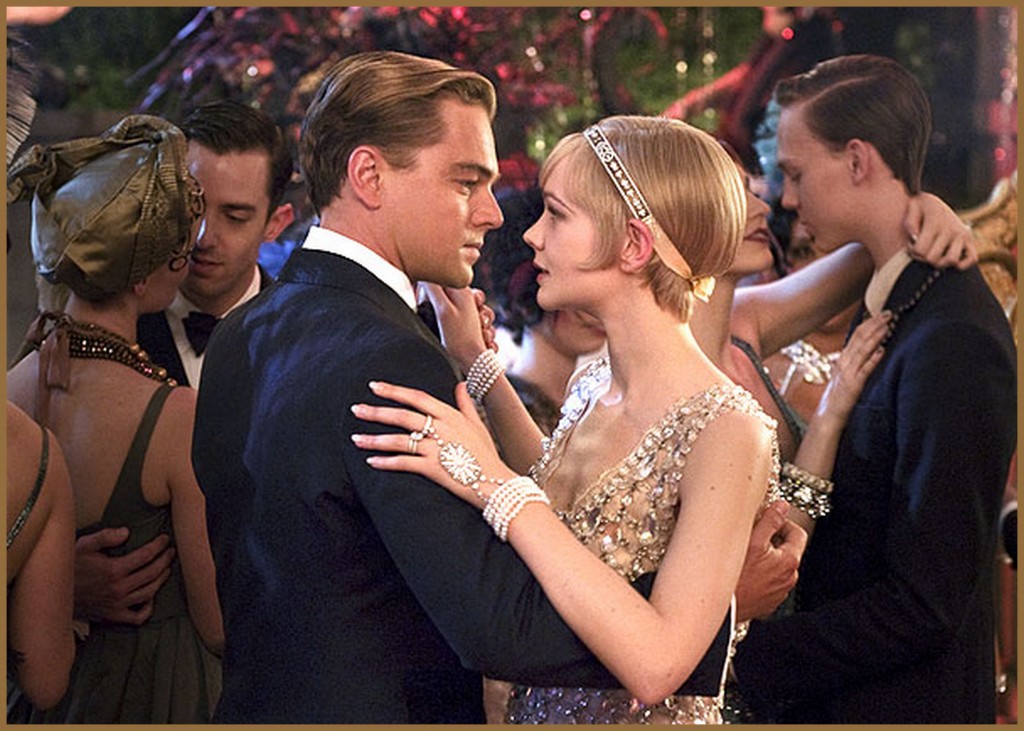 A great leaping off point for this look is the wedding dress selection.  Claire Pettibone has the 1920's look down to a SCIENCE. She has taken intricate art deco styling and drop-waist designs and turned them into modern elegant and care-free modern looks. See the entire Windsor Rose China collection!  If you are looking for cool 20's glam, this is a fantastic place to start!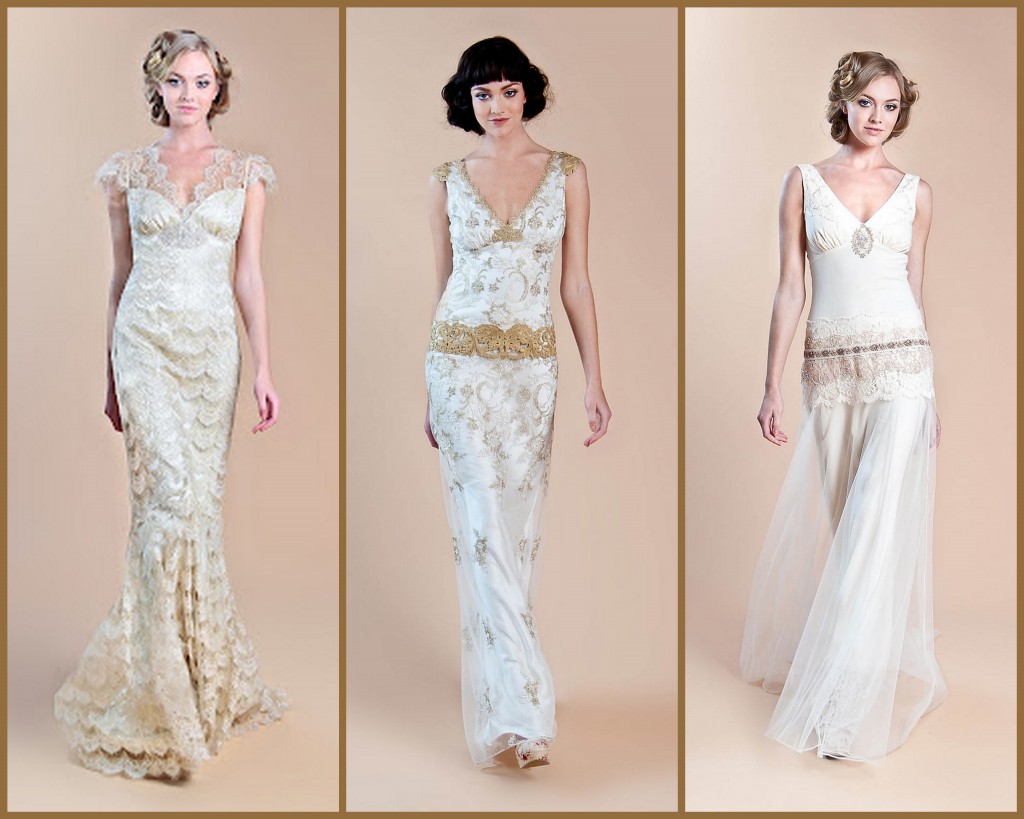 Because Gatsby IS the main character, we have to talk about his famous crisp white suits.  Brooks Brothers has thoughtfully created a totally new collection called "The Great Gatsby Collection"–just might be right for your groom!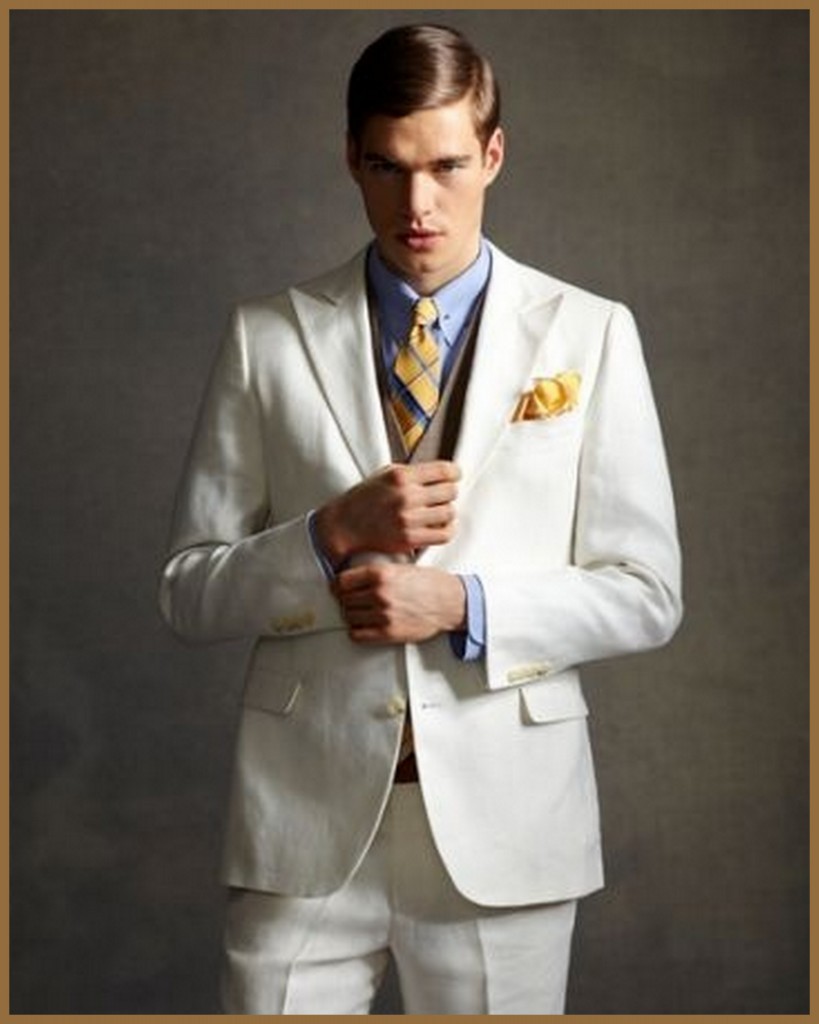 The overall look of the wedding reception should be drama, drama, drama.  Tall feathered centerpieces above stately gold and black place settings create major impact. An art-deco stationery suite sets the tone for the event.  Of course, we all know it's all in the details…we just love the small table scape around the table number and the use of chevron (a decidedly 2013 trend) to update the 20's look. 
At one point in the novel, Gatsby remarks "I like large parties, they are so intimate. At small parties there isn't any privacy." 😉 Don't you just love that?  The viva bella team really gets excited about creating lounge areas with carefully chosen furniture for the cocktail hour and additional intimate lounges tucked away in corners of the reception area.  To get this glam Great Gatsby look, use towering feathered arrangements, sparkling chandeliers, mirrors (another big 2013 trend), neutral colors, and of course, killer lighting to create just the right mood.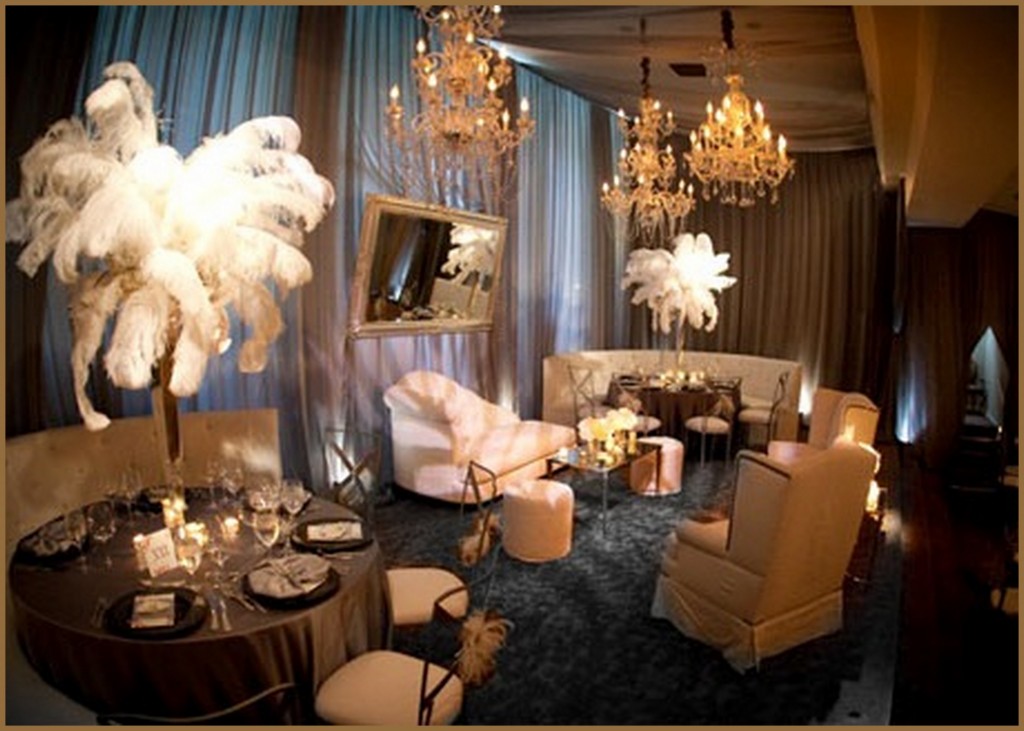 We just have to mention: a few years ago, one of our brides was inspired by the 1920's art-deco design of the Cincinnati Hilton Netherland Plaza.  Here is an overview shot below of her uber-glam reception.  See all the details of this wedding featured by Style Me Pretty here and DO NOT miss the truly amazing gold art-deco cake!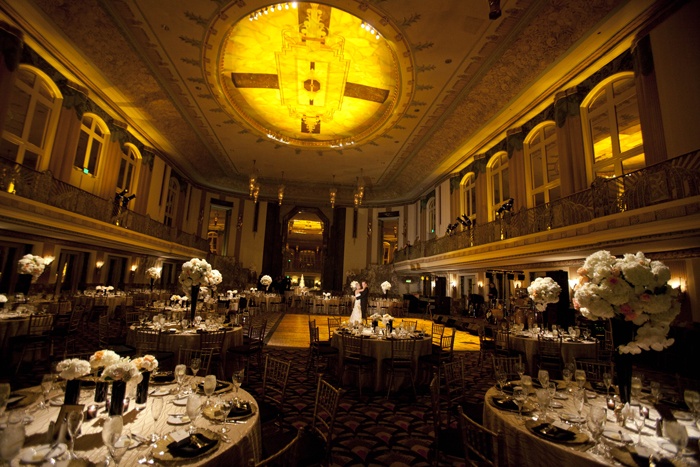 See even more 1920's inspiration we've gathered on our pinboard–including more dresses, more reception ideas, and more fab Gatsby inspired details!
Pinterest, Brooks Brothers, Claire Pettibone, Blink of an Eye Photography