The 2015 summer issue of Inside Weddings is on stands TODAY, and we are thrilled that Chip and Gigi's incredible black and white affair, as photographed by the super talented Kortnee Kate Photography, has been featured!
Inside Weddings is THE premier national bridal magazine featuring exclusive vendors, planning and trend editorials, and a small select group of real couples and fabulous luxury weddings! We could not be more excited to be a part of their summer issue. We've had to keep the stunning details of this glamorous wedding under wraps for months, and we're dying to spill!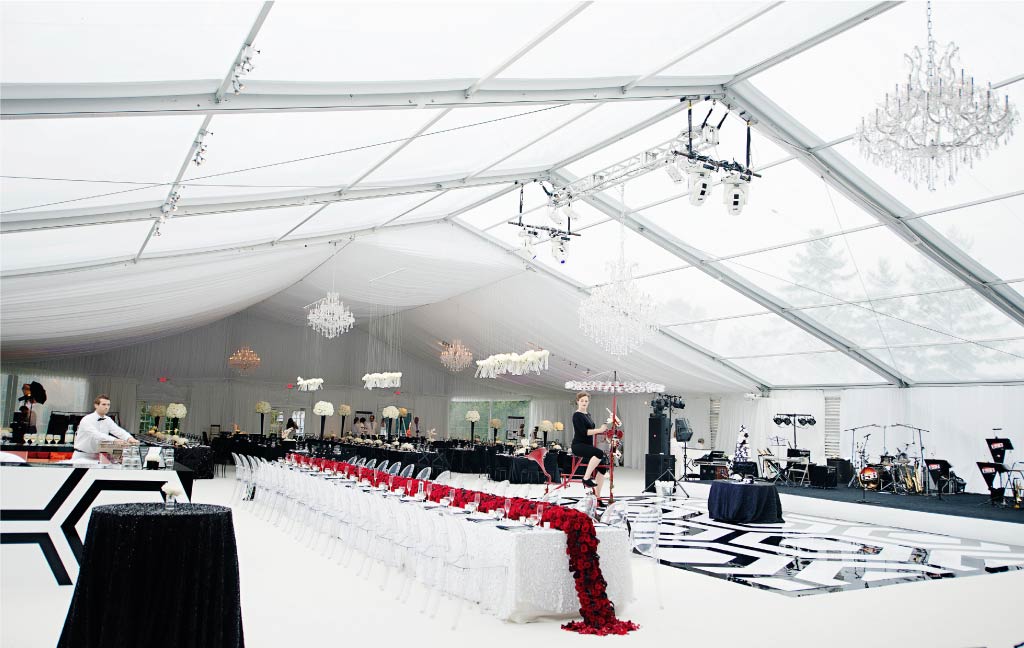 Where to begin? Chip and Gigi's love story is so unique. When they came to us almost two years before their actual "I do," we just knew that these two would be an unforgettable couple in need of an unforgettable day!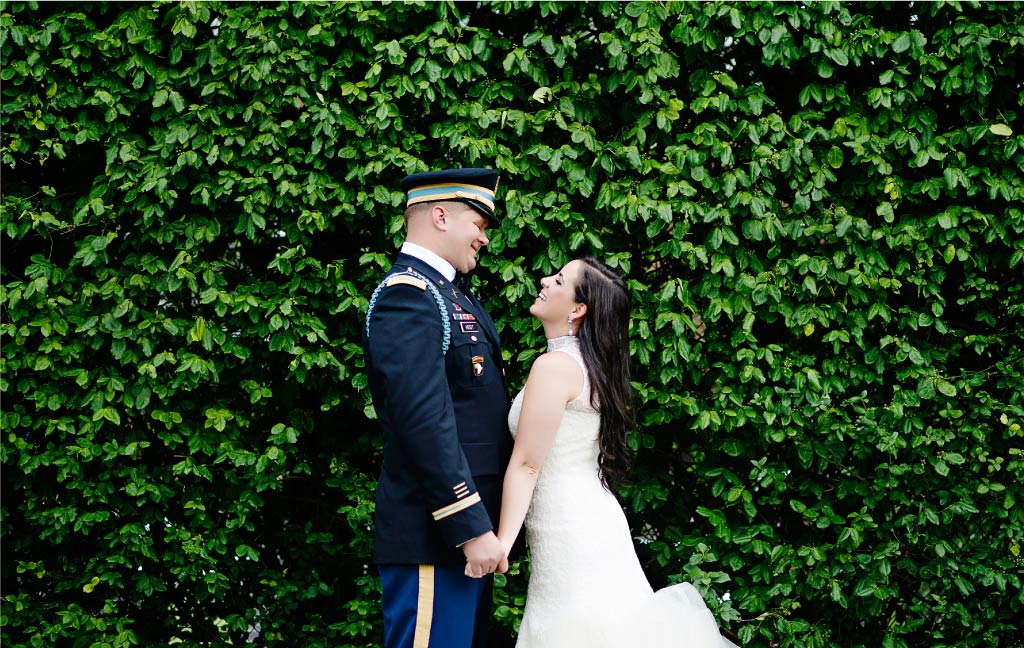 Here's a little snippet from Inside Weddings as written by Nicole Palacios:
While casually chatting on the balcony at the oceanfront restaurant, the conversation turned serious. Chip began to describe to Gigi how special she was to him and, before she could process it all, he was on bended knee. "As he reached for the ring from his pocket, he fumbled, causing the ring to fall off the balcony and into the ocean," she recalls. "I practically threw myself after it!" Being the logical and resourceful woman she is, Gigi regained composure – obviously after first yelling, "NO!" to the volumes of ocean waves below – and diligently performed an internet search for scuba diving services. "Suddenly, Chip rushed back, and as I turned to face him, he was back on his knee. This time holding the real ring," Gigi smiles, reflecting back on the day she said "yes."
So, yes! From the very start, Chip and Gigi's relationship has been full of fun and surprises—which was exactly what they wanted for their wedding day. Their initial inspiration was this: "Through thick and thin, easy times and bad times, good and evil… love conquers all." The final result was a sophisticated all-white ceremony paired with an elaborate, black and white celebration, filled to the brim with dazzling, meaningful details!
Chip and Gigi's wedding day began with a traditional Catholic ceremony at The Immaculate Heart of Mary Chapel located at the high school Chip and Gigi both attended. Both historic and sophisticated, the chapel's grand ceilings, brilliantly stained glass, and stunning marble floors provided an absolutely beautiful backdrop for the momentous day.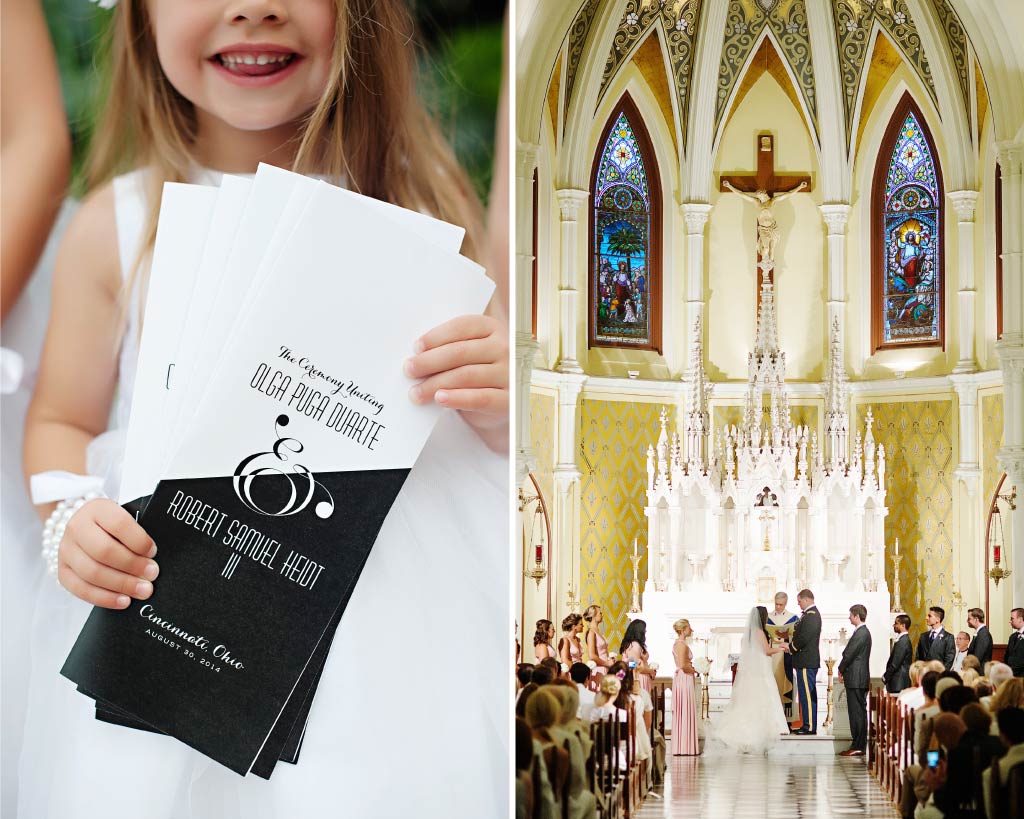 Chip totally impressed the all-white-wearing guests with his Army dress uniform and Gigi wowed in her stunning, high-neck Vera Wang. That lace! Those ruffles! Gorgeous doesn't even begin to cover it. Her look was simple, ultra glamorous and perfected by the amazing talents of High Five Salon and BRIDEface. Gigi, you were a vision of fabulous!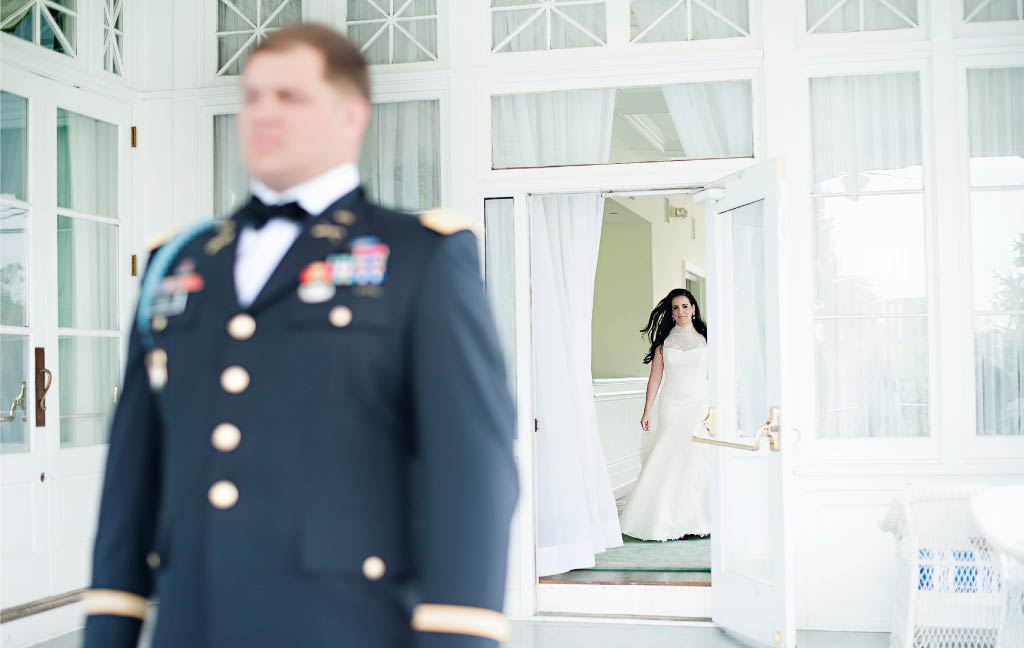 Adding to Gigi's simple yet ultra glamorous look was her incredible ivory glamelia designed by Marti of Marti's Floral Designs. The beauty was made solely of ivory rose petals, joined together to look like a single, oversized rose bloom. The first of many unique elements! The bridesmaids wore pale blush gowns and carried posies of white ranunculus while groomsmen wore classic gray suits. Who doesn't love a man in a crisp gray suit?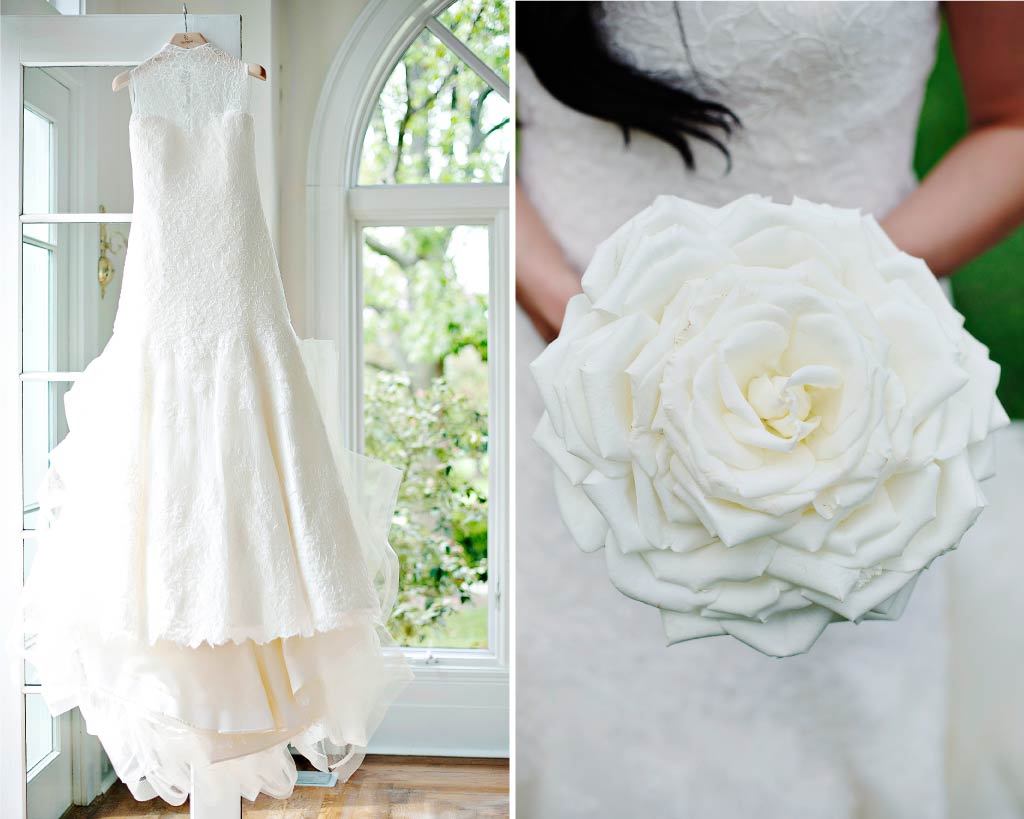 Following the ceremony, guests relocated to the gorgeous Heidt residence where the grounds were tented (six, to be exact!) and lit to perfection by All Occasions Event Rental and Vincent Lighting. Gone was any trace of traditional as the all-white-wearing guests entered into a modern, glamorous black and white dream!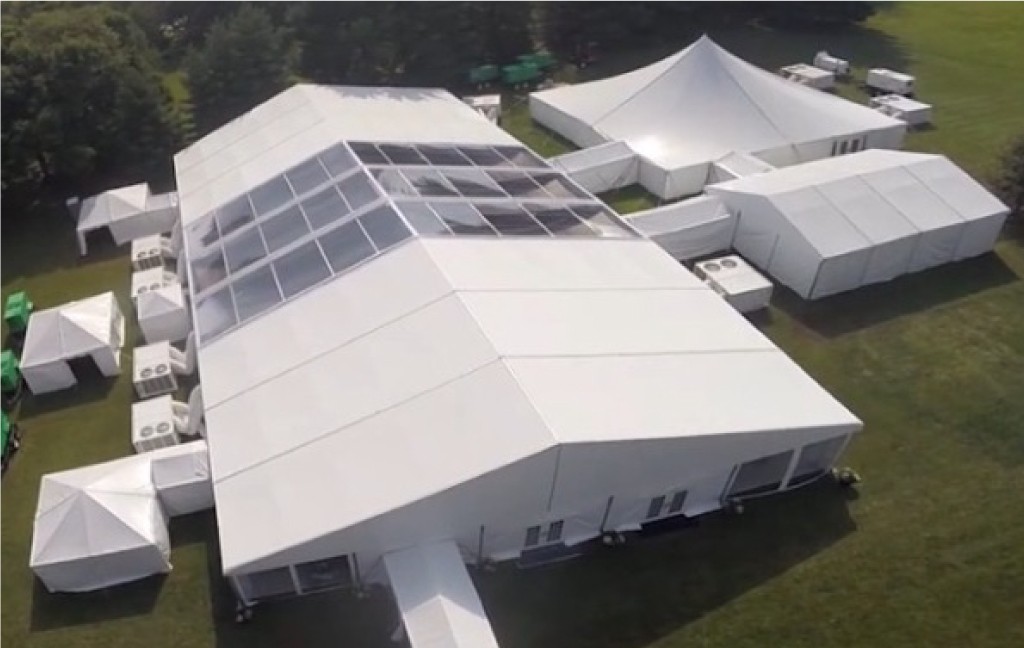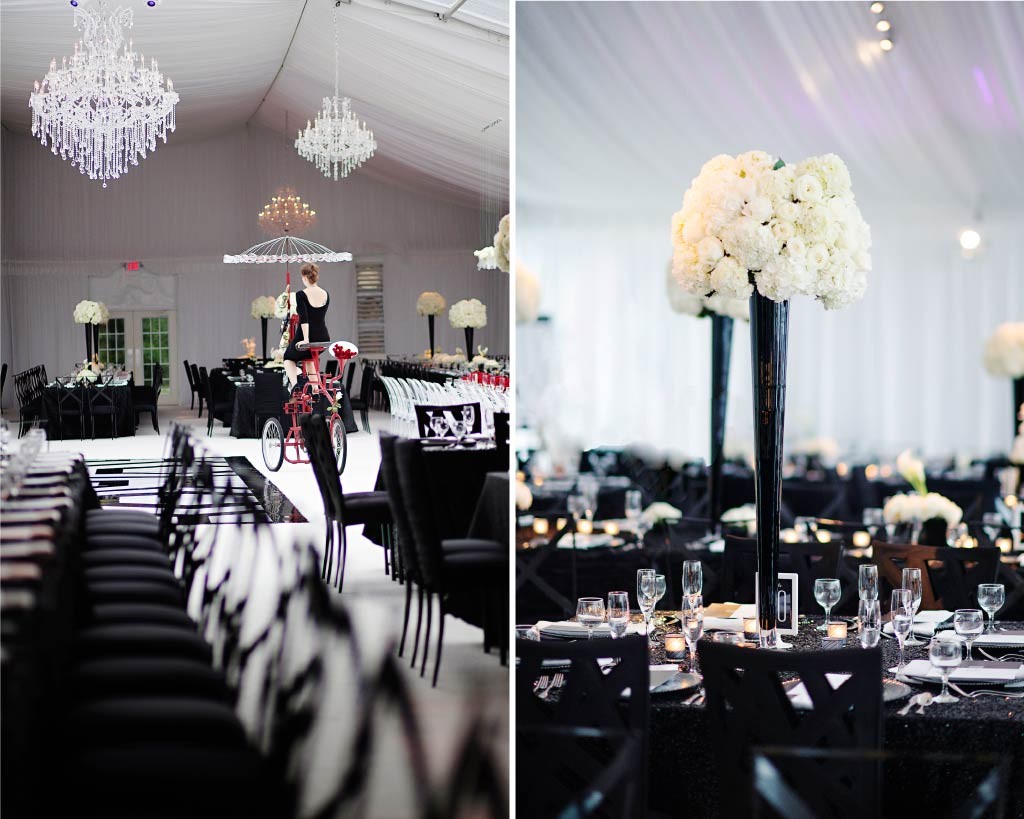 Large, custom beaded, Swarovski crystal chandeliers hung from the ceiling, an elaborate black and white, patterned dance floor and bar designed by Hi-Tech Events made jaw-dropping statements, roses, hydrangeas, ranunculus blossoms, and orchids set in geometric vases added modern texture, and pearl white carpet and draping created a luxurious atmosphere. There were unexpected, over-the-top details EVERYWHERE!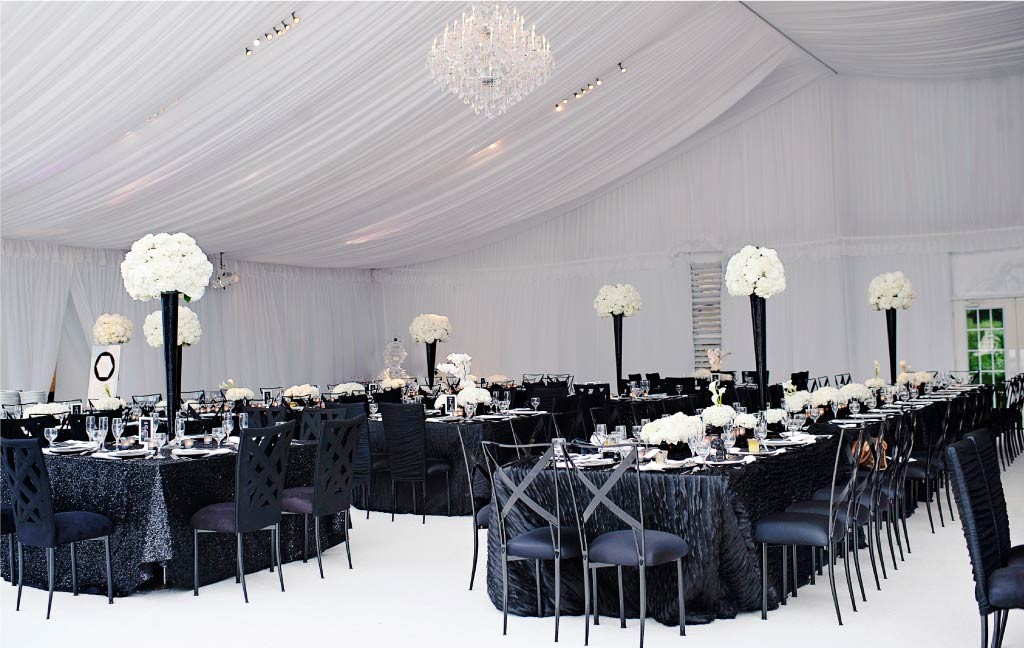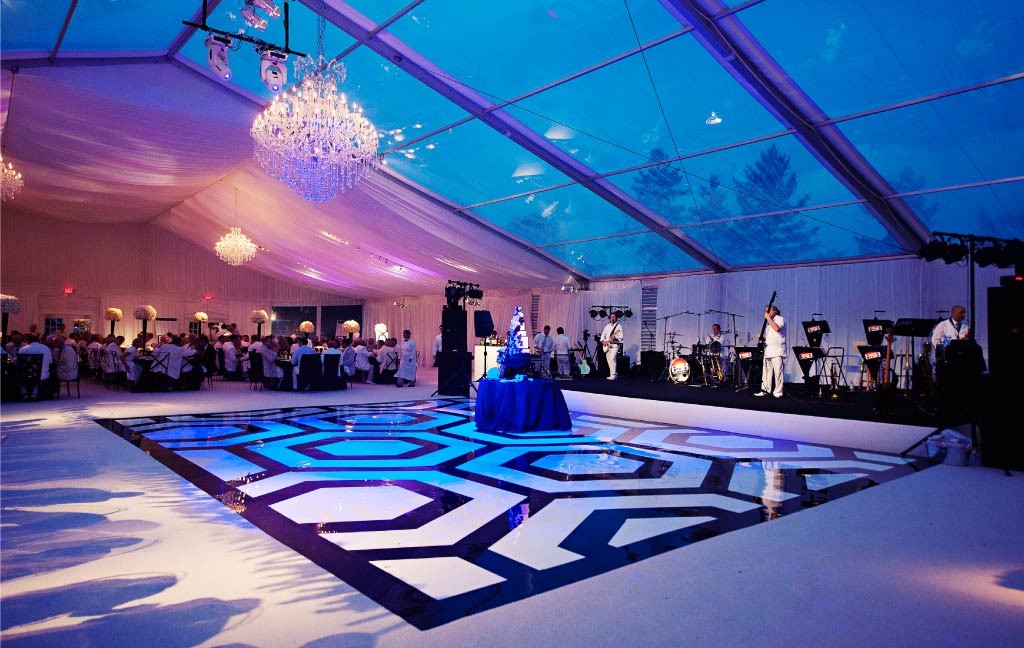 The head table, designed as a focal point in the room, was dressed in our favorite La Tavola linen, Brooklyn White, made up of thousands of square sequins. White goblets, clear, acrylic "ghost" chairs, and individual honey jars wrapped in the wedding's geometric honeycomb pattern, designed by Giddy Ink completed the table's look. Floating floral arrangements hung above, which gave the impression of roses dripping from the ceiling. Absolutely stunning!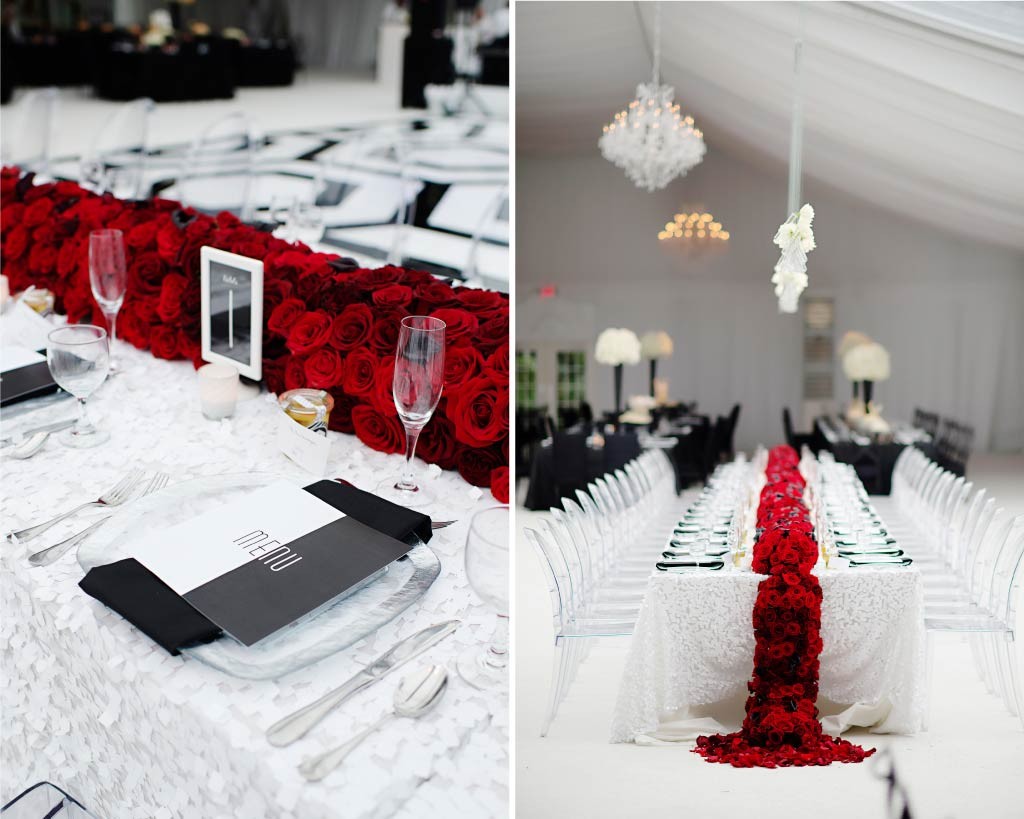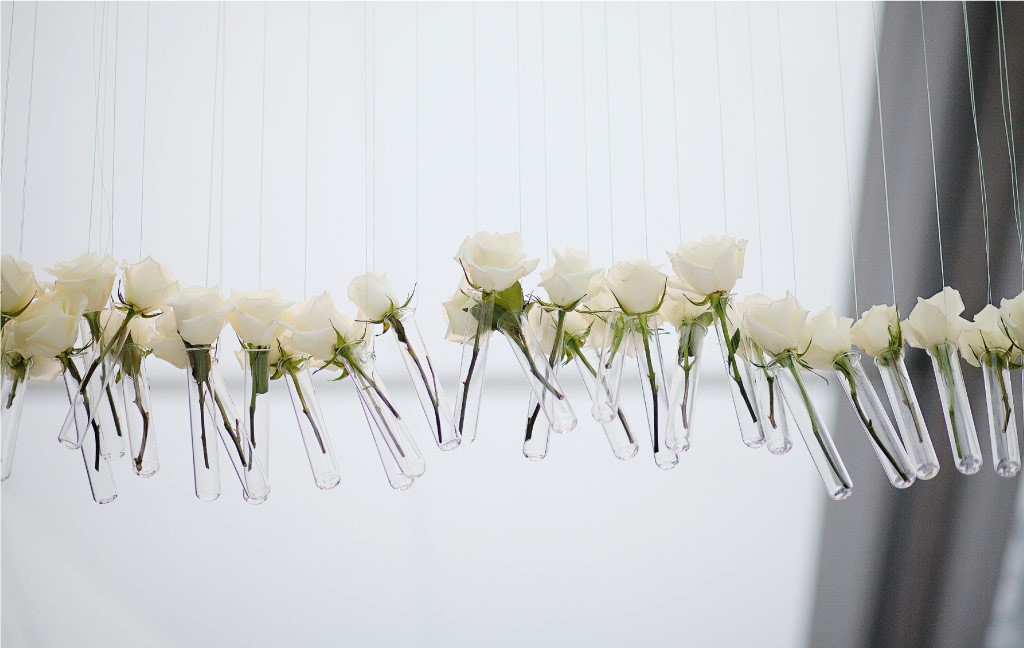 Guest tables featured black, glamorous linens in alternating styles (oversized sequins, metallic leather, and volumous ruffles… all La Tavola, of course), and black chairs, china, and goblets—the only pop of color in the room coming from the "river" of lush red roses running down the center of the head table. A total one-of-a-kind. We are still SO in love.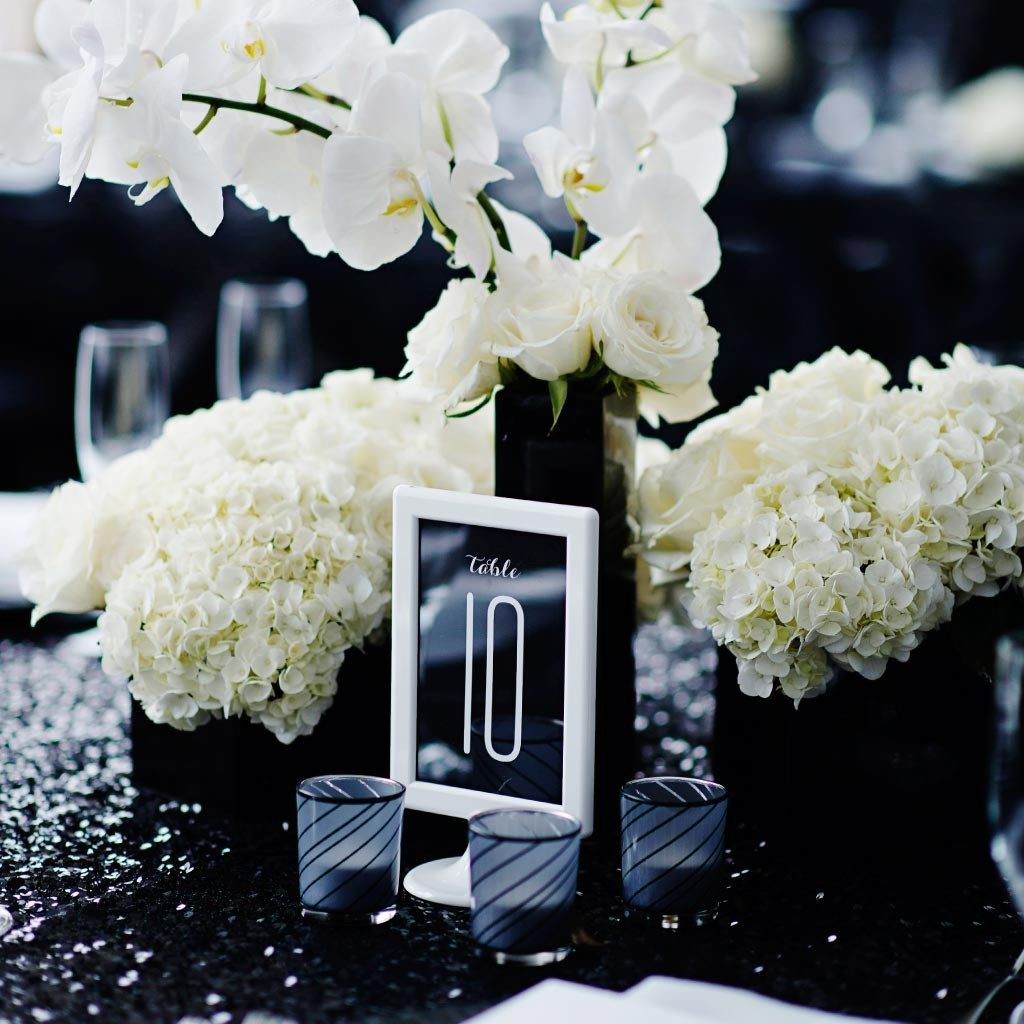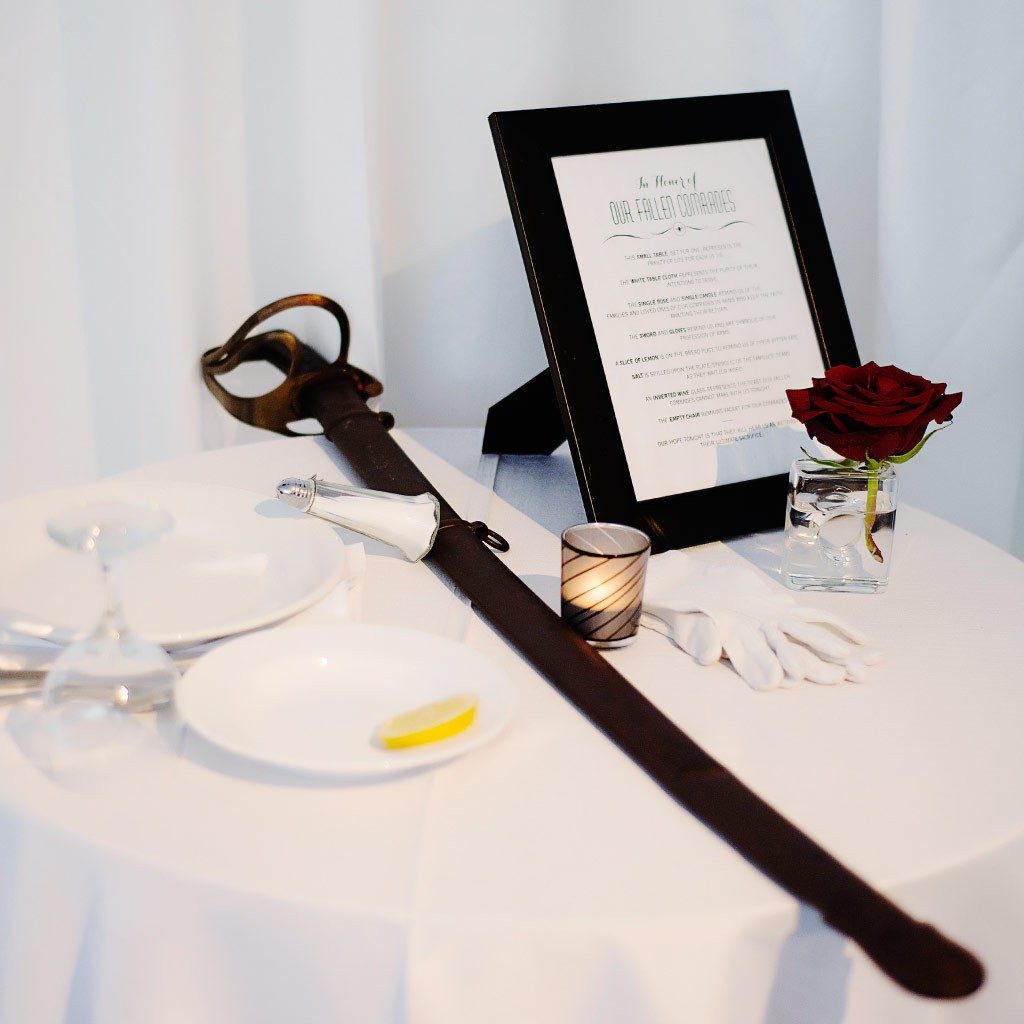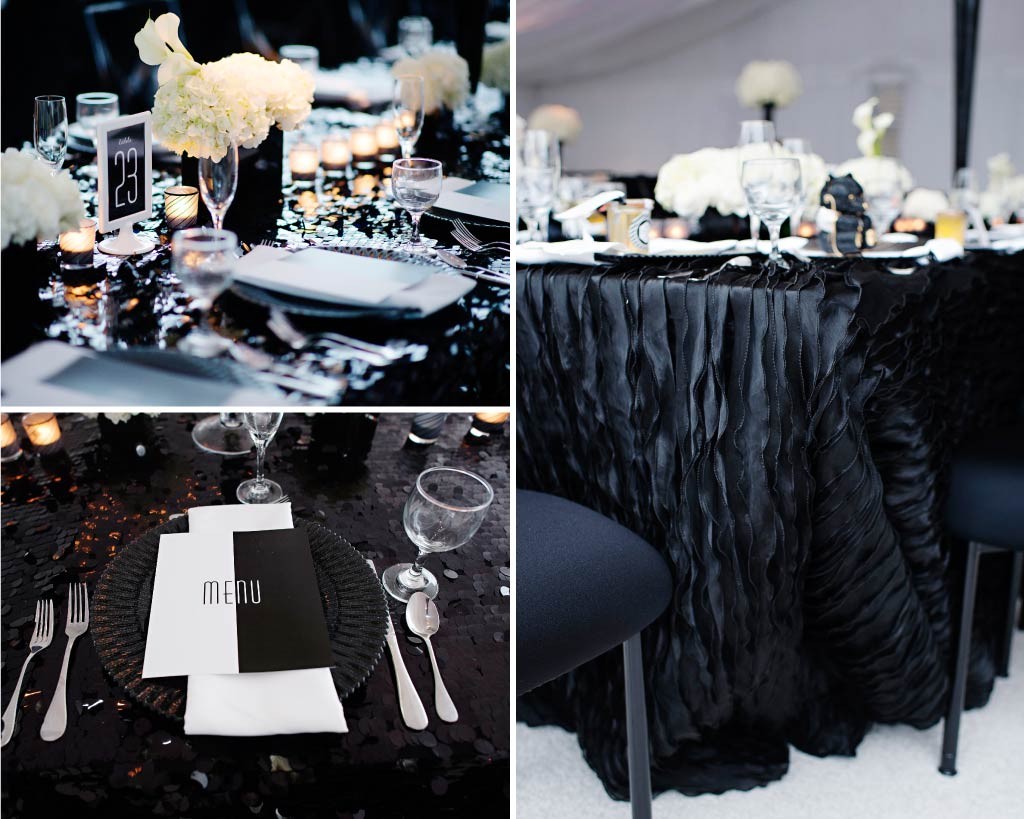 Another thing we loved? The wedding party as reception décor. What's a wedding without a wardrobe change? The entire wedding party switched into all-black attire, including the bride. Gigi's AMAZING Vera Wang was an absolute showstopper, and the couple brought down the house as they were introduced as Mr. & Mrs. Heidt to their 400 friends and family.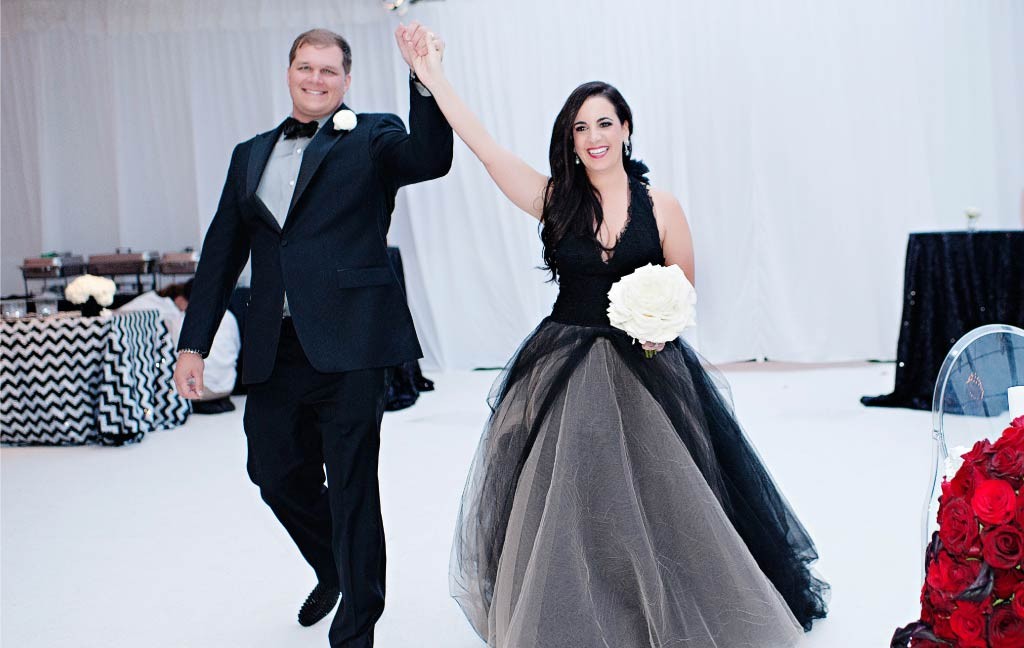 Though the overall look was extremely important to Chip and Gigi, the food was equally that. They wanted their menu to reflect their personalities, heritage, and extreme love for travel. Jeff Thomas Catering weaved each of these elements together by creating a menu of both delicate and decadent foods. Carved prime rib of beef served with a horseradish sauce, white cheddar green chili macaroni cheese, chilled salmon tajine, Belgian endive piped with gorgonzola and grilled pears, and paella with chorizo, to name a few. We're salivating just thinking about the delicious creativity.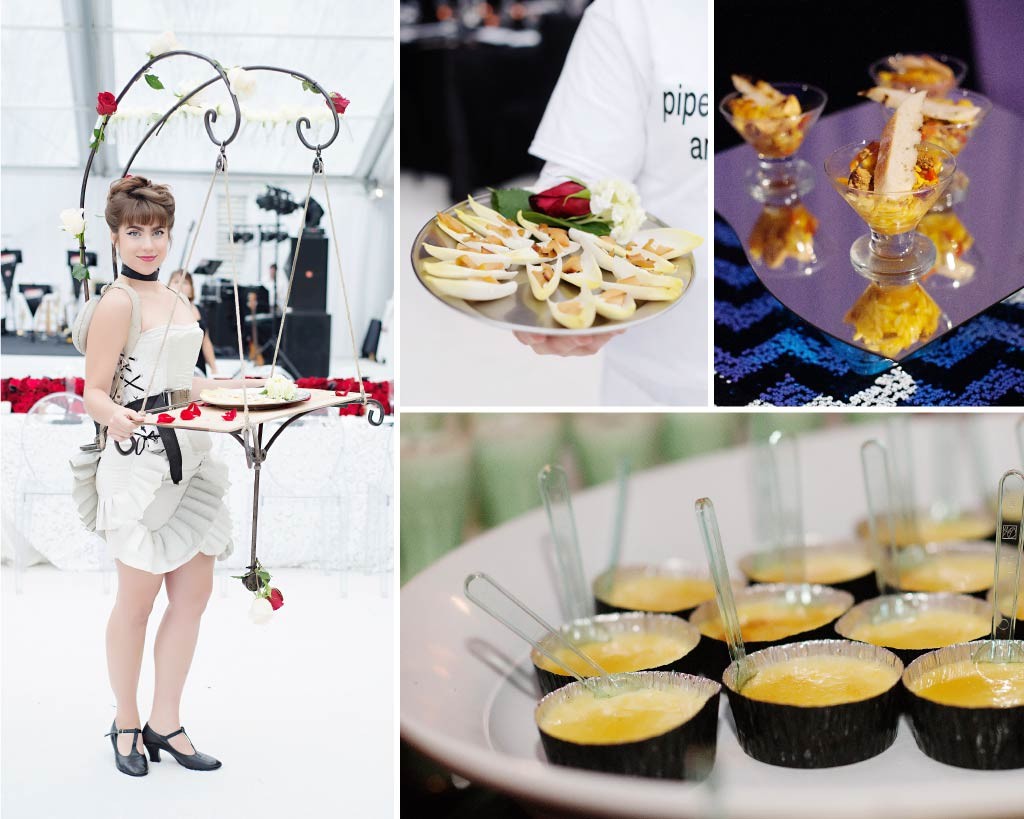 And let's not forget about the dessert. In addition to the Crème Brulee bar, assorted milkshakes and white and dark chocolate mousses was the incredible wedding cake. Oh, the wedding cake! The black and white, six-tiered, modern, couture beauty, created by Sugar Realm, showcased a progressive sugar flower headpiece, black ruffles that wrapped the bottom tier, and abstract florals that cascaded from top to bottom. The cake was a combination of three different flavors and tasted like heaven!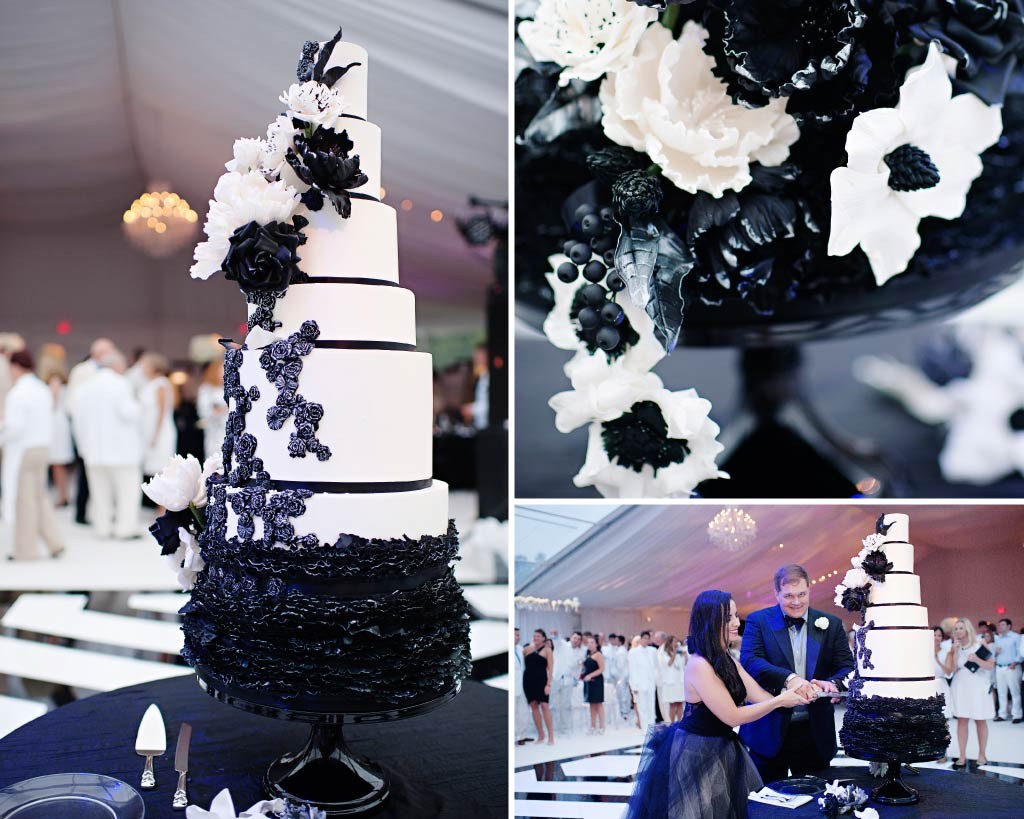 After dinner and dessert, guests were shown a short film (watch it here) that recapped all of the events of the day—even the first dances that had occurred only moments before! We love all of the unexpected moments captured by Studio Z films, especially Dr. Heidt's surprise dance with the bride to the song "Gigi."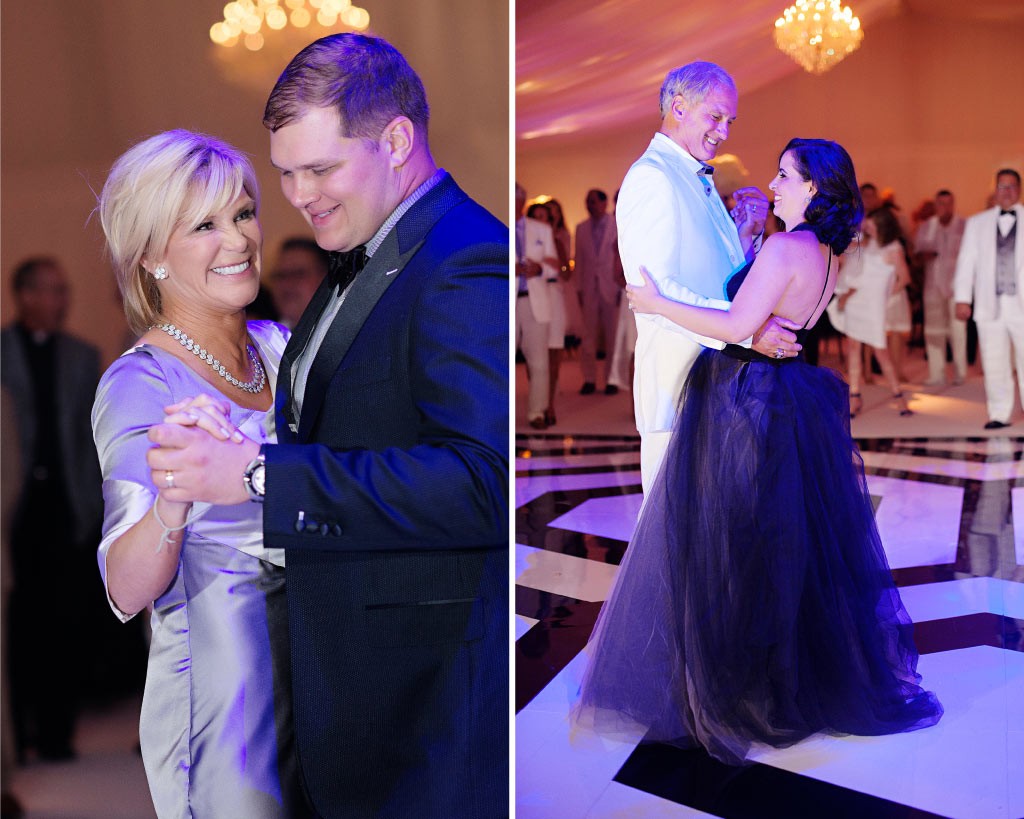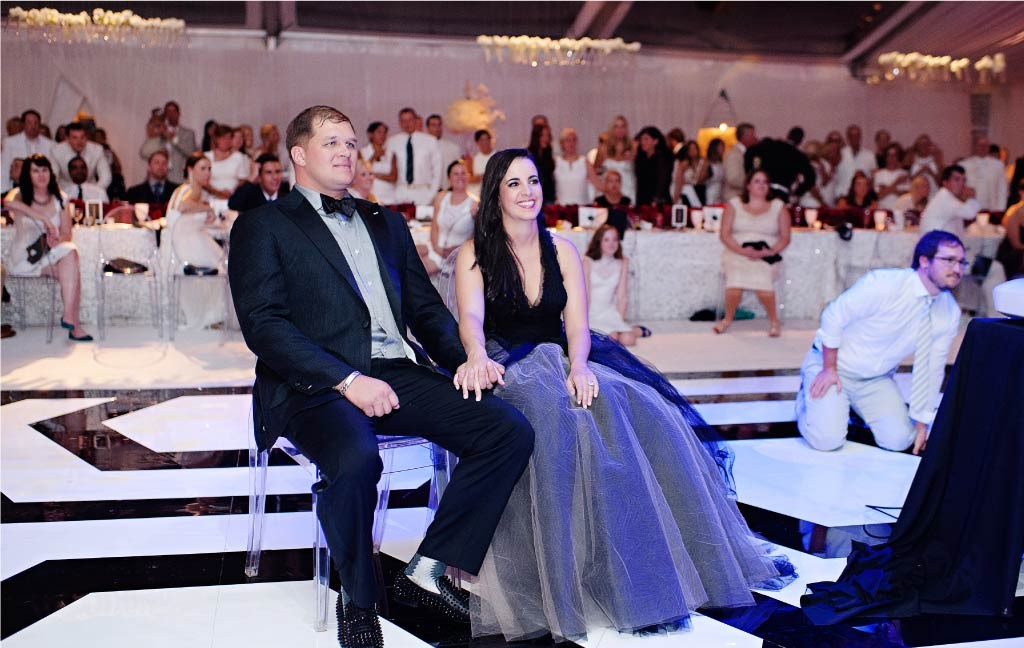 Speaking of unexpected. The evening's entertainment was just that. On cue with the band leader's words to 'Light up the night", sparklers erupted out of the centerpieces at every guest table; actors dressed as skeletons shot confetti canons onto the dance floor; a costumed girl on a red, oversized bike cycled throughout the tent and poured drinks; servers carried hors d'oeuvres on "floating" trays; and actors circulated in dresses made of napkins that guests could take as needed.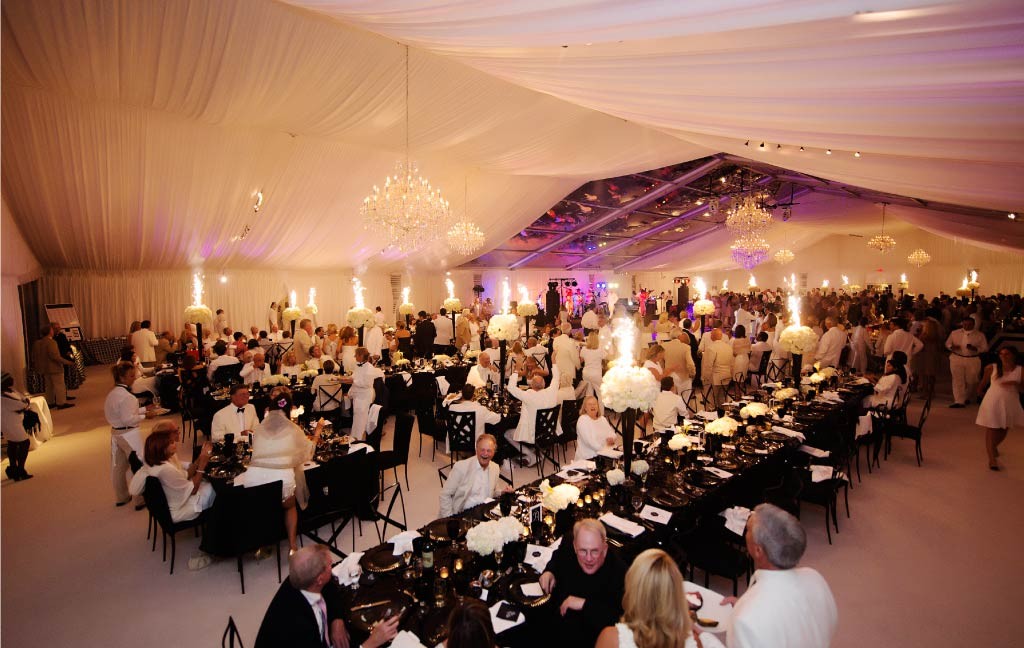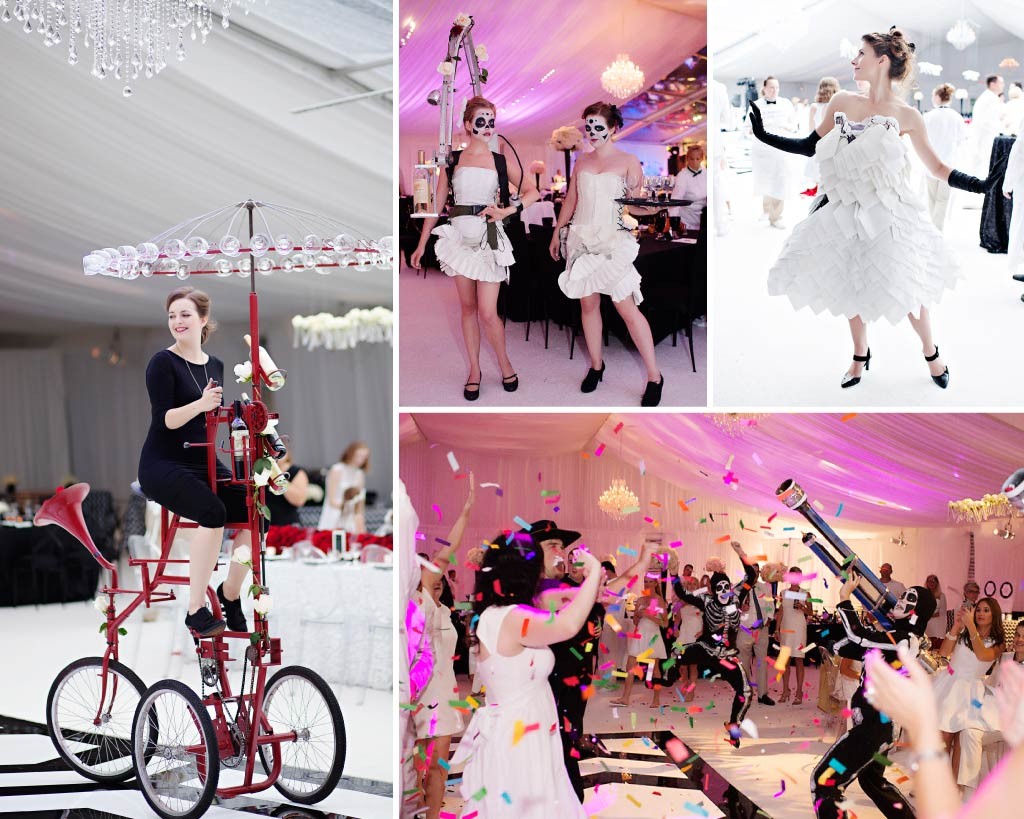 Live music from the Endless Summer Band, and an impromptu stage appearance from the bride, kept the party energized throughout cocktail hour, formal dinner and dancing.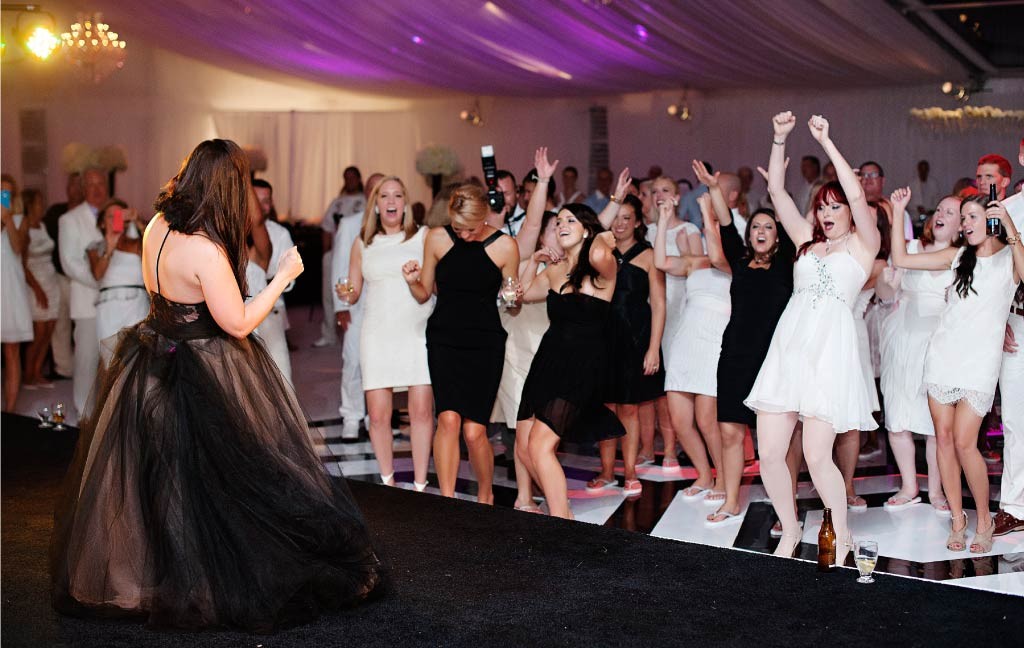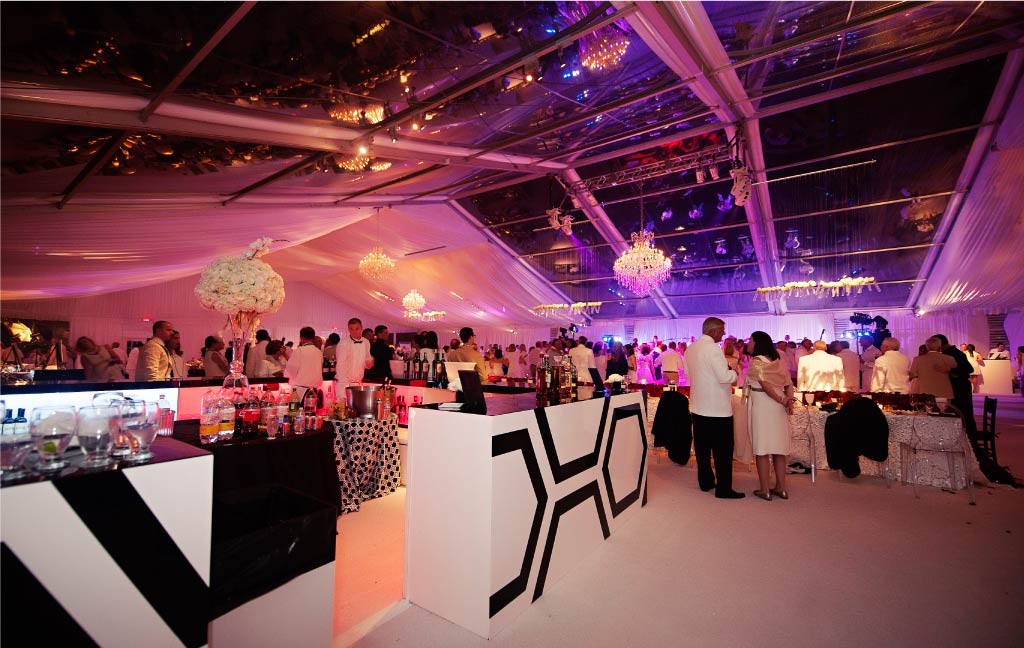 The last of the festivities was an intimate, lounge-like after party complete with white leather couches, glowing accessories and tasty late night snacks—Skyline being the clear favorite. DJ Toad kept guests dancing until the wee hours. And as the guests left, each exited with a small jar of Heidt Family honey, a simple reminder that, "Love is sweet."
Yes, yes it is!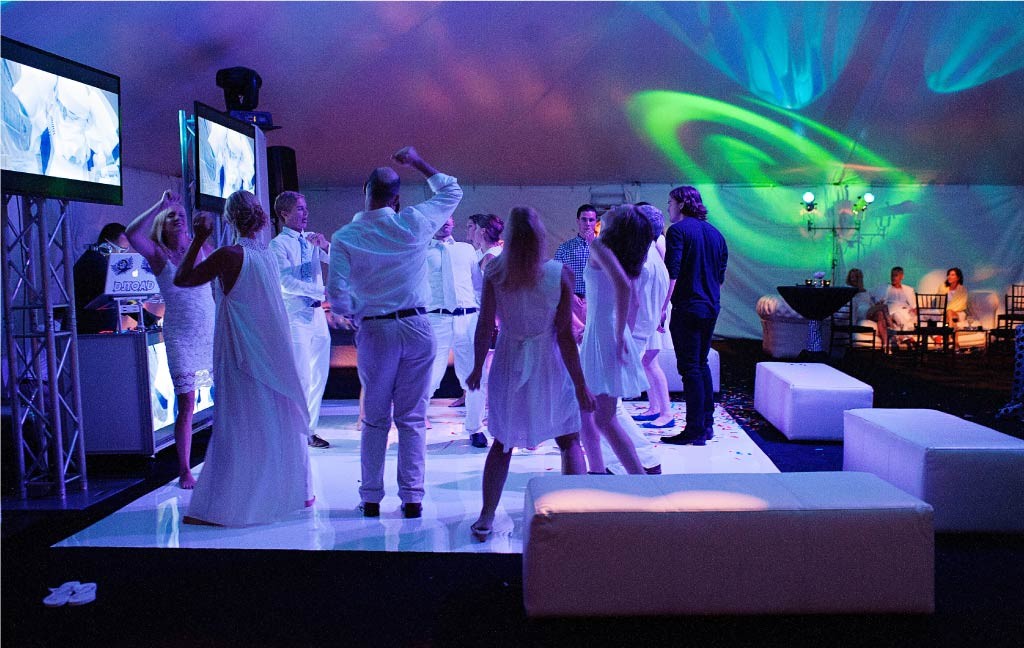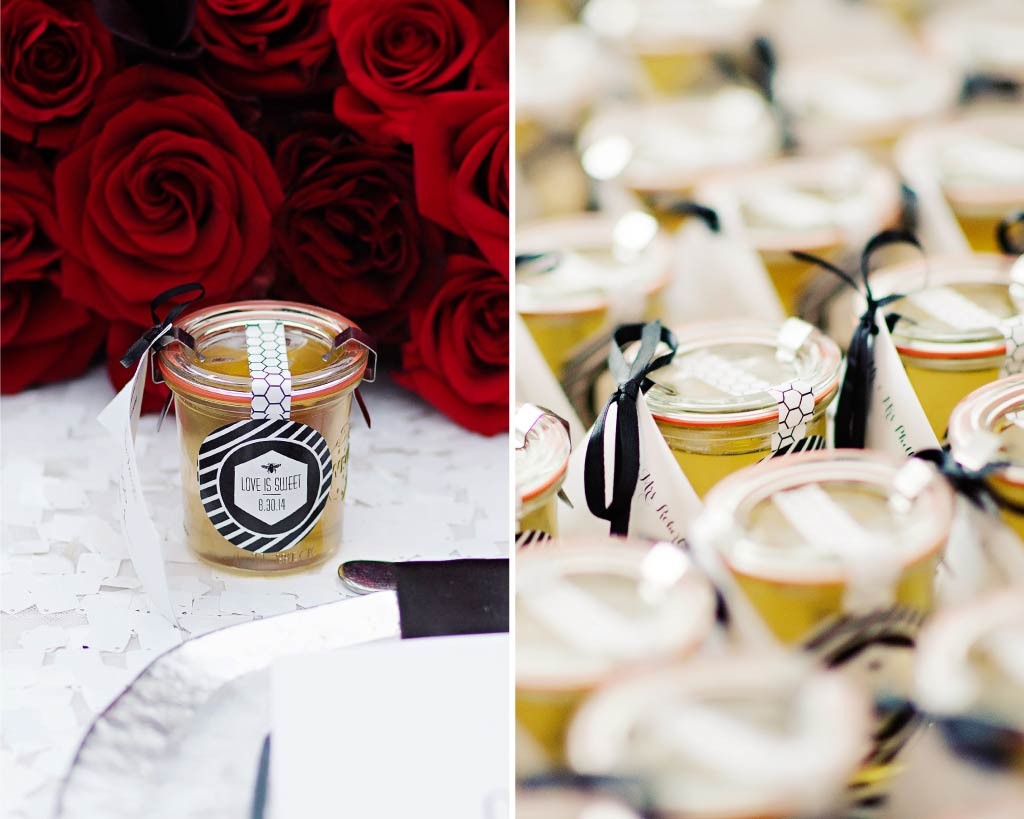 As always, this incredible day would not have been possible without all of our rock star creative partners. It was quite the team effort and we are SO thankful for all of you! I mean, SIX tents! A special shout out to Kortnee Kate Photography—you captured every ounce of beauty at this wedding and never cease to amaze us!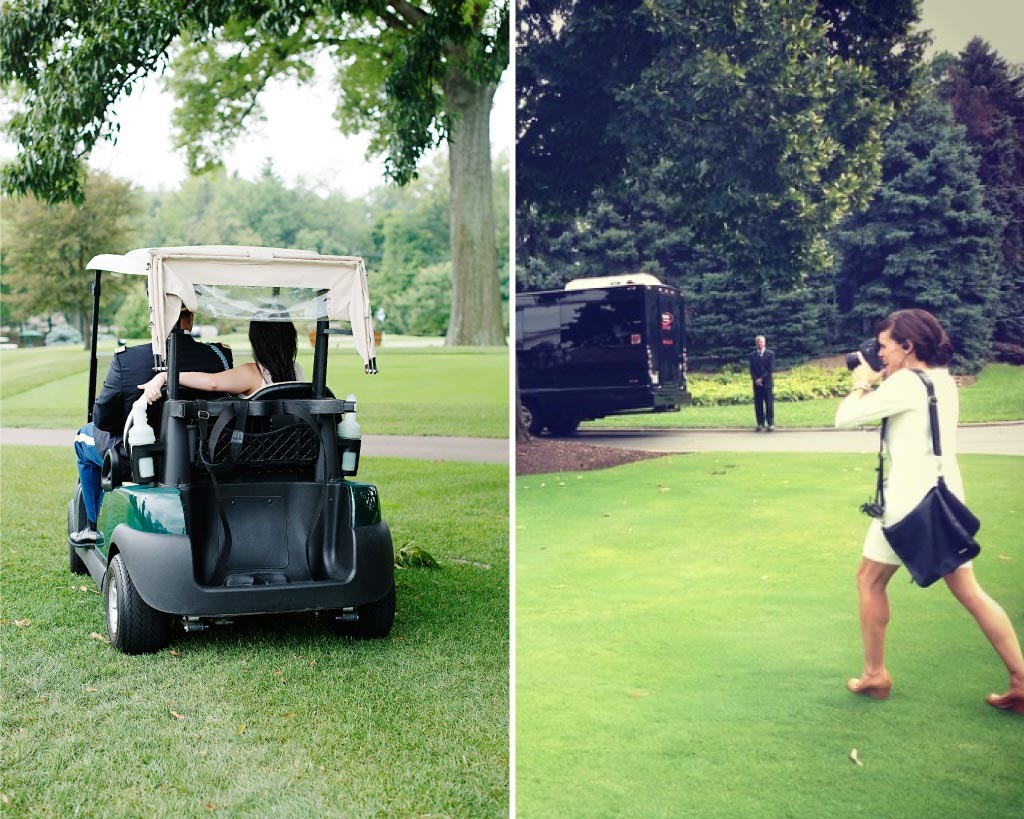 Chip and Gigi, thank you for being so imaginative and inspiring. We loved every minute of planning your wedding. You two are truly unforgettable, and will forever be apart of our Viva Bella family.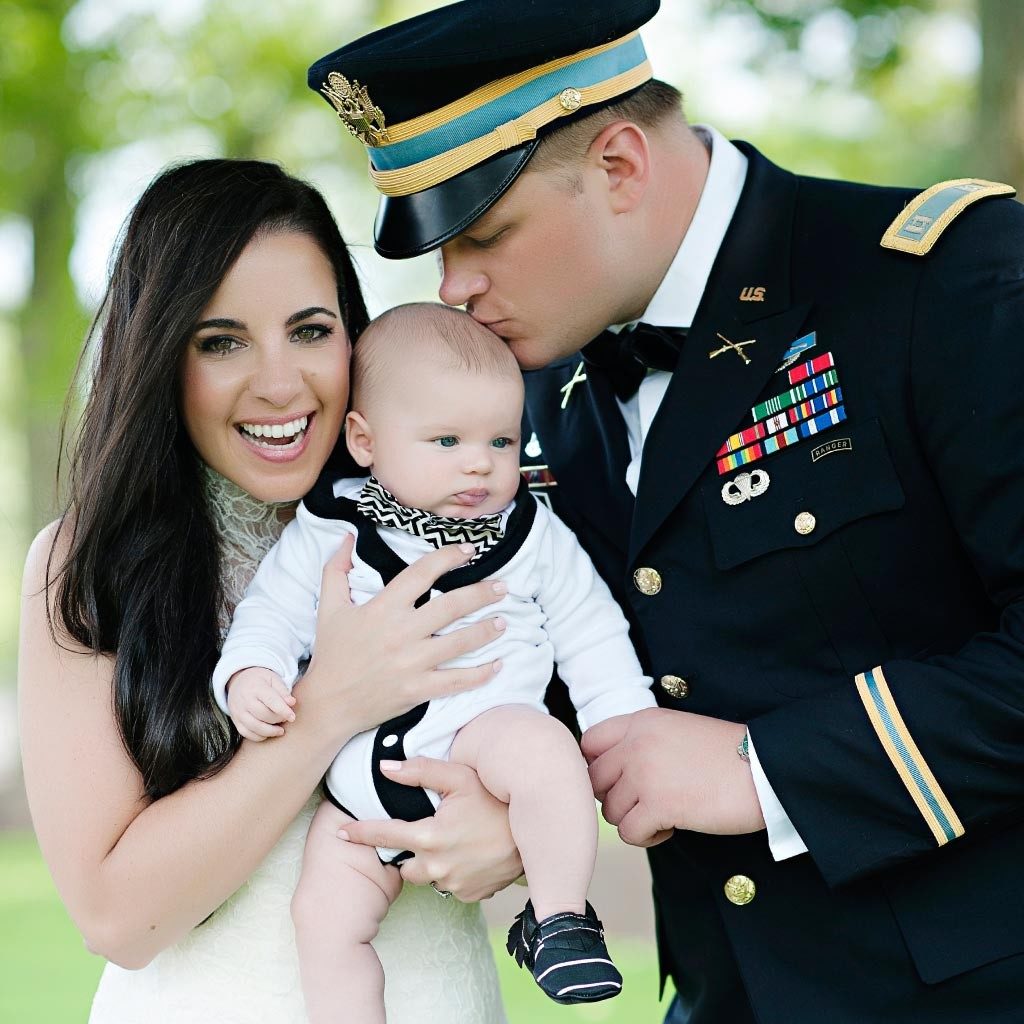 Creative Partners: All Occasions Event Rental | Marti's Floral Designs | BRIDEface | High Five Salon | Sugar Realm | Jeff Thomas Catering | Hi-Tech Events | Giddy Ink | Endless Summer Band | DJ Toad | Red Moon Entertainment | Studio Z Films | Vincent Lighting Systems